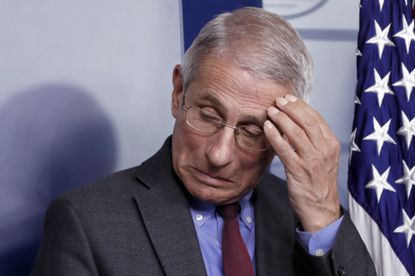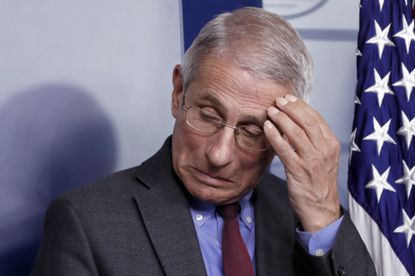 The editors of one the leading (and still reasonably sane) conservative magazines in the country is calling for Joe Biden to relieve Dr. Anthony Fauci of his "duties at the National Institute of Allergy and Infectious Diseases, as chief medical adviser to the White House, and as the public face of the American government's response to Covid-19."
Here is a taste of the editorial:
It is past time for public-health policy to shift to acknowledging that Covid-19 is an endemic disease and, for the most part, a risk for individuals to manage. Fauci stands in the way of executing that shift and communicating it to the public.
Fauci's own behavior has undermined public trust in the response to the pandemic: by sitting for celebrity puff profiles and documentaries, by stifling public debate about the origins of Covid-19 and the proper response to it, by responding in lawyerly and evasive fashion to questions about NIH research dollars supporting work at the Wuhan lab. In his nasty spats with Senator Rand Paul and other officeholders, he hasn't simply parried criticisms but tried to land political blows himself.
It has always been bizarre that the head of an obscure agency has soaked up so much media attention. Over the past two years, Fauci has done so many interviews with so many outlets — from Sunday shows to obscure podcasts — that one wonders how he had time for his day job. Nearly everyone in Washington enjoys being in front of a microphone, but even the most shameless media hogs might blush at Fauci's interview schedule. It would be one thing if Fauci were merely delivering updates on the state of Covid. But he has gone way beyond that and delved into pure self-promotion. How did the appearance of Fauci on the cover of InStyle, sitting by the pool in sunglasses, declaring, "With all due modesty, I think I'm pretty effective," advance public health?
Fauci has been subject to unfair attacks and deranged threats, and made the subject of hysterical "plandemic" conspiracy theories. He deserved none of these. He arguably played a valuable role in the early stages of the pandemic, when many Americans found him a comforting voice. He was an experienced doctor and public-health official who had served every president since Ronald Reagan, and he had passed through and learned from the political storms and medical uncertainties of the AIDS crisis. When President Trump was inconstant, was inattentive, or seemed to wish away the crisis, Fauci presented a sober, reassuring confidence in the power of scientific inquiry to help us navigate this crisis.
But that was a long time ago. By his own admission, Fauci misleads the public. When trying to explain why, before he adopted them for himself, he had disparaged the use of cloth masks, he explained that people in the public-health community were trying to preserve masks for front-line workers. "There's no reason to be walking around with a mask," he said in March 2020. "When you're in the middle of an outbreak, wearing a mask might make people feel a little bit better, and it might even block a droplet, but it's not providing the perfect protection that people think that it is. And, often, there are unintended consequences — people keep fiddling with the mask, and they keep touching their face." He did not trust the public to restrain themselves. Score this as a lie and a slur. This was a public that was already making wrenching, unthinkable sacrifices — with Americans forgoing the funerals of loved ones, surrendering their jobs, and closing down their businesses — in an attempt to meet the ultimately unrealistic task public health had set for them of stopping the spread of Covid-19. They deserved candor.
Read the rest here.
I wonder how the editors of National Review, who believe that COVID-19 is manageable, would respond to this and this and this. Instead of attacking Fauci, they should be using their influence to encourage conservatives to get vaccinated. Then, perhaps, COVID-19 will be more manageable and Fauci's voice will no longer be needed.