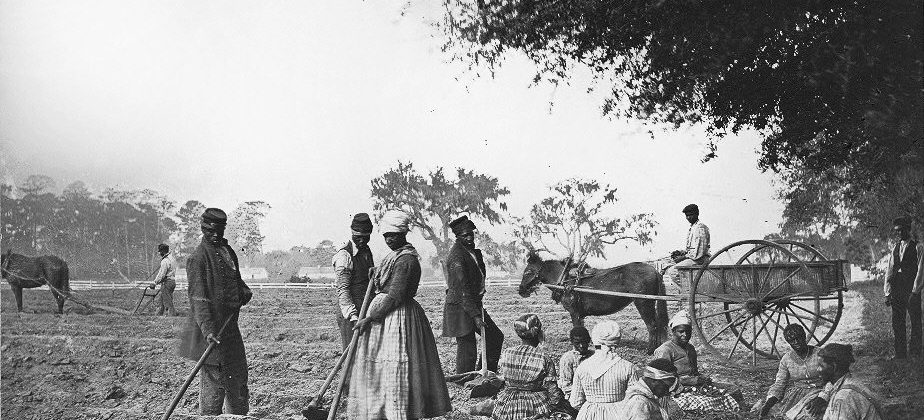 Jerry Newcombe is a writer and local Florida radio host who comes out of the D. James Kennedy (Coral Ridge Presbyterian Church of Ft. Lauderdale) wing of conservative evangelicals. He is also the president of a Christian nationalist historical organization called The Providence Forum. Shortly after my book Was America Founded as a Christian Nation: A Historical Introduction? came out in 2011 he invited me to come on his Fort Lauderdale radio show. We disagreed about nearly everything. I wrote about the appearance here. By the way, this was the closest I ever came to a debate with David Barton.
Newcombe continues to peddle a Christian nationalist view of history. Today I read his piece on the 1619 Project at The Christian Post. It is full of problems.
Newcombe begins with Nikole Hannah-Jones's mistaken claim that the Civil War began in 1865:
Fox News's coverage of Hannah-Jones's tweet obviously inspired Newcombe's column. Newcombe does not only draw attention to Hannah-Jones's error, but he uses the mistake to criticize the journalist's grasp of American history. He writes: "We all make mistakes, but I can't help but feel her historical error reveals her lack of a true grasp of our history. We're all entitled to our own opinions, but we're not entitled to our own facts." Newcombe seems to assume that "a true grasp of history" is measured by the accurate recording of dates in tweets. Dates and facts are important, but after reading his piece at The Christian Post it appears that Newcombe, not Hannah-Jones, is the one who struggles with good historical thinking.
Newcombe goes after Hannah-Jones's understanding of "parental rights":
Hannah-Jones coincidentally doesn't have a firm grasp on the concept of parental rights, either. She recently told Chuck Todd on NBC's "Meet the Press": "I don't really understand this idea that parents should decide what's being taught. I'm not a professional educator. I don't have a degree in social studies or science … I think we should leave that to the educators."
Newcombe apparently believes that parents know more about American history than history teachers. And how does he know this? Gary Bauer told him:
Gary Bauer, former Under Secretary of Education for President Reagan, reacts to her remarks: "She admits that she's not a professional educator. She's right about that. She's a professional left-wing agitator."
Bauer adds, "Parents, policymakers and state legislators are right to ban the 1619 Project. It's garbage! Numerous professional historians have thoroughly debunked it. It has no business in our schools. But she thinks banning her radical screed is a sign of oppression."
If Gary Bauer, the right-wing agitator who built a political career stirring-up division, propagating the culture war, and claiming that secular culture is oppressing him, says parents know more than educators, well, then, I guess it's true.
I will be the first to say that history teachers need more training, but most of them know a lot more than the politically-charged conservative parents who go to school board meetings and scream about critical race theory. I wonder what Newcombe would say about a parent who disagreed with the teaching of his providential view of American history in schools. I imagine he would say that he is the expert and the parent is in error. Do parents of students at private Christian schools have the same "parental rights" to oppose what teachers trained by the likes of David Barton or the Providence Forum are teaching their children in history class?
Things get worse when Newcombe cites right-wing pundit and law professor Carol Swain:
Dr. Carol M. Swain is a prominent black scholar who has taught at Vanderbilt Law School and at Princeton. I spoke with her on my radio show about the ongoing battle over American history.
She told me the 1619 Project presents a "revisionist history. [It postulates that] the country is racist to the core. Black people built the country. Racism defines who we are as a nation." Swain would remind us: "When slavery was introduced into America, we were British colonists."
Swain is right to call the 1619 Project "revisionist history." The project is trying to "revise" hundreds of years of history written by white supremacists and others who kept the African American story on the fringes of the country's historical narrative. All history is revisionist history. Newcombe's use of the phrase is typical of the way the Christian Right uses "revisionism" as a scare tactic to rally the base. This, of course, does not mean the 1619 Project is without its problems, but there are better ways to critique it than publishing a piece at The Christian Post shouting "REVISIONISM, REVISIONISM." The Christian Right has a long history of exchanging good historical thinking for dog whistles and calling it cultural engagement.
Swain's comment also suggests that the British, not the United States, should take the blame for slavery in this country. OK–let's run with this logic for a second. If the British are to blame for American slavery, then why didn't it disappear after 1776? Why did we need a bloody civil war to rid the country of this immoral institution?
And if the founding fathers and their descendants allowed slavery to hang around for nearly ninety years after the Revolution–that's nearly a century–wouldn't it makes sense that racism and white supremacy seeped into the culture in a systemic way? Swain's answer to this question is "no". She rejects the very idea of systemic racism. Here is Newcombe again:
When I asked her about the idea of America being "systemically racist" today, she said that the passage of the Civil Rights laws in the 1960s, "really ended systemic racism under the law. And any racism that continues is not because of our national structure."
Swain believes that deeply-rooted racism can be removed by passing laws. She suggests that all the racial unrest in the country between 1964 and 2021 can be explained by a few bad apples. In other words, racial strife has little or nothing to do with the country's long legacy of racism because white supremacy and privilege disappeared after the civil rights movement?
Newcombe is right about one thing: "There's a battle over history in our time. And this battle has big implications as to what our nation was, is, and ever will be."
I am pretty sure I share much of Newcombe's Christian faith. But I don't share his manipulation of the past to serve his "For God and Country" agenda.