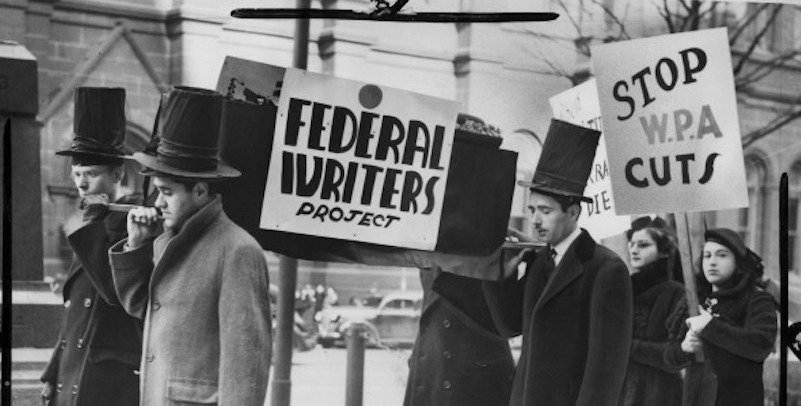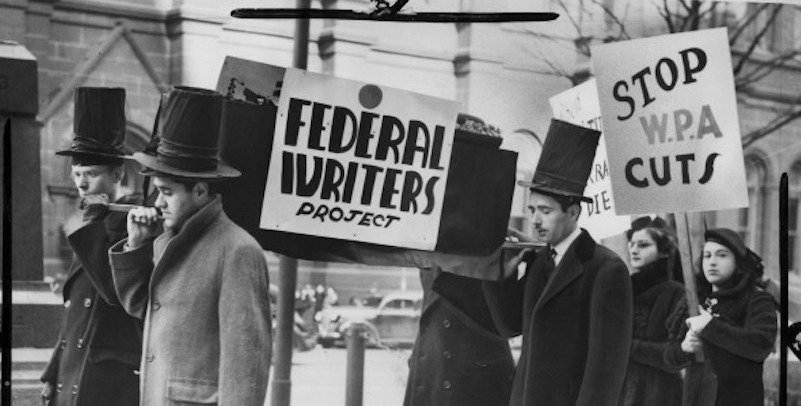 Over at Book Riot, Clare Barnett tells the story of the Depression Era's Federal Writers Project. Do we need another such project?
Here is a taste of her piece:
While the FWP was the work of thousands, some of its writers would become the most famous literary names in the twentieth century. Even extremely talented writers faced lean times in the Thirties. Zora Neale Hurston, already famous in literary circles, wrote material for the Florida Guide, much of it from Eatonville, the setting for Their Eyes were Watching God. Young writers who had not yet gained fame enlisted with FWP. John Cheever worked as FWP editor in Washington. Saul Bellow, only 20 years old, wrote profiles of writers like John Dos Passos and Sherwood Anderson. The New York Times quoted Albert Murray, a close friend of Ralph Ellison, as saying "Throughout Invisible Man there are sketches and caricatures of people he met during the Federal Writers' Project." Literary stars Margaret Walker, Richard Wright, and poet May Swenson also wrote for the FWP.  
Eventually, the FWP and the entire Federal Arts Project crumbled under (mostly unfounded) accusations of Communism by the House Committee on Un-American Activities. Some FWP programs continued under individual state sponsorship from 1939 until 1943, when World War II took over relief efforts. When the project finally folded, Time magazine called it "the biggest literary project in history."
Now, some in Congress are looking to the FWP as a model for a new jobs program for writers. Representatives Ted Lieu and Teresa Leger Fernández introduced legislation to create a 21st Century Federal Writers' Project that would put writers to work collecting more stories about America. The program would help some of the 35,000 journalists who have been laid off, as well as underemployed freelance writers. While political will for a new FWP has yet to gather steam, the legislation has support from the Authors Guild, the National Book Foundation, and directors of the Library of Congress.
Read the entire piece here.