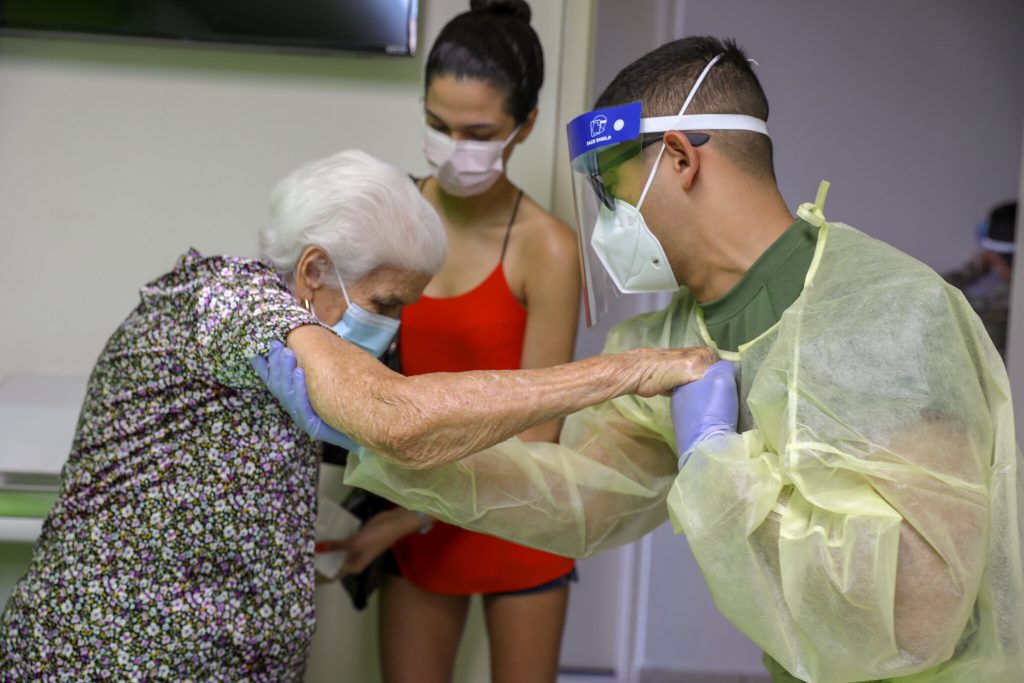 As Omicron hits, an ancient call to community offers orientation
Two years into a devastating pandemic the pastor of a large church decided it was time to give a special sermon on the disease and its impact on his community. In particular, he felt it was time to address the questions so many in his congregation had. The plague, he worried, had shaken their faith.
Some were asking why the disease was killing Christians at the same rate as everyone else. Shouldn't their faith have protected them from harm? Others were less worried about dying per se but had a different question for their pastor: How might they keep themselves safe from the plague in order to save themselves for the martyr's death they desired? Yet others wondered if the world was coming to an end. The answer to this last, according to their pastor, was yes.
As we pass the two-year mark of the appearance of COVID-19, Cyprian's treatise On Mortality, which likely started its life as a sermon, seems no less timely and convicting than it did to its original audiences in the early 250s CE. The questions that plague us mid-plague, it appears, are deeply revealing of personal and societal values and priorities. But the particular questions that plague us today are different from those with which Cyprian's community, a large multi-ethnic church in the Roman province of Africa, wrestled. We would do well to consider why.
Perhaps, as Stephen Phillips suggests in a recent Time article, "2022 is the year we learn to live with COVID-19." Pre-Omicron-surge, an early November survey showed that "A 55% majority of Americans now believe there's little to no risk associated with returning to their normal, pre-pandemic lives." Some of those polled may have changed their minds on this issue by now. Yet our questions remain. Should schools reopen at this time, when community transmission everywhere is at a record high? Should safety measures be enforced, or are they an infringement of personal liberties? What costs for either returning to "normal" or closing anything down (measured largely in lives and finances) are acceptable? These questions reveal that unlike Cyprian's church in Roman North Africa, a significant proportion of Americans of all religious persuasions is ready to embrace a utilitarian ethic in its approach to the current plague.
In reality, utilitarianism has been part of the way we've coped with the pandemic all along. In March 2020, Texas's lieutenant governor Dan Patrick made headlines for his recommendation that the elderly should sacrifice themselves in order to ensure that the country gets back to normal. Dominating his vision was a concern for the economy, affected by the pandemic shutdown. Eerily, by December 2021, 1 in 100 Americans over the age of 65 had died from Covid. Presumably not all of those who died believed in Patrick's premise. In a plot twist, Patrick himself began this new year quarantining at home after contracting Covid, although getting the vaccine and the booster ensured that his infection has turned out to be a mild one.
Rhetoric surrounding any potential school closures continues to be similarly driven by utilitarian concerns for costs. In a recent NPR interview, in fact, NPR's Anya Kamenetz estimated the financial cost of school closures in 2020 worldwide to be $17 trillion. The costs involve not just the immediate impact but also long-term predictions of poverty because of lost educational opportunities for those whose access to education was the most fragile to begin with.
The reasoning expressed by both those worried about the economy at large and about the inequities pandemic disruptions bring—such as those occurring through the shutdowns of businesses and schools—are undoubtedly true. And yet the cost of human lives cannot be minimized, either. After all, the idea that we should sacrifice some people's lives because it would be for the benefit of the overwhelming majority to return to normal is the very definition of utilitarian ethics. In the midst of this utilitarianism, tellingly, is the jarringly ironic continuation of wariness over the measures that are proven to mitigate transmission of the disease, including masks and vaccination.
We are, it appears, creatures of contradiction. No one (I boldly presume) would offer their own child's life, or even their own life, as a sacrifice for the economy, present or future. And yet so many of us are willing to get back to life, assuming all along that while there will be a cost in lives, that cost will not involve someone we love.
At the other extreme, though, is crippling fear. How can I go anywhere safely with my unvaccinated toddler who hates wearing her mask? And what about the six-year-old who is vaccinated but has decidedly questionable hygienic practices, as so many do at his age? And what to do about the teen whose current sport of choice is jiu-jitsu? If there were a contest for the least Covid-safe sport, this may be it. Should we just never leave the house again? Utilitarianism does not give good answers to these questions. All it offers is the cold hope of statistics. After all, if only 0.1%-1.6% of child Covid cases result in hospitalization, the odds are that even if my children get sick, they will be fine. If it is someone else's child who is part of the grim statistics, why worry?
But what if we are asking the wrong questions? That is, in fact, what Cyprian said in his sermon to his flock. Further, the reason we are asking the wrong questions matters too, as the reason is the same as it was in Cyprian's community: Humans are, it appears, deeply selfish and fallen beings. And so Cyprian's response aimed to convict his community in the midst of this sin, and also to comfort and console in the midst of significant suffering.
We need such consolation. Regardless of the questions we ask and the approach we have chosen to adopt in our own lives in the time of Covid, at least some degree of suffering and loss has been our lot over the past two years. Eric Miller's recent essay offers one example.
Cyprian's theological response emphasized the brevity of this life in contrast with the hope of a glorious eternity to come. But at the practical level, he also emphasized the need for his flock to live in community, and to place the care of others above the concern for self, which comes as naturally to us as it did to third-century CE Carthaginians. Cyprian turned out to be wrong in thinking that the world was going to end soon. But the rest of his advice is on point. The spectacular growth of the Church over the course of the third century—from a tiny fraction of 1% ca. 200 CE to almost 10% at the end of the century—shows the power of such relationships and networks of care in an uncertain world. 
Nadya Williams is Professor of Ancient History at the University of West Georgia.