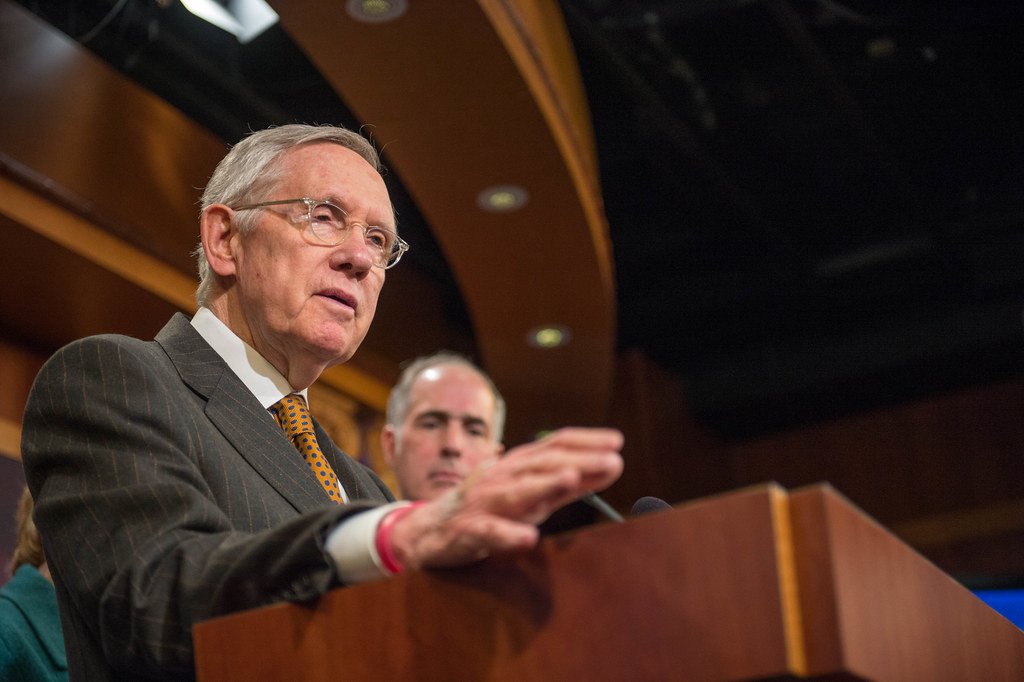 Today a couple of Harry Reid pieces caught my attention. If you have not yet heard, the Nevada senator (1987-2017) and former Senate Majority Leader (2007-2015) died earlier this week.
Over at The Washington Post, historian Benjamin Park reflects on Reid's Mormon faith. Here is a taste of "Harry Reid's death may mark the end of the liberal Mormon tradition":
When former Senate majority leader Harry M. Reid, who died Tuesday, spoke to a basketball arena filled with thousands of Brigham Young University students in October 2007, he knew he was in the minority. "It is not uncommon for members of the church to ask how I can be a Mormon and a Democrat," he confessed. But he refused to acknowledge any incongruity between the two identities: "My faith and political beliefs are deeply intertwined. I am a Democrat because I am a Mormon, not in spite of it."
Yet Reid was acknowledging the reality: Members of the Church of Jesus Christ of Latter-day Saints have been strongly affiliated with the Republican Party for a half-century. At the time of Reid's visit to Provo, America's most prominent Mormon was probably Mitt Romney, the former Massachusetts governor who was then running for the Republican presidential nomination. In 2012, as the Republican nominee, Romney received 78 percent of the Mormon vote in his loss to Barack Obama.
But as Reid noted in his 2007 address, a "Mormon Democrat" has not always been a rarity. Indeed he, and many others, saw the Democratic Party as embodying LDS ideals because both had a vision of societal responsibility and social justice.
Read the rest here.
Over at Politico, political journalist Zachary Carter explains how he changed his mind about Reid:
Reid was indeed a flawed man as all politicians must be, but after watching him operate for a decade, I cannot help but admire him. In my lifetime, I do not think that the Democratic Party has had a more effective leader — morally or strategically — than Harry Reid. From that first phone call in 2008 through to his retirement, I learned that Reid was the savviest political fighter of his generation — a man who didn't telegraph his punches, who carefully coordinated his troops to ensure that when they fought, it was on favorable ground, and who battled like hell for moral victory when a losing fight could not be avoided.
Reid's legislative accomplishments — chiefly the Affordable Care Act and the 2010 Dodd-Frank financial reform law — do not adequately summarize his influence. Reid was more important to working people for the bad things he blocked than for the good things he enacted. Social Security exists as it does today because Reid's first order of business as Democratic leader in the Senate in2005 was to block the Bush plan to privatize the New Deal program.
"He did the Michael Corleone — my offer is nothing," recalls Ari Rabin-Havt, a former Reid staffer who advised Sen. Bernie Sanders (I-Vt.) after Reid's retirement. At a time when there was no progressive blogosphere, no HuffPost and no lefty Twitter bloc, Reid refused to negotiate with Bush on Social Security, and held a caucus full of conservative Democrats — Blanche Lincoln (D-Ark.), Mark Pryor (D-Ark.), Kent Conrad (D-N.D.) and Joe Lieberman (D-Conn.) among others — unified against the Bush plan. They won, and Bush's presidency began its great unraveling.
In the profusion of well-intentioned remembrances from Democratic lawmakers since his death, Reid's willingness to rebuke them when their moral compasses were mislaid is being conveniently un-recalled. Reid's legacy includes his early and unwavering alliance with Barack Obama, but it also included a lot of grunt work to keep Obama from sabotaging his own presidency.
Read the rest here.
RIP, Harry Reid.