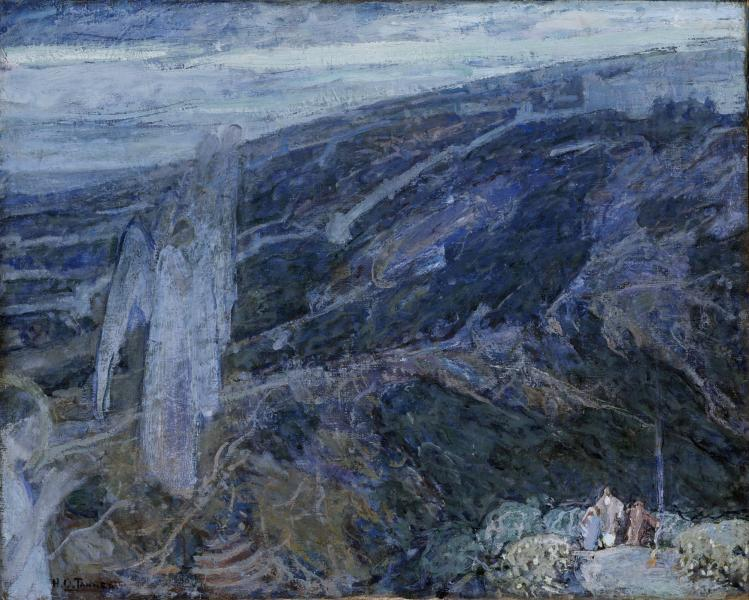 Henry Ossawa Tanner's Angels Appearing Before Shepherds urges us to see the familiar anew
Despite its title, Henry Ossawa Tanner's painting Angels Appearing Before Shepherds (c. 1910) does not look much like a Christmas painting. Thickly painted indigo hills fill most of the composition, with a triangle of inky blue sky streaked with clouds visible in the top left corner. Translucent white shapes float in the foreground like a screen of angular clouds. In the bottom-right corner we see a small circular clearing. The tiniest fleck of orange catches our eye there, the only warm hue in the whole painting. Even with the title to guide us, we might be initially confused. Where are we? Are those angels? Where are the shepherds?
Tanner offers us an opportunity to see a familiar scene from Western art history—the Christian Christmas narrative—in a new way. But there also might be more for us to learn from him this work than just a fresh spin on a holiday classic.
When we think of Christmas-themed artworks, many of us expect a picture more like Rembrandt van Rijn's 1634 etching The Angel Appearing To The Shepherds or Thomas Cole's painting (with the same title) The Angel Appearing to Shepherds (1833-34). In Cole's work, for example, we are given an expansive view of a landscape at night. A delicate angel, with long blond hair and diaphanous robes emerges from a golden swirl of clouds in the top-left corner announcing the birth of the promised Savior. In the dark background we see a cluster of buildings, presumably the stable in Bethlehem, lit by the light of a single, large star. We are distanced observers of a supernatural event occurring in an otherwise believable, naturalistic setting. Every actor in the scene is clearly visible and identifiable.
On the other hand, Tanner's Angels Appearing Before Shepherds requires us to look, and then look again. With the title to guide us, we slowly realize that Tanner has placed us up in the sky like a gliding bird. We are surrounded by "a multitude of the heavenly host . . . praising God and saying, 'Glory to God in the highest heaven, and peace on earth to the people he favors!" (Luke 2:13-14). The tiny orange flick of paint in the bottom right corner becomes a fire, the warm neutral brushstrokes around it settle into the bodies of shepherds. We are neutral, removed viewers but rather are in the midst of the unfolding story. Tanner encourages us to reimagine a narrative that might otherwise come off as stale.
In addition, Tanner offers us this (literally) new perspective by drawing from two different, seemingly oppositional artistic traditions.
Tanner himself was no stranger to moving between disparate worlds. The son of a formerly enslaved woman and an African Methodist Episcopal bishop, Tanner was one of the first Black students admitted to the Pennsylvania Academy of the Fine Arts. After two years he left to try to establish himself as a painter and photographer, first in Philadelphia and then Atlanta. However, the racism he experienced in the artworld—the absence of mentors, limited opportunities, and outright exclusion—increasingly took a toll on him.
In 1891, he moved to Paris. Tanner found French society to be far more accepting of him and his work and spent most of his remaining life as an expatriate in that country. He began to exhibit religious paintings in the Paris Salon, such as his widely acclaimed Daniel in the Lion's Den (1895). But, he also studied the work of French Realist painters like Gustave Courbet (1819-1877), whom Tanner admired for his gritty, unflinching representations of the working class. Tanner's 1894 painting The Thankful Poor, one of the few works he made of African American subjects, which he completed on a visit back to the U.S., reflected this commitment to carefully observe humble subjects on the margins of society.
Tanner's interests in biblical narratives and empirical observation merged in 1897 when he took the first of several trips to Palestine and North Africa. While there he studied the people, architecture, and atmosphere that were the subjects of his religious paintings, making copious sketches that he referenced in future paintings.
But Tanner had also begun interacting with an emerging group of counter-cultural French poets and artists with a different set of commitments. Known as the Symbolists, they believed that art should be a subjective expression rather than an objective transcription of the observable world. A painting like Odilon Redon's Flower Clouds (c. 1903) with its luminous, dreamlike quality, was one example of Symbolists' efforts to evoke the transcendent and spiritual by tapping into the psychological effects of color.
Instead of abandoning his interest in empirical study for the emotive mystery of the Symbolists, Tanner chose to merge these seemingly opposing approaches. As a result, his religious paintings from the early 1900s onward, including his Annunciation (1896) and Angels Appearing Before Shepherds, are somehow both insistently physical and evocatively spiritual.
Tanner draws from his experiences in Palestine to render the distinctive rolling hills of Bethlehem and the shepherds' simple robes. His Realist commitments remain. And yet, rather than painting with precise naturalism, he plays with abstraction to create a sense of mystery. The translucent forms we first identified as low-hanging clouds now become a row of angels with long, curving wings. But these are not simply anti-gravitational human figures, like the angel in the Thomas Cole painting we saw earlier. As soon as we notice them, these misty silhouettes seem to dissipate, joining a sea of white and ochre smears and scribbles that never quite coalesce into settled forms. Are we seeing spiritual beings? Or light catching on the rocks?
The paint that delineates the angels is thick and material, sitting on the surface of the canvas. Meanwhile, the bodies of the shepherds and the rolling rocks dissolve into a patchwork of layered brushstrokes. The physical world seems to be undergoing a metamorphosis as the spiritual realm pushes forward.
And this is precisely Tanner's gift to us as viewers. We see a familiar story from a new point of view, and we realize how little we might actually understand it. Mingling Symbolist evocations of the unseen spiritual world with a Realist particularity of place and culture, Tanner invites our curiosity.
What else might we need to see anew as this year ends? What seemingly oppositional viewpoints can exist in productive tension instead of mutual destruction? What can we still be curious about?
For the Christian viewer especially, Tanner's painting should disrupt shiny holiday clichés. His work emphasizes the utter strangeness of Christ's Advent. It exists between worlds, even as it announces God dwelling among us. And yet, as Madeleine L'Engle reminds us, we need not understand the mystery of the Incarnation. We can simply rejoice in it. 
Elissa Yukiko Weichbrodt is Associate Professor of Art and Art History at Covenant College in Lookout Mountain, GA.