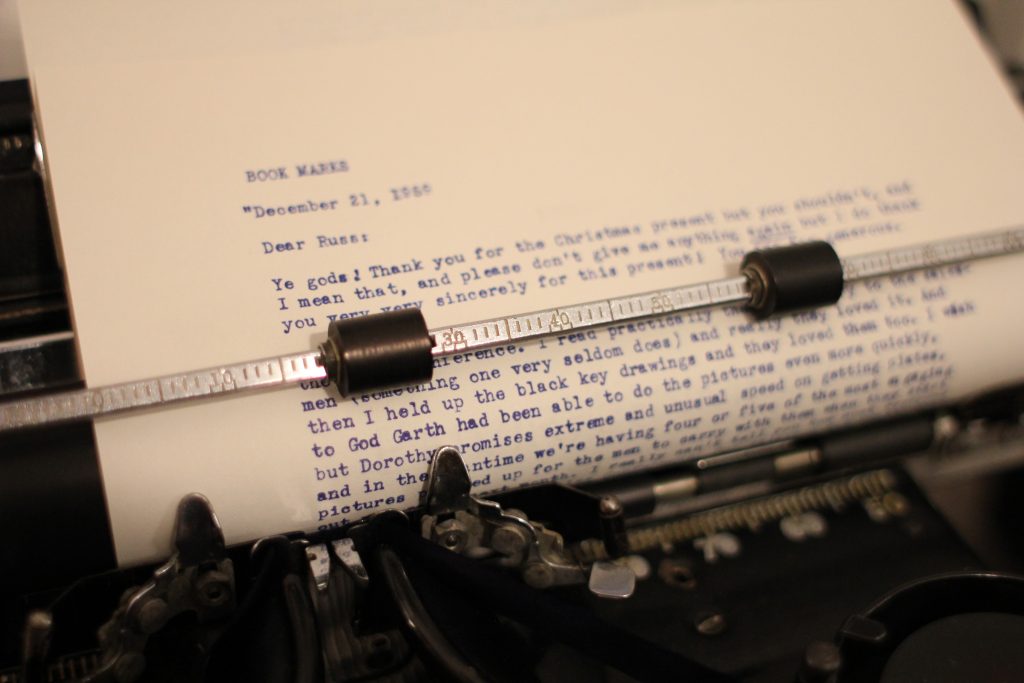 "Thanks again for the Merry Christmas. Best of everything in 1960 to you and yours."
In Book Marks, an occasional feature at Current, I take fresh cuttings from old books (or about old books). They are often about writing, education, communication, and the life of the mind generally, though I reserve the right to snap a sprig of greenery that simply tickles the fancy.
Why look at old books? Because there's a slat loose in the fence they've got us penned up in, and we can jiggle it free to see better what's going on out there.
With each extended quotation I offer an orienting comment, but that's not where the action is. The question is whether the words of those long gone may speak to you.
*
Ever heard of Ursula Nordstrom? Probably not. But how about any of the following books?
Charlotte's Web

Where the Wild Things Are

Harriet the Spy

The Runaway Bunny

Harold and the Purple Crayon

Bedtime for Frances
Nordstrom (1910–1988) was the editor behind the creation of all these books and hundreds more. She directed the children's division (which she mock-deprecatingly called "the Tot Department") at Harper & Brothers from 1940 to 1978, decades in which she played an outsized role in forming what children's books could be.
The scholar Leonard S. Marcus collected her business letters into a 1998 volume entitled Dear Genius — a double entendre if ever there was one — that gives access to the carbon-copy-stuffed files of Nordstrom's witty, incisive, and affectionate correspondence with luminaries among the twentieth century's great writers and artists, from Laura Ingalls Wilder to Shel Silverstein. There are many reasons to read her letters, and I hope you will. Through this book Ursula has become my mentor and a life-giving encouragement.
But maybe that makes it all sound pretty grandiose. Ursula would snort and type a row of exclamation marks. In the end any book of collected letters comes down to the day-in, day-out of ordinary events, and late one December she had a thank-you note to write. To it she added a first-hand account of an office meeting in the publishing biz. Her letter speaks of a love of books, as she tells her author Russell Hoban about the response of a hard-bitten and hard-drinking salesman to hearing Hoban's Bedtime for Frances for the first time. Hear what she has to say:
To Russell Hoban
December 21, 1959
Dear Russ:
Ye gods! Thank you for the Christmas present but you shouldn't, and I mean that, and please don't give me anything again but I do thank you very very sincerely for this present! You are too generous.
I am glad to tell you that Bedtime for Frances went beautifully at the Sales Conference. I read practically the whole story to the salesmen (something one very seldom does) and really they loved it. And then I held up the black key drawings and they loved them too. I wish to God Garth had been able to do the pictures even more quickly, but Dorothy promises extreme and unusual speed on getting plates, and in the meantime we're having four or five of the most engaging pictures printed up for the men to carry with them when they start out early next month.
I really can't tell you how much everyone loved the book at the Sales Conference. Our salesmen are really wonderful, and they love children's books. The sales manager listened to the words of your story so intently and changed his expression as I read, from firmness when Mother and Father spoke, to worry when Frances told about the tiger, and the crack in the ceiling, to delighted smiles at the whack and thump of the moth, and then solid relief when Frances finally went to sleep. I think he could rent himself out to attend other juvenile sales conferences as any ardent children's book editor would be willing to pay for that sort of reaction from a sales manager. I was really convulsed and wanted to say "Shall Mummy come over to your house and read you another story tonight, honey???" What is so amusing is that all these salesmen are tough guys who stay up late and don't miss any high spots while they are in New York. So to have them really go for our rabbits, mice, dogs, and now badgers, pleases me mightily. Well, how I do go on. Anyhow, your book went over real big! …
And thanks again for the Merry Christmas. Best of everything in 1960 to you and yours.
Yours, [Ursula]
—Ursula Nordstrom to Russell Hoban, in Dear Genius: The Letters of Ursula Nordstrom, collected and ed. Leonard S. Marcus (New York: HarperCollins, 1998), 130-31; one paragraph break added.
Jon Boyd is keeper of Book Marks at Current. He is the associate publisher and editorial director for IVP Academic at InterVarsity Press, the saxophonist in an improvisational rock band, a user of manual typewriters, and (with his wife and daughters) a resident of the City of Chicago.