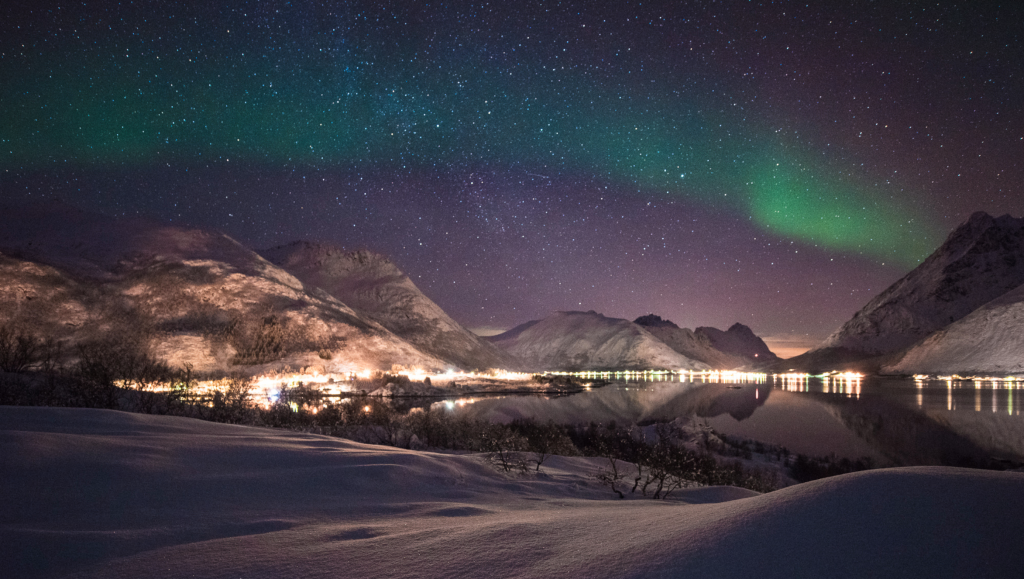 Even a little bit of quiet can take us a long way
America did Christmas pretty well in 1965. Charlie Brown and his scrawny tree made their TV debut, and homes like mine felt gloriously space-agey with their aluminum trees illuminated by rotating color wheels. Peak Christmas chic.
I, at age eight, lay next to the tree one night. Under those wispy strands of aluminum, with Harry Simeone's "Little Drummer Boy" playing on the console stereo, I tasted transcendence, or something like it. And I wanted more.
I am still chasing transcendence. We all are. And there's nothing like Christmas to whet the human appetite for it.
There's a reason Elon Musk and others say we're likely living in a computer simulation, and that nearly one third of Americans say they believe in astrology, and that there's soaring interest in UFOs and mindfulness as well as dark, esoteric claims about who's really pulling the levers of our world (see: QAnon). We suspect something is going on. This suspicion is ubiquitous, or nearly so. We want to know. Things are not simply as they appear.
Even people who are not religious in any traditional sense will often betray a nagging concern that something unseen and inscrutable is lurking and influencing things. Perhaps you've noticed this. Try saying in the office, "The phones sure are quiet today," and expect to be told to shut up, lest the phones start to go crazy. The author Daniel Strange has called this phenomenon a "quiet conspiracy"—that is, a conspiracy about the word "quiet"—or simply the "Q thing" (to be distinguished, of course, from the "QAnon" thing). Strange quotes a doctor who says that nothing strikes terror in the heart of a physician making her rounds like hearing, "It sure is quiet today." "Most patients don't know it," the doctor writes, "but there is no breed of human more superstitious than a doctor doing shift-work." Why would extravagantly educated people think one word, said aloud, could unleash trouble in the emergency room?

You might also have noticed that many people who would never darken the door of a church will refer to things that are "meant to be" in their lives. Or they're concerned about something being "jinxed." Or, with the sort of certitude that a fundamentalist would admire, they aver that ghosts are among us.
We yearn to know what is beyond, behind, and above. The committed materialist may be uncomfortable with the language of metaphysics but may nevertheless express interest in the notion that we are in Musk's Matrix-like computer simulation. As Joshua Rothman observed a few years ago, this idea "gives atheists a way to talk about spirituality." Unseen, super-smart forces are pulling the strings. The concept offers, he says, "a source of awe."
Which is another good word—if "transcendence" troubles you—for what I glimpsed under the glowing aluminum Christmas tree: awe. Most of our days are conspicuously devoid of awesomeness. We trudge on through. We hunger for awe. We're off to the Grand Canyon or saving up to pay Musk and Bezos for rides into space. (Or we wish we could.) We want to be thrilled—to be awestruck—for the exhilaration of it, or just to distract us from our everyday existence. Or to fend off what Ayad Akhtar writing in The Atlantic recently called the "interior discomfort" that we aim to obliterate by constantly, and narcissistically, checking our hand-held devices.
And then there's death. If we want to transcend life's dullness and troubles, how much more do we want to transcend death? How do you process it in your head? No matter how much we may commiserate with Woody Allen about death ("I am strongly against it"), we have to ponder it. Cornel West asks: "How do we live with the idea that we are always tantalizingly close to death?" A cheery thought, that. But think of it we must, and do. We wonder.
But this is an essay about Christmas; it should be merry and bright. My aim here is not to make arguments for an ontologically transcendent Other—though I am a Christian myself, so the "biblical metaphysic" (as David Brooks puts it) is my own belief, and is, of course, the ontological frame to which the manger and the wise men and even the aluminum Christmas tree point. That is, Jesus was born. "The Creator pulls on a garment of blood and bone" (says Michael Gerson), dwells among us, and, in eventually being executed, executes a plan to rescue all transcendence-chasers who believe in him. Big, if true! as they say.
But even if your intuitions about transcendence land you in a different place, or nowhere in particular—perhaps you're simply worried about saying, "It sure is quiet tonight," and what that might conjure—still, I commend Christmas to you. We need it. We need it to stimulate our wonder, to carry our thoughts to higher places, to give us moments to ask, with Pascal, "Who set me here? By whose order and design have this place and time been destined for me?"
Scooch up next to your glowing tree and ponder.
Rob Vaughn is a long-time TV news anchor in the Philadelphia market (WFMZ-TV / Allentown). His essays have appeared in various newspapers and at ReligionUnplugged.com, Reformation21.org, Breakpoint.org, and elsewhere.