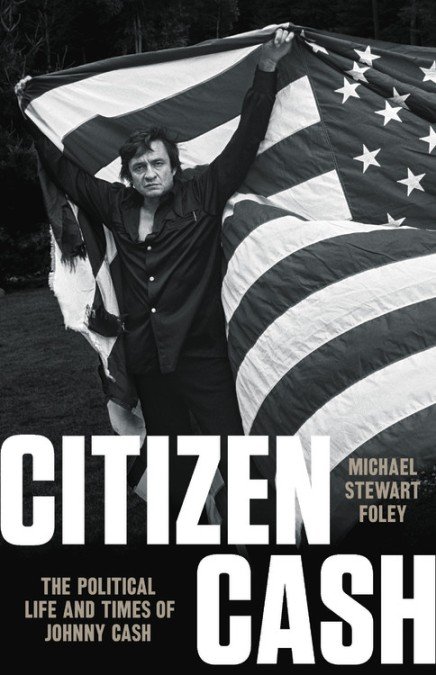 Over at The Atlantic, Stephen Metcalf reviews Michael Stewart Foley's Citizen Cash: The Political Life and Times of Johnny Cash.
For Foley, Cash's status as an artist whose music deeply engaged otherwise incompatible audiences gives him a special relevance to us now. He is a radically unsorted man speaking to our radically sorted times. Just as there are two Americas, there are two Johnny Cashes. One is likely better remembered by older fans in red states as the country artist who aligned himself with Richard Nixon and Billy Graham, who sneered at the "hippahs" and wrote the lines "I do like to brag, 'cause I'm mighty proud of that ragged old flag." The other is the acceptably blue-state Cash, the antiestablishment rebel flipping the bird at a camera in San Quentin; the Cash of Native American rights.
Foley's method is to remind each set of fans of the other Cash, the Cash they've conveniently forgotten, and then show how he made up a single human being, one who did his own justice to the complex task of being an American. The argument has a certain wishfulness to it. To begin with, there's the faith Foley places in "empathy," or Cash's tendency to be "guided by his own emotional and visceral responses to the issues." What thinking person in 2022—amid the outrage and umbrage Olympics that is American life—still wants an emotional response? We prefer, I think, respect, health care, and a living wage. The case made by Cash is less on behalf of "empathy" than of a world in which partisan affiliation isn't a depressingly strong predictor of—well, everything else, including musical taste.
And Metcalf's conclusion:
Cash wasn't any kind of a politician. He was an American artist of the very first magnitude. Listening to him, unrelentingly, for months now, I think he did have something to tell us. It may be idiosyncratic, but here is what I heard: Ironically, for a country built on the promise of owning your own land, among the truest Americans are those who worked the earth without owning a single crumb of it. Dispossessed, they were forced to take possession of themselves another way: They sang. Denied, substantively, the right to happiness, they declared instead an absolute right to personality. This was most true of Black people, but it could also be true of poor white people. However you apportion credit, together they created a common inheritance we all live off to this day. Upon that commonality, Cash seemed to believe, we might form a less grossly imperfect union. The hope is very beautiful, and I think, in its way, true. But it is not enough.
Read the entire review here.