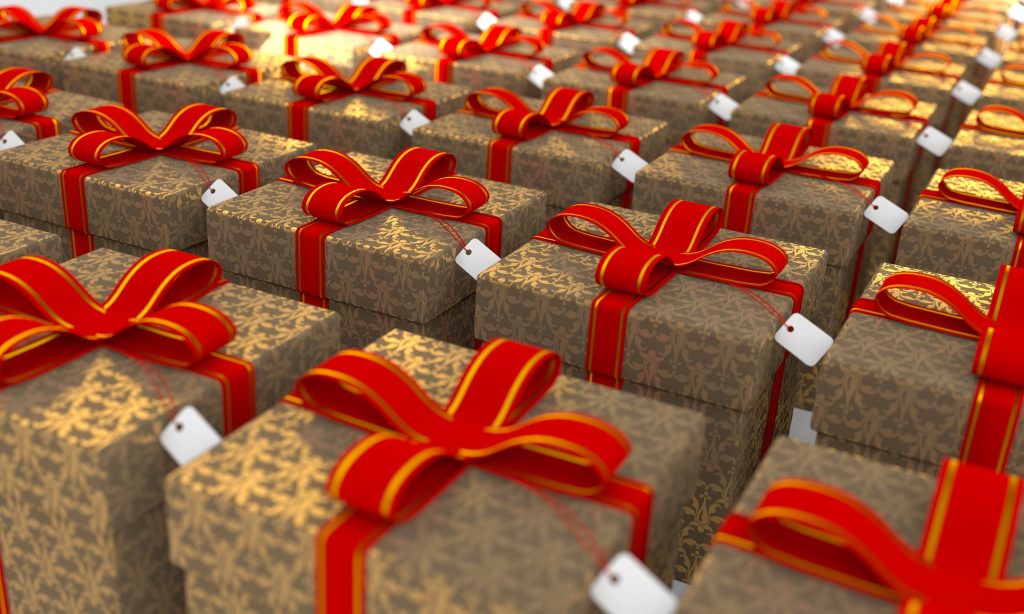 "Buyer beware" takes on new meaning when browsing at an estate sale
For the next few weeks the summons will be relentless: Buy it now! From the opening bell of Black Friday until The Last Chance for December 24 Delivery, spending opportunities abound. Christians may inveigh against commercialization—"Jesus is the Reason for the Season"—but piety alone doesn't solve the problem of gift giving. To be sure, some gifts are easy: for children, for people in need, for people whose yearlong longsuffering we honor with a package. But many of the things we pay money to give to people are much trickier. When we buy gifts for people we love, we want to infuse the thing with love, and keep it there. Most things, though, prove to be leaky vessels for that sentiment. We may try to compensate by buying too much, or by just buying something, anything.
If you're looking for something to quench the urge to buy just one more thing, take tonic from an unexpected place: the estate sale. I was raised going with my mother to garage sales, where people choose the things they want to part with. I used to think estate sales were too expensive for my purse, held by people who had "estates." But when I started following bright orange signs in Northwest Indiana, I found myself in the middle of someone else's ars moriendi. "Estate" just means whatever stuff is left over when life stops. By that point you don't choose what you want to give away. It all goes, much of it to the highest bidder.
Lots of these leftovers are predictable. The commonalities of these estate sales are what you notice first. It turns out that older people are susceptible to fashions, just like impressionable youth. How else explain the recurrence of the same patterned sofas, the same stuffed recliners, the same turned-leg chairs in dining rooms?
If commonalities are what first strike the eye at an estate sale (followed immediately by the stunning particularity of each person), the feeling that usually sticks is the jolt of abruptness. Browsers and buyers feel how suddenly someone had to leave it all behind. Estate sales usher others into the interruption of a life, usually not prearranged like a page break—more like a cut between syllables.
The smaller stuff is most revealing. Even with these things there are patterns: the kitchen counters crammed with small appliances, cutlery sets, mixing bowls, and nonstick skillets scratched inside; the long table of Christmas decorations in the basement, the tool-and-garden oddments in the garage. Work leaves evidence: the plaque marking twenty-five years of distinguished service at State Farm, the ABC quilts and workbooks of a schoolteacher. You learn about people fast, seeing their belongings arrayed this way. You can tell the people who cooked a lot; the ones who traveled; the ones who camped, golfed, or scrapbooked. You learn who loved Scotland down to the tea towel, who played board games or kept them for grandchildren, who had a soft spot for corgis. You can even venture a guess at what brought about the end: Some houses feature walkers or stair lifts, some have pumps, tubes, humidifiers in the hall closet.
A taped X seals off some rooms, but it is hard to shake the feeling that we don't belong in some of the spaces where customers roam. Belts and ties hang from racks on his side of the closet, and hers keeps too many versions of the same sweater. It feels intrusive to see into private lives this way, tissue boxes and prayer books and body lotion bottles half-empty. What buyers come for are the treasures raked from the rubble—or a sturdy commitment not to pay at retail rates. Naturally, buyers want the best thing for the lowest price. They can bargain, especially in the sale's last hours. Haggling over prices of the goods of the dead can be deeply uncomfortable, casting lots for garments.
Are there some things that should not be sold at all? The half-used laundry detergent or soy sauce could just be thrown away. On the other hand, maybe humility endorses this concession to our embodiment. The user of these things can't use them anymore. Someone else can. In principle, not much difference separates the partial bottle of this or that from the coffee table or blender. Maybe buying the old bits of this or that honors the users in a small way: Here, let me take that off your hands, we won't let it go to waste.
What a relief that buyer does not pay seller—widower, sister, daughter, nephew—directly for the book or dishes or coffee table. Families who hire these companies must decide whether the cut taken will be worth having someone else do this job. To my eyes this service is almost beyond price, the relief provided by these aproned staffers dealing with quotidian reminders of the departed. Their efforts draw decent drapery between our grasping fingers and the bereaved, a work of mercy.
Occasionally the personal effects for sale are very personal indeed, a wedding portrait or high school yearbook. Recently I bought a 1969 yearbook from a Gary high school. Prom pictures were tucked in the pages and the flyleaf inscriptions told their young female owner to "stay sweet." Reading this, let alone owning it, is rank intrusion. I get some reassurance from my training as a historian, since it's my job to read other people's diaries, private notes, things never meant for my eyes. The difference is that these sources don't come to the researcher's hands abstractly—documents acquired by a library or dug up in a cave—but through happenstance in the family's grief. Maybe the family overlooked this item, or forgot about it, or in the disarray of bereavement could not evaluate what they were giving up. I want to think that my curiosity can esteem those whose goods I handle. I google things. I try to figure out who these people were and what their lives were like between one artifact and the next. I am sure I didn't pay what this yearbook is worth. I will take good care of it, but still, I might rather give it back.
How might a mind-picture of the estate sale assist our gift-giving, beyond giving pride of place to candy or liquor that perish with using? We might leave some items on the shelf if we imagined them, a few years hence, priced at a dollar on a table full of mugs and utensils.
The thoughtful gift is one that shows we know the recipient and can envision their enjoyment. When those reflections are not obvious, we could make them explicit. More creatively, though, we might reverse the relationship of giver and receiver. If our best gift is our demonstration that we see and know those close to us, we could find ways, perhaps especially with older people, to give them the means to preserve what they find important, restoring or recording through objects or deeds. It would honor the feast of the Incarnation, this storing up in heart of what our loved one loves.
Agnes R. Howard teaches in Christ College, the honors college at Valparaiso University, and is author of Showing: What Pregnancy Tells Us about Being Human.