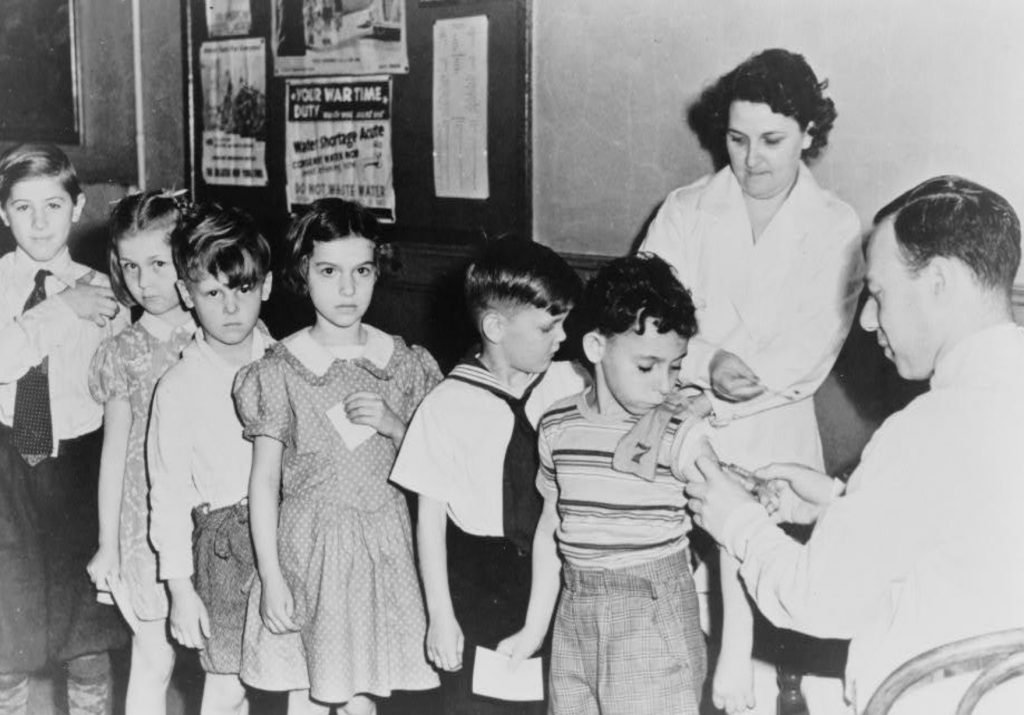 When did American individualism become a "sincerely held religious belief"?
According to a September 2021 study from the Pew Research Center, only fifty-seven percent of white evangelical Christians have received at least one dose of the COVID-19 vaccine. Many evangelicals are asking for religious exemptions, and they are doing so in unprecedented numbers. Indeed, the United States is charting new territory on this front.
Resistance to vaccines has a long history in the United States, but requests for religious exemptions to vaccine mandates are a relatively recent development. Prior to the arrival of British scientist Edward Jenner's smallpox vaccine at the turn of the nineteenth century, Americans tried to immunize themselves from the disease through inoculation, the practice of injecting a small dose of smallpox into the arm in the hope that the body would produce the necessary antibodies to fight off future exposure. Occasionally the process backfired. Inoculation could produce a full-blown case of smallpox which, in turn, would lead to greater spread. Much of the resistance to inoculation came from those concerned about its effectiveness. Some Puritans and their descendants opposed the practice based on a belief that smallpox was a punishment from God and should thus be allowed to run its course, but most early American evangelicals defended inoculation. For example, the evangelical revivalist Jonathan Edwards—who, ironically, died from a smallpox vaccination in 1757 while serving as president of the College of New Jersey at Princeton—was a strong proponent of the practice. 
Jenner developed his vaccine from cowpox (vaccus is Latin for cow), a disease that affected cattle. He found that when humans received small doses of cowpox they developed antibodies that made them immune to smallpox. Massachusetts passed the first mandatory vaccination law in 1809 and in 1855 became the first state to require vaccination for children. In 1905, the Supreme Court (Jacobson v. Massachusetts) decided that a Massachusetts vaccination law did not violate the 14th amendment, concluding that a state could curb individual liberties to protect the general population from smallpox. And in 1922, the high court ruled in Zucht v. King that the city of San Antonio, Texas could prevent unvaccinated students from attending public or private schools.
What is most striking about these laws and decisions, especially in the wake of our current debates over exemptions, is that those who opposed them rarely made religious arguments. Resistance was based almost entirely on the safety and effectiveness of the vaccine or the threat that such mandates posed to American liberty. Most of the religious opposition came from Christian Scientists, a small religious sect of fewer than 50,000 people that believed disease was a state of mind and could only be overcome through prayer. They were the first group to argue for a religious exemption from the vaccine, but their lobbying went nowhere. In fact, when Christian Scientists at the turn of the twentieth century faced public criticism because children were dying of smallpox in their congregations and schools, the movement's founder, Mary Baker Eddy, urged her followers to take the vaccine and pray that it would not make them sick. 
"Religious exemptions" to vaccines became legal with the passing of the Civil Rights Act (1964). Title VII of this landmark piece of legislation prohibited "employment discrimination based on race, color, religion, sex, and national origin." Christian Scientists often argued that the same religious exemptions that the Civil Rights Act afforded employees should also apply to school children. They were successful in getting state legislatures to write such exemptions into measles and polio vaccine mandates, but even as late as the twenty-first century the overwhelming majority of arguments against vaccine mandates were not religious in nature.
So why are so many evangelical Christians, a religious group with virtually no history of opposing vaccination, so resistant to vaccines? Let me suggest three related reasons.
First, many white evangelicals were influenced by the anti-vax movement that reached a peak in the wake of British doctor Andrew Wakefield's 1998 article in the prestigious medical journal The Lancet that connected the measles, mumps, and rubella (MMR) vaccine to autism. The article was quickly discredited and The Lancet retracted the article, but it was too late to undo the damage caused by its bogus claims. The controversy empowered anti-vaxxer groups. American comedian Jenny McCarthy advanced Wakefield's views in three books on autism. Evangelicals baptized these anti-vaxxer ideas with Bible verses and referenced them on school exemption forms.
Second, a significant portion of the white evangelical population has lost any sense of social obligation. Individualism has long been a characteristic of American evangelicalism. This explains why the movement has been so successful in a country where liberty and rights are so valued. But over the last fifty years or so, as historian Daniel Rodgers argues in his award-winning intellectual history The Age of Fracture, "imagined collectives" have given way to the language of rights, and personal choice and "strong metaphors of society" have been "supplanted by weaker ones." Rodgers blames the libertarianism of Ronald Reagan, the hero of today's Christian Right, and British prime minister Margaret Thatcher, who once said that "there's no such thing as society. There are individual men and women and there are families." Evangelicals have not been immune to these larger cultural and intellectual developments and, in many cases, they have precipitated them. Sadly, this kind of individualism is on full display in our current vaccination crisis and it is only exacerbated by rogue cable networks and social media.
Third, the idea that the United States was founded as a Christian nation, took a wrong turn sometime following World War II, and must now be restored to its spiritual heritage through public policy has led many white evangelicals to confuse the Enlightenment-based rights articulated in America's founding documents with a proper Christian theology of public life. Americans may have the right to put their neighbors in jeopardy by exposing them to a potentially deadly virus, but those who name the name of Christ do not have this option. Evangelicals are more confused than ever about this distinction, and people are dying.
So where does all of this leave us? The question of religious exemptions will no doubt be decided by the Supreme Court. The high court has not addressed vaccine mandates in nearly a century and it has never ruled on religious exemptions related to such mandates. But in light of the historical number of religious exemption claims, and the court's recent interest in religious liberty cases, we should expect the justices to address the issue very soon.
Historically, the court has provided religious exemptions in non-vaccine-related cases based upon "sincerely held religious beliefs." So when it does tackle vaccine cases, it will need to decide whether junk science, individualism, Enlightenment-based rights, and Christian nationalism meet this standard. 
John Fea is Executive Editor of Current.