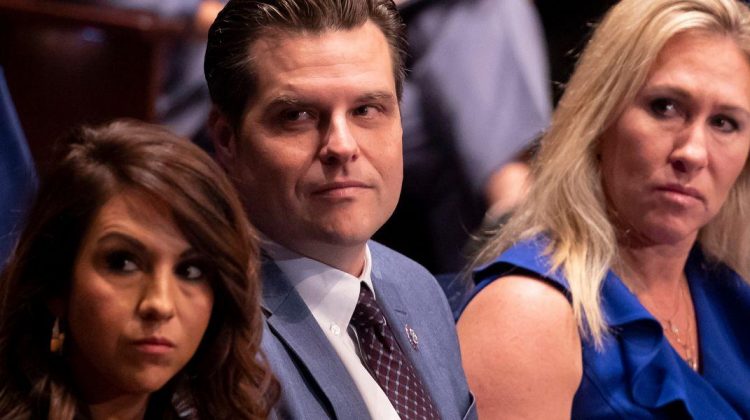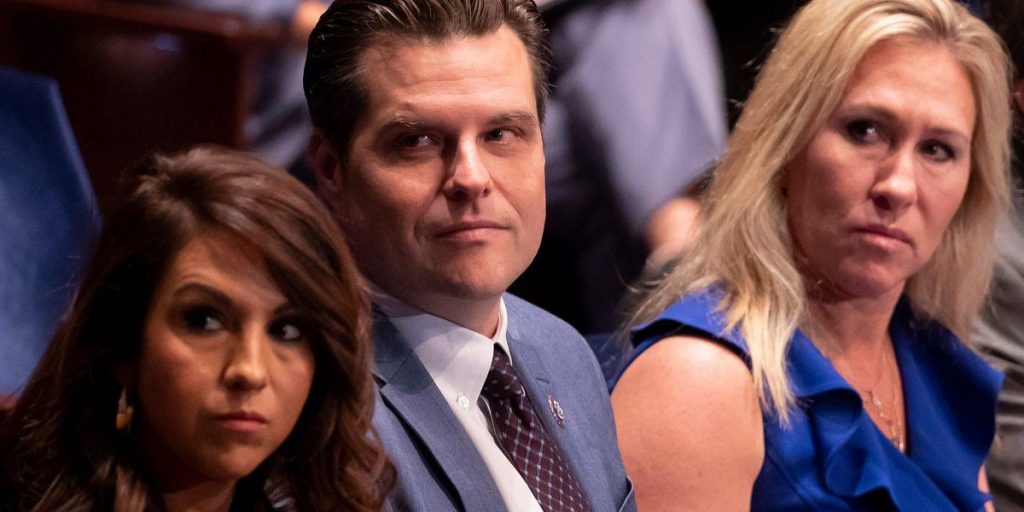 The Republican Party is a laughing stock. The Trumpian Far Right seems to be running the show, the Republican center is "muted," and the leadership of the party is just letting the chaos ensue.
Here is Jonathan Weisman at The New York Times:
Hostilities between the Republican far right and its typically muted center burst into the open on Tuesday, highlighting deep divisions that could bedevil the party's leaders if they capture a narrow majority in the House next year.
Initially prompted by the anti-Muslim comments of Representative Lauren Boebert of Colorado, the Republican-on-Republican war of words on Tuesday was remarkably bitter and an indication of a brewing power struggle between an ascendant faction that styles itself after President Donald J. Trump and a quieter one that is pushing back.
First, Representative Marjorie Taylor Greene of Georgia called her freshman colleague Nancy Mace of South Carolina "trash" for condemning Ms. Boebert's remarks in a television interview.
Ms. Mace then used a series of emojis — a bat, a pile of excrement and a crazy clown — to describe Ms. Greene, then kept up a steady stream of social media attacks, calling her a liar, a grifter and a nut.
Representative Adam Kinzinger, Republican of Illinois, came to Ms. Mace's defense, calling Ms. Greene "unserious circus barker McSpacelaser" — a reference to a social media post that she once circulated suggesting that wildfires in the West had been started by lasers owned by the Rothschilds, a Jewish banking family.
Mr. Kinzinger added that Representative Kevin McCarthy of California, the Republican leader and would-be speaker who has done nothing to discipline rank-and-file members of his conference for bigoted and violent statements, "continues his silent streak that would make a monk blush."
Then Representative Matt Gaetz of Florida, an ally of Ms. Greene's, took to Twitter to amplify an attack by the right-wing provocateur Jack Posobiec denouncing Ms. Mace as a "scam artist" for promoting coronavirus vaccinations on CNN.
The carnival-like behavior would amount to little more than a sideshow if it did not have real implications for midterm campaigns and, possibly, a fractured Republican majority in 2023. Party leaders again chose to remain mum as their backbenchers brawled, and Democrats took full advantage of the spectacle.
Read the rest here.
It seems like the only thing holding this carnival together is their love for Jesus:
We've already discussed Lauren Boebert's Jesus-love here. Yesterday we also learned about this:
Marjorie Taylor Greene is a regular on Christian Broadcasting Network journalist David Brody's program.
Watch her here talking about America's spiritual battle:
Here is Matt Gaetz:
And let's not forget GOP leader Kevin McCarthy:
Madison Cawthorn does this on the floor of the House of Representatives:
And this:
And then goes to megachurches: