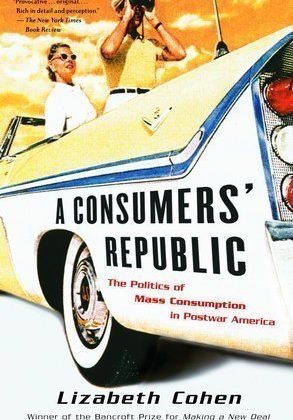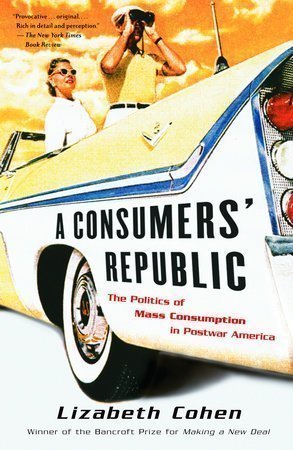 Here is the Harvard historian's recent interview with NPR's Mary Louise Kelly:
KELLY: We're glad to have you with us. I want to go back and try to figure out how this started that Americans became such champion consumers. And I gather you would take us to somewhere right around World War II.
COHEN: Yes, I would. And it really happens during the 1930s that there is a recognition that the way to get us out of the Depression most effectively would be to prime the pump, to actually put money in people's pockets. And, of course, the war comes. And most historians agree that it was the war that got us out of the Great Depression. People are earning money, but they can't spend it in the ways that they might have because of the price controls of World War II. And so during the war itself, there is a consensus that emerges that the solution to the postwar economy would be to create an economy that is based on mass consumption. So prosperity will be achieved through people purchasing lots of goods.
KELLY: The way you're describing this sounds very much as though this were government-directed. This wasn't people just woke up and decided, I want to blow all my money. This was the government saying, this is the way out.
COHEN: It's the government. And it's also, you know, manufacturers and corporations who'd been making munitions and airplanes and tanks who are thinking about what are we going to be doing when peace time comes. And so even during the war, you start to see advertising that promises people that when victory comes, you will have a home equipped with full appliances. And so that appetite gets fed.
KELLY: In those postwar years when spending, when buying really took off, it's an economic story, a business story, of course, but also a cultural story. There's a shift, it sounds like, there from, you know, wartime years, we're all going to save, this culture of thrift and sacrifice to, hey; I got money, and I'm going to show it off, and I'm going to do something with it.
COHEN: Absolutely. But the nature of that culture around consumption does change over the postwar period. It starts off as a promotion of mass consumption, mass marketing. We're just going to get lots of people to buy the same things. By the late 1950s, however, retailers, manufacturers, advertisers come to recognize that, despite the planned obsolescence that's built into that which encourages people to buy new things because the old things are out of fashion or they're going to break down – that there would be a market saturation. There's a limit to what people are going to buy. And so what happens is that the market shifts to market segmentation and a targeting of goods to very specific segments of the market.

Read or listen to the entire interview here.