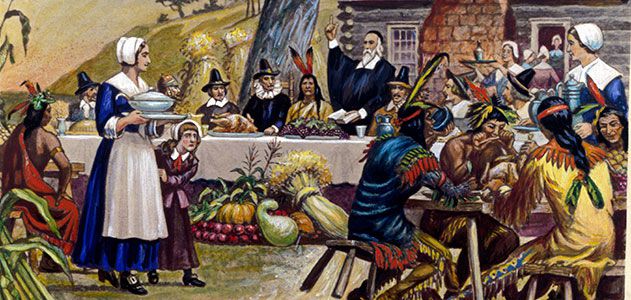 Here is the Editorial Board of The Wall Street Journal:
Since 1961 we've run a pair of editorials written by our former editor Vermont Royster. The first is a historical account about the Pilgrims in 1620 as related by William Bradford, a governor of Plymouth Colony. The second is a contemporary contrast from the mid-20th century about the progress a prosperous America has made that we can all be thankful for.
The editorials are popular with readers, who tell us they appreciate the sentiments about hardship and gratitude during what should be a unifying national holiday. For decades we've run them with nary a discouraging word.
But we live in a new era when the left sees nearly everything through the reductive lens of identity politics. It sees much of American history as a racist project that should be erased. This is the motivation of a petition campaign to censor the Pilgrim editorial.
The effort comes via Change.org, a website that calls itself "the world's platform for change." It mobilizes campaigns to promote progressive causes. The petition driver is Randy Kritkausky, an author who writes about Native Americans. His petition has gathered some 50,000 signatures…
Read the rest here.
Read the Change.Org petition here.
Want to learn more about the Plymouth Colony and the "First Thanksgiving?" Here are some resources: