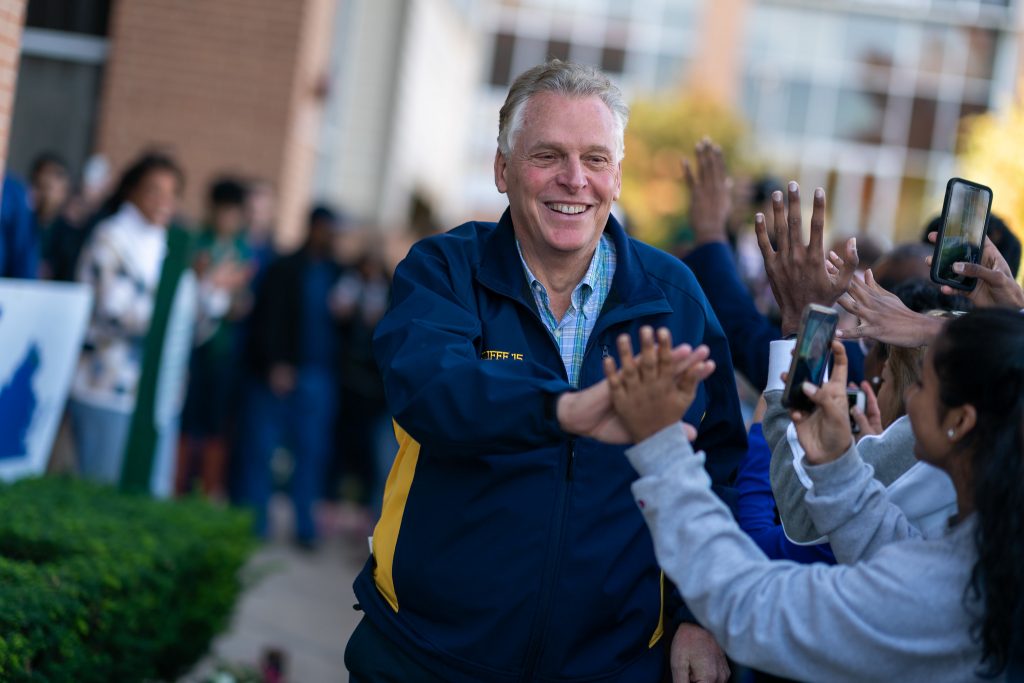 The Democrats need to stop annoying voters long enough to save democracy
Everyone who follows politics knows Virginia Democrats lost a tough election on November 2, falling to a GOP led by Glenn Youngkin, a neophyte running a kinda-Trumpy, pro-censorship platform.
The loss probably hurt even more because the Democrats ran an upbeat, energetic campaign that mostly involved sending fundraising emails.
Here is one positive, thoughtful email from Virginia's erstwhile gubernatorial candidate Terry McAuliffe himself, sent on October 26:
Earlier today, I emailed about how we're just days away from Election Day. I thought my message would get our grassroots team fired up to hit our huge goal before tonight at midnight.
But, according to my team, my email bombed.
I'm sorry—I should have warned all Republicans reading this not to take a big drink of milk before reading that quote, because that milk is now coming out of their noses as they lose control of themselves laughing. It is objectively hilarious that a politician would come right out and say, "I'm doing a terrible job! Won't you contribute to my campaign?"
The hell of it is, most of those hundreds of emails had a real point: Glenn Youngkin in fact took money from January 6 organizers and questioned the legitimacy of Biden's election. Youngkin isn't Trump but he is Trump-adjacent. Indeed, most of the GOP seems intent on undermining elections, destroying public health, and letting neighbors spy on neighbors who get abortions.
But Virginia Democrats couldn't capitalize on that. Indeed, McAuliffe's email suggests he was completely baffled as to why they couldn't capitalize on that.
That, of course, is the problem. Since 2012, as the Republican party lurched to the right and began dismantling guardrails that keep the republic from becoming a dictatorship, the Democrats have largely adopted a policy of sitting tight and waiting for voters to reject extremism. In 2014 and 2016, that strategy netted big losses for Democrats; in 2018 and 2020, it gave them smaller-than-expected wins.
For nearly a decade, Democrats have been promising over-the-top, realigning election victories. And for nearly a decade those expectations keep getting pushed into the future, where vague promises of demographic shifts will secure a lasting Democratic majority. Other excuses proliferate, too: We didn't expect big Republican turnout. The president's party usually loses in off-year elections. The electoral college is unfair. It was close. Our candidate didn't bring people out.
Or: I thought we would be all fired up. Instead, we bombed.
Stupid emails are not evidence of an existential crisis; they are evidence of an institutional crisis. The institutions of the Democratic party—the Democratic National Committee and its small army of fundraisers, campaigns wonks, and pollsters—seem dedicated to the idea that Democrats simply need to raise money, make phone calls, and offer up supremely bland candidates and the votes will roll in. It is, to them, common sense. When this logic fails, they are stunned. And yet somehow they continue to pursue the same data-driven, turnout-based, milquetoast approach that has yielded lackluster results in four straight election cycles.
Many rank-and-file Democrats know this approach is riddled with bunkum. Many elected Democratic officials don't follow its dictates. Senator Raphael Warnock swung for the fences in a conservative state, winning on a fairly liberal platform by talking about his journey out of desperate poverty, and by openly declaring he eats pizza with a fork. And President Biden knows how to channel the Democrats' working-class origins—projecting an image (sometimes) that leaves the technocratic present for a gritty past of union workers guzzling black coffee out of styrofoam cups and smoking cigarettes while plotting how to win in a landslide.
But other Democrats love their own political savvy so much they can't help projecting it—and thereby live down to the charge of elitism that Trump so gleefully foists upon them. Terry McAuliffe lived down to the stereotype almost perfectly. A political fundraiser and friend of the Clintons who decided he'd like to be governor, McAuliffe did little in his 2013 campaign for office and finished just slightly ahead of Republican Ken Cuccinelli, who made homophobia the central platform of his campaign. On this thin resumé McAuliffe declared he was "dying to run for president," and that he would beat Trump "liked a rented mule" but unsurprisingly found he did not stand out in a crowded field. So he disingenuously suggested that he was needed back in Virginia and tried to become governor for a second time.
In the process, he elbowed his way past Virginia Carroll Foy, a politician known for reaching across the aisle and one of the first women to graduate from Virginia Military Institute. I do not know why Democrats passed over Foy—an African American veteran from a humble background who likely would have made a stronger candidate than McAuliffe. But it's very possible McAuliffe's fundraising emails tripped her up.
National Democrats also helped McAuliffe lose, turning the summer into a free-for-all policy debate in an effort to craft a single, unified bill that could get fifty votes in the U.S. Senate. This approach probably helped solidify an image of Democrats as being unsure why they are even in government.
(And yes, I understand that crafting legislation is hard. I am pointing out that when you are the U.S. Congress you have to do hard things. I might also point out that if you engineer lots of votes on lots of things, people will see how hard you are working and might reward you, instead of seeing you argue about whether or not you should do something. It is almost as if voters like bold and decisive action over dithering.)
The GOP attacked McAuliffe for not knowing why he should be governor and then McAuliffe wrote fundraising emails about the bad job he was doing running for governor.
All of this would be funny if the national Republicans weren't so dead set on undermining democracy. Democrats have to succeed in order to save democracy—and yet that imperative alone will not be sufficient. The Democrats are not weighed down by moderates or progressives; they are weighed down by caution.
It is possible the Democrats have learned this lesson; Youngkin's victory at least compelled them to pass an infrastructure bill. A more profound transformation would involve getting rid of some of the most dedicated practitioners of the McAuliffe approach to politics. Chuck Schumer should lose his job as majority leader. Jaime Harrison should not be chair of the DNC. And anyone who makes excuses for the McAuliffe loss should not be put in charge of any further campaigns.
The question is whether the workaday Democrats rising to meet this moment will aim to lead the country and save America rather than merely win elections. Democrats must risk losing some legislative votes to win some legislative elections. The party has about six months to work out its problems—and I hope they will begin by tossing out every practitioner of the McAuliffe school of sit-tight-and-wait-for-the-GOP-to-blow-it strategy.
As McAuliffe himself said, that bombed.
Adam Jortner is the Goodwin-Philpott Professor of Religion in the History Department at Auburn University. He is the author of the Audible series Faith of the Founding Fathers and was part of the creative team behind Where in Time is Carmen Sandiego?