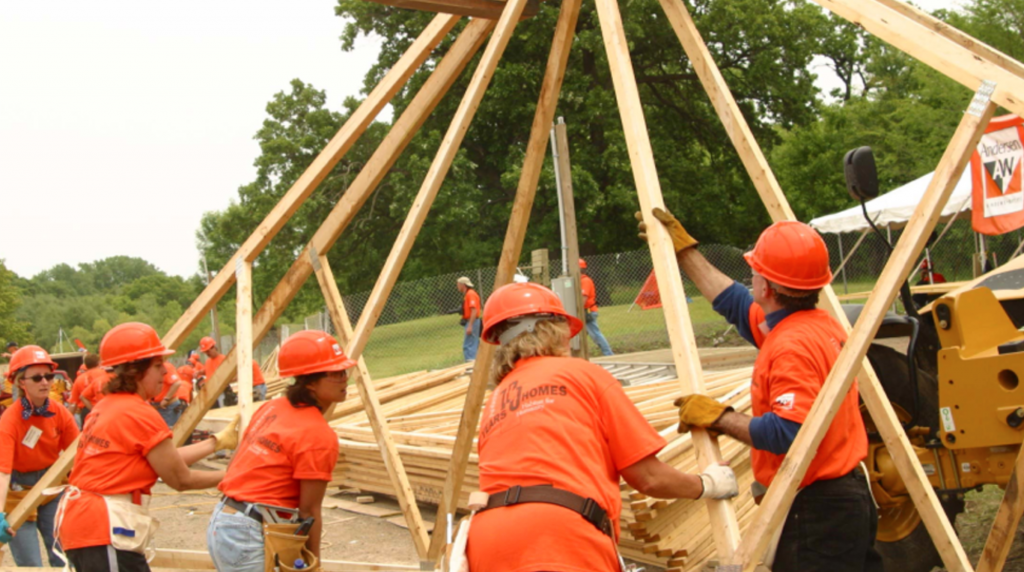 People in my line of work are good at deconstructing things—texts, ideas, movements, traditions. Academics and intellectuals are critics by nature. We tear things down, move to the next project, and let others pick up the pieces. We are rarely around to rebuild what we have destroyed with our sharp tongues and searing prose.
There is, of course, a place for critique and the so-called "prophetic voice." In the Old Testament (1 Kings 18), King Ahab called the prophet Elijah a "troubler of Israel." Elijah responded, "I have not made trouble for Israel . . . But you and your father's family have. You have abandoned the Lord's commands and have followed the Baals." This is the prophetic voice at its best.
We need prophets—men and women who, according to Catholic moral philosopher Cathleen Kaveny, "speak unequivocally and from on high: from a position of an unassailable authority, whether God, or Reason, or Common Sense." But sometimes we tear down when it is really time to build. As Kaveny writes of the New England Puritans: "Despite its trenchant criticism of the community's patterns of behavior, the jeremiad generally functioned as an instrument of social unity." Martin Luther King railed against the sin of racism with a long-term goal of building the Beloved Community.
I am no prophet, but people tell me that over the past five years much of my writing and speaking has taken a prophetic tone. I understood my book, Believe Me: The Evangelical Road to Donald Trump, the subsequent speaking tour that followed it, and the hundreds of blog posts and op-eds I wrote on the evangelical embrace of Trump, as a form of "moral chemotherapy," a phrase Kaveny uses to describe "a reaction to a potentially life-threatening distortion in ordinary, day-to-day moral discussion." Such chemotherapy, Kaveny argues, often emerges when a "mistaken premise . . . threatens to undermine the very possibility of moral and political reasoning within a community. It is in these desperate situations that the stark, harsh focus of prophetic indictment becomes necessary." 
There are people who spend their entire adult lives administering (and/or receiving) this kind of chemotherapy. But for most of us, the prophetic voice, with all its emotional urgency, must give way to more ordinary forms of public engagement, the kind of discourse that takes place in communities and is sustained by institutions. In the wake of prophetic storms, already existing communities and institutions often go through a process of reform. Others must be built or rebuilt from the ground up. But one thing is certain: after a community or institution goes through the pain and suffering of moral chemotherapy, little stays the same.
I was harsh on my fellow evangelicals during the Trump era. My attempts to speak what I believed (and still believe) to be true about the way evangelicals engaged in a politics of fear, power, and nostalgia were divisive. Some of the things I wrote landed close to home. An elder in my congregation dragged my name through the mud in public forums. Another friend from church, upon learning that I voted for Joe Biden, questioned whether I was still a Christian (for the record, I still am). I have lost friends and strained relationships with extended family members. It has been eighteen months since I worshipped in person at my church. My absence no longer has anything to do with COVID-19.
With the help of trusted friends and advisers, I plan to return to church very soon. I still believe in this institution—the body of Christ—but I am almost certain that my congregational life will look different from now on. I remain an evangelical Christian, but I also feel like I am braving the current of the Rubicon.
Professionally, as I embark on the back end of my career as a historian and history professor, I am starting to reflect on how my experience can be used to advance something greater than my own career and ambition without sacrificing my call to a Christian intellectual life. What kind of communities and institutions do I need to align myself with that will enable me to serve others while continuing to live out a call to an academic life of teaching and writing? Where will I invest my final years? Where can I find like-minded people of faith with whom I can share kingdom work? At a moment when most institutions of higher education no longer invest in the discipline to which I have devoted my life, with whom can I partner in my passion for the study of history as a way of contributing to a more robust and healthy democratic pluralism? What will I help to build in the next decade or so?
Those who speak and write with a prophetic voice often do so as individuals. For thirteen years I have churned-out blog post after blog post as an extension of my vocation as an educator and public intellectual. It has been rewarding and enjoyable work and I will continue to perform it until I feel called to do something else.
But over the past several years, as journalists and writers have started leaving institutions to write personal newsletters on lucrative platforms such as Substack, I started to question what I was doing at The Way of Improvement Leads Home blog. Recently someone said to me, "You should go over to Substack, you can probably make a lot of money." It sounded good at first, but then I realized that this question got my heart racing for all the wrong reasons. It was at this point that I knew it was time to bring my blog into a larger conversation—a community, a new institution. As Jonathan Malesic recently wrote in an article at The Hedgehog Review, "Substack maintains the fiction that writing—or any profession, for that matter—is a solitary pursuit."
This leads me to the platform on which you are reading this piece. On a cool September night in 2020, Geneva College professor Eric Miller and I sat outside a Microtel Hotel in Chippewa, Pennsylvania and we talked about building something. Within days, Jay Green of Covenant College, our longtime friend and collaborator, was on board. And in February 2021, The Way of Improvement Leads Home moved to Current, an online platform where, to quote Malesic again, "you can read dozens of talented writers on an array of topics" and "might stumble across" your "next favorite writer." We have some exciting new changes to Current that we hope to reveal in early 2022, including more reader interaction and even more regular voices.
There is a time for everything, and a season for every activity under the heavens. I am sensing it is time to build.
John Fea is Executive Editor of Current