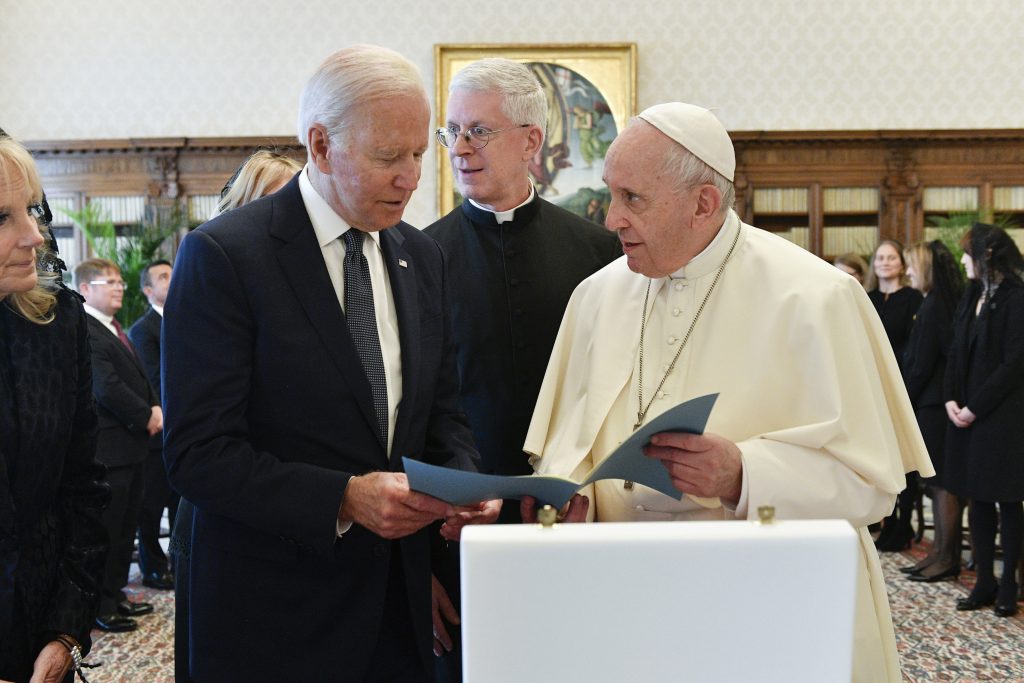 Check out Carmen M. Nanko-Fernández's great piece at Commonweal on the importance of story-telling. Here is a taste:
Lost in threads of contested interpretations on social media was the fact that Biden was speaking to Pope Francis in one of their common languages: sport. This was no jumbled word salad, as some Biden-baiters charged. Rather, the story the president told tapped into many of Francis's favorite themes, from the importance of the dreams of elders to the role of sport as a catalyst for social change.
Watch Francis as he leans in and listens intently to Biden's recounting. His posture reflects his counsel in the 2019 post-synodal exhortation, Christus vivit, that "these stories take time to tell, and we should be prepared to listen patiently and let them sink in, even though they are much longer than what we are used to in social media." For Francis, the dreams and stories of elders are necessary for building a better future. He grounds this belief in his oft-cited mantra from the prophet Joel (2:28), an affirmation that with the outpouring of the spirit our elders shall dream dreams and our young shall see visions. So he calls elders, himself included, to be "memory keepers" because "dreams are intertwined with memory." Even painful memories serve envisioning because they "show that it is possible to emerge renewed from an experience of hardship." In his preface to the book Sharing the Wisdom of Time, Francis affirms the value of intergenerational interdependence: "Without the witness of their elders' lives, the plans of young people will have neither roots nor wisdom." To tell a story about Paige is to tell of all those made old before their time because of acts of exclusion.
Satchel Paige was old in baseball years, and as a pitcher his arm should really have been past its prime. In his 1962 autobiography, Maybe I'll Pitch Forever, he noted that when he signed with the Cleveland Indians, after an accomplished career in the Negro Leagues, some said he was "forty-two going on forty-nine." In 1948, he became the first African American to pitch a Major League Baseball game, the oldest "rookie" and a key contributor to Cleveland winning their last World Series.
And this:
To tell a story about Paige is to tell of all those made old before their time because of acts of exclusion. It is an indictment, in this case, of the structural and systemic racism that denied Paige and too many others their dreams. To raise up the witness of Satchel Paige is to invoke memories of resistance, resilience, and wisdom born of struggle, an act of memory-keeping necessary to fuel visions for building a better day.
Read the rest here.