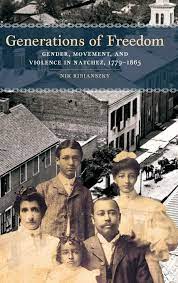 Nik Ribianszky is Lecturer of American History at Queen's University Belfast. This interview is based on her new book, Generations of Freedom: Gender, Movement, and Violence in Natchez, 1779-1865 (University of Georgia Press, 2021).
JF: What led you to write Generations of Freedom?
NR: My fascination with free Black people in Natchez began in 1994 when I took my first trip driving down the Natchez Trace from Nashville, where I was living at the time, to Natchez. The scenic Trace is over 400 miles long, off the beaten path, with historic stops—Mississippian mounds, old inns and houses—and places of natural beauty like waterfalls, creeks, and places where one can walk along the well-worn historic dirt road. By the time my friend and I arrived in Natchez, I was primed to see more. My friend bought me a copy of the free Black barber William Johnson's diary which he kept from 1835-1851 and it was at that point that I began a decades-long quest to investigate them. When I began my master's degree in history at Michigan State a year later, I took a class with Dr. Wilma King and decided to focus on the free Black property-owning women who lived in Natchez. When I returned in 2005 to begin my PhD, I decided to expand the inquiry and investigate the entire community of free Black people, looking through the lenses of race, class, gender, and violence to understand how freedom was experienced throughout the generations.
JF: In 2 sentences, what is the argument of Generations of Freedom?
NR: By exploring the themes of movement, gendered violence, and threats to their property and, indeed, their very bodies, I argue that free blacks were active in shaping their own freedom and that of generations thereafter. Their successful navigation of the shifting ground of freedom was dependent on their utilization of all available tools at their disposal: securing reliable and influential allies, maintaining their independence, and using the legal system to protect their property-including that most precious, themselves.
JF: Why do we need to read Generations of Freedom?
NR: Like most historians, I endeavored to tell stories. In this case, it is of the girls and boys, women and men who inhabited this world hovering between enslavement and contested freedom. Generations of Freedom adds to our understanding not only of the simultaneous vulnerability endemic to the lives of free Black people, but of their incredible tenacity in protecting themselves and their families.
JF: When and why did you decide to become an American historian?
NR: My most vivid memory of the first time I decided I wanted to study the past was when I was about six years old and reading The How and Why Wonder Book on Primitive Man (terrible title! It was in the 70s when I read it). One of the first pages of this book shows the inside of a cave with a group of hunters and gatherers gathered around a deerskin stretched over the floor and it mentions how archaeologists study early humans. I remember being mesmerized by that picture and the entire idea of digging up bones and learning from the past. It animated me from that time, and I knew I wanted to study the past.
From the time I was in elementary school, I was always checking out books on Native Americans, American history in general, really, so many different periods and regions of history! I always had my face buried in a book. When I was in high school, I wanted to be either a historian or an archaeologist, so I double majored in both at Michigan State University. I did contract archaeology for a number of years, mainly on Native American sites. But in 1997, I was able to work at the Hermitage, President Andrew Jackson's plantation outside of Nashville, Tennessee digging in the slave quarters for four different summers. That was the pinnacle of my archaeological experiences. For a long time, I had a foot in the field and one in the archives. The archives won out for me, but I do absolutely miss the days of digging in the field and literally unearthing the past. Funny how the most seemingly trite experience can be so foundational to one's life story!
JF: What is your next project?
NR: I actually am still in the process of creating a website for Generations of Freedom which will house the backbone of my book, the Natchez Index of Free Individuals and Families of Color and the Natchez Database of Free People of Color. The Index is an approximately 500-page ebook that archives transcriptions of records on the 1,015 free Black individuals who lived or stayed in Natchez, Mississippi from 1779-1865. It is organized alphabetically by surname when known or by first name. The Database records the name of every free black individual who surfaced in the record along with demographic characteristics like gender, age, color, property ownership, occupation, and literacy, among many others. The expansion and digitalization of both will disseminate the research to other scholars of enslaved and free people of color and link this project with data from different geographical regions, an endeavor that gives scholars working on transnational, comparative studies of freedom quick access to relevant demographic information. But perhaps most importantly, it will be a public platform which will provide resources to those people of African descent who may be doing genealogical work to access records on their ancestors.
The next project I am working on is on the people of African descent, both enslaved and free, who lived and worked here in Ireland from roughly 1650 to 1865. The raw numbers of people of African descent who lived and worked in Ireland is somewhat murky. One method of establishing a tabulation of the population is to create a database cataloguing their presence, much along the lines of my Natchez database. Dr. Bill Hart, a retired professor from the University of Ulster, has been working on this for quite some time and a small group of us are developing it further. A database on African-descended people would be useful to document the raw numbers, family groups, owners, geographical distribution, and other characteristics to provide a deeper understanding of the Black presence in Ireland over time. There are several research questions driving this work. Some vital ones are how many people of African descent were in Ireland between 1650 and 1865? Were they permanent or transient? Were they contemporaneously enslaved, emancipated, or descended from enslaved people? What was their relationship to the white majority in Ireland? What is the evidence of their acceptance/integration or exclusion/hostility? Categories to record values like an individual's name, age, color, occupation, religion, family members, former owner's name/s (if they were enslaved), the years lived in Ireland, place of birth, and many others will provide a demographic profile of the people of African descent who lived for any time in Ireland. One primary output will be a website, which will include a searchable database, interactive map, and case studies written by core team members. Another will be my second book which examines connections between the Irish and people of African descent including shared experiences as laborers, neighbors, activists, friends, kin, as well as those characterized by uneven power dynamics that involved the Irish as slave owners, employers, and agents of the State and criminal justice system. I am also interested in teasing out the details of those transient Black Americans who visited Ireland either through work or abolitionist activism.
JF: Thanks, Nik!