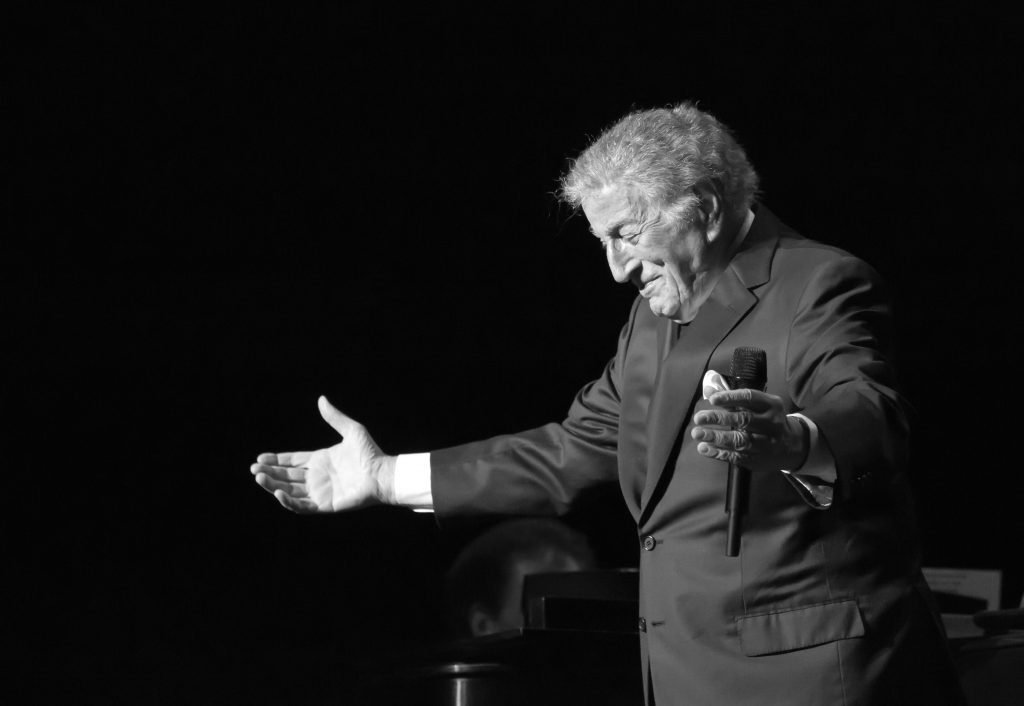 Tony Bennett has just released another studio album—at 95
It seems just yesterday that Tony Bennett was 90, and now he is 95. His last name is actually Benedetto—Italian for "blessed"—and the last stage of his long life has been blessed with encore after encore.
Bennett marked his 80th birthday by releasing Duets (2006), a Grammy-winning gold record to celebrate his golden years. Its last track was, poignantly, "How Do You Keep the Music Playing?" It was a duet with George Michael, who would die a decade later at the age of 53.
Bennett's 85th birthday occasioned Duets II (2011). With it he became the oldest performer to go to number one on the Billboard charts. It won two Grammys, including one for his duet with Amy Winehouse, "Body and Soul." On a video of that recording session Bennett starts to reminiscence about Dinah Washington, the great African American singer of the 1950s, whom he knew personally. Winehouse joins in: "She died so young, right? She wasn't even forty." By the time Duets II was released Winehouse was dead at the age of 27.
Tony Bennett Celebrates 90: The Best Is Yet to Come (2016) was a TV special, parts of which also became a live album. Bennett's collaborators, you might be relieved to learn, all survive. The closest to Bennett in age was Bob Dylan, who is a mere fifteen years younger.
Bennett has always been interested in collaborating with other artists. His first album appeared in 1952, and already by 1959 he was creating records with Count Basie. Musicians often consider Bennett's 1975 collaboration with Bill Evans his greatest album. Evans died five years later at the age of 51.
In 2014, Bennett recorded an album with Lady Gaga, Cheek to Cheek. It too went to number one and won a Grammy. Now he has just released his sixty-first studio album. It is another collaboration with Lady Gaga: Love for Sale.
It is also Bennett's last studio album. His Alzheimer's has progressed to the point where he can no longer perform or record. Lady Gaga reported that during the weeks they worked together on this final project Bennett was never once able to remember her name. He could only answer a question if it was framed as a yes or no.
Still, how he has kept the music playing! Bennett was diagnosed with Alzheimer's five years ago, yet he has continued to tour and to record. In those years I would go to see him at the Ravinia Festival on Chicago's North Shore, which he played every summer. His daughter Antonia was his warm-up act. She has not been blessed with the same measure of talent as her father, but audiences always received her warmly. We suspected that family members were needed on the tour for other reasons. Indeed, I give thanks for every Bennett who has made the last five years possible.
The muscle memory of musicians—even ones with Alzheimer's—runs deep. This was powerfully exemplified by Glen Campbell. He found meaning in performing, so his family made the decision to try to keep him touring as long as possible, his Alzheimer's notwithstanding. And Campbell's dementia was already severe. This fact was masked by his extraordinary social skills. He could banter charmingly with anyone. It was only after you asked him a direct question involving recall that you realized that his memory was hardly there at all—he could not say the name of his wife or his daughter; or who the first president of the United States was; or what year it was; or what building he was in . . . yet the Wichita Lineman was still on the line. By some miracle of grace, even with a memory that impaired, he could go out and perform a full concert. Campbell was ten years younger than Tony Bennett. He died in 2017.
The miracle of Tony Bennett is that he has somehow avoided what seem to be the only alternatives when a performer grows old: He has become neither a grumpy old man ranting about the deficiencies of the modern world nor a sad old man pathetically trying to be young and hip, aping the latest slang and fashions in a way that makes people cringe.
Bennett has grown old blessedly. His signature look is a suit and tie—how else would you want to see a 95-year-old man dressed? He has stayed true to the great American songbook. Love for Sale is an album of Cole Porter songs. It is already in the top ten on the Billboard charts. Could anyone besides Bennett send the music of a composer born in 1891 into the pop charts? On this album, Lady Gaga and Tony Bennett sing two solos each, and there are six duets. The world is a better place for every track. The final one, "Dream Dancing", is a perfect song to be sung by two people who are fond of each other, as Gaga and Bennett so clearly are. If you do not find yourself floating into an enchanted world while listening to it, then so much the worse for you.
Yet without mimicking youth culture, Bennett has sincerely honored the artistry of today's performers—not just Lady Gaga but Mariah Carey, John Mayer, k. d. lang, Queen Latifah, Norah Jones, Josh Groban, Christina Aguilera, and more. In a deeply divided cultural moment Bennett is a true unifier. He is not even the kind of New York-based, jazz-inflected singer who sneers at country music; rather, he has collaborated in authentic and imaginative ways with performers such as Carrie Underwood, Brad Paisley, and Willie Nelson.
Bennett's secrets are beautiful and rare, yet they are not hard to come by, if anyone cares to listen: "Never look down on the audience"; "If you do quality, you will always be around"; "I still learn something every day"; "Life is a gift."
And all that without sentimentality or illusion: "Long ago I realized that nobody beats death." One of my favorite scenes in a documentary filmed when Bennett was 85 occurs when he is escorted into a dressing room where the walls are entirely lined with mirrors. Bennett deadpans, "You could watch yourself die."
Yet it is not over until it is over, and as long as he lives, we are all blessed. Bennett abides.
Timothy Larsen teaches at Wheaton College and is an Honorary Fellow at Edinburgh University.  He is the author of John Stuart Mill: A Secular Life and the editor of The Oxford Handbook of Christmas.