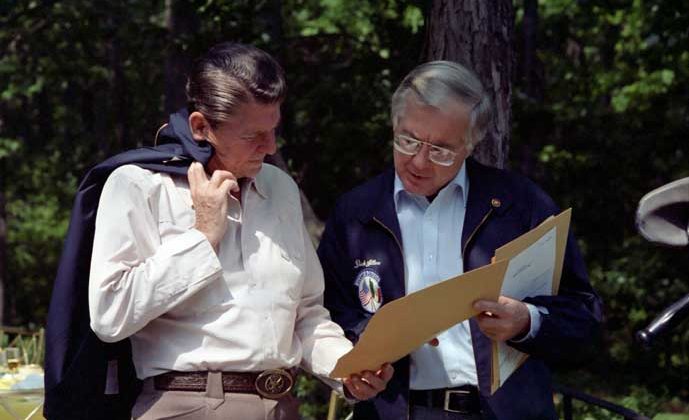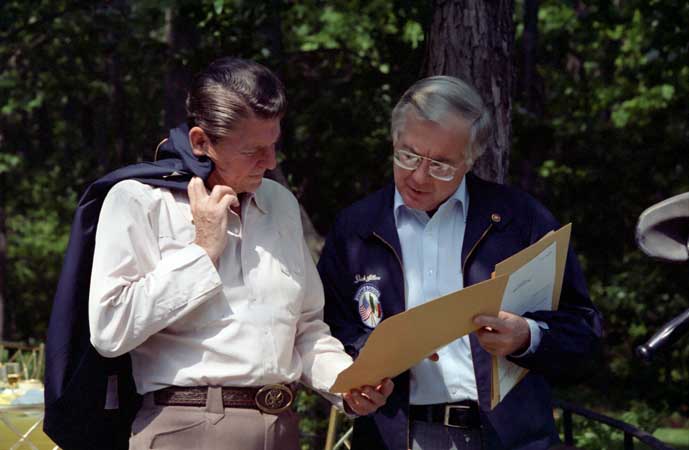 Here is the author of Before the Storm, Nixonland, The Invisible Bridge, and Reaganland:
David Frum, the former George W. Bush speechwriter and current never-Trump conservative, recently wrote, "The post-Trump right has a style as distinctive as its authoritarian substance: trolling, ironic, evasive." But that ain't so. On the right, trolling has been part of the story from the beginning...
I don't know when exactly conservatives started calling what they'd been doing since Edmond Burke's day "trolling." I once thought I had stumbled on an answer. I was researching the papers of future Reagan national security adviser Richard V. Allen at the Hoover Institution in Stanford University. Allen was a thoroughly corrupt operator and a kiss-up, kick-down nasty piece of work who reveled in the troll. After the 1968 election, the columnists Robert Novak and Rowland Evans reported that Allen, whom they described as a "far-right pamphleteer," was being downgraded in his projected duties in Henry Kissinger's National Security Council. "The gap between Kissinger's sophisticated adult anticommunism and Allen's simplistic vision is a chasm … Alone among the president-elect's high-level appointments, Allen is a member of what more thoughtful conservatives regard as the 'sandbox right.'" In response, Allen set up a literal sandbox in his NSC office and sent out engraved invitations for its "grand opening."
By 1978, activities anathema to "more thoughtful conservatives" were surely no impediment to Allen winning the job as chief foreign policy adviser for Ronald Reagan. In his correspondence that year with Reagan confreres, I discovered four vague but tantalizing documents concerning something called the "Societé International de Trolling (International Trolling Society)." Allen pronounced himself "senior troller"; campaign colleague Peter Hannaford was "senior fellow troller"; Nancy Reagan was "chairlady." Allen would award points for each successful "troll" — an activity, however, that these documents leave frustratingly undefined.
Then I discovered by trolling he meant something entirely different. In an oral-history interview, Allen described explaining to the future First Lady on the eve of a political trip to Asia, "Now, Nancy, the thing is, if in Asia you admire something, they're likely to give it to you. So what I would suggest is you and I have a 'trolling contest,' so you can troll for more good stuff on this trip." Trolling meant looting; Donald Trump would appreciate that. As it would happen, Allen lasted less than a year as national security adviser before being accused of taking a bribe from a Japanese magazine.
The pre-Trump right, like the post-Trump one, had a style as distinctive as its authoritarian substance: same venality, same cruelty, same infantile nature. You just used to have to look a little harder to find it.
Read the entire piece here.