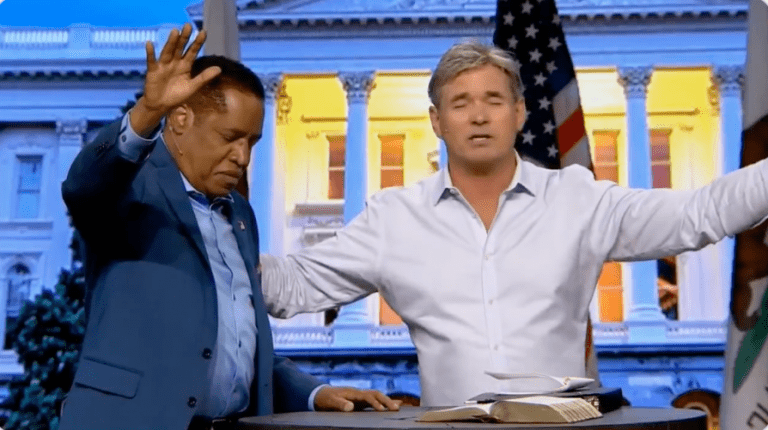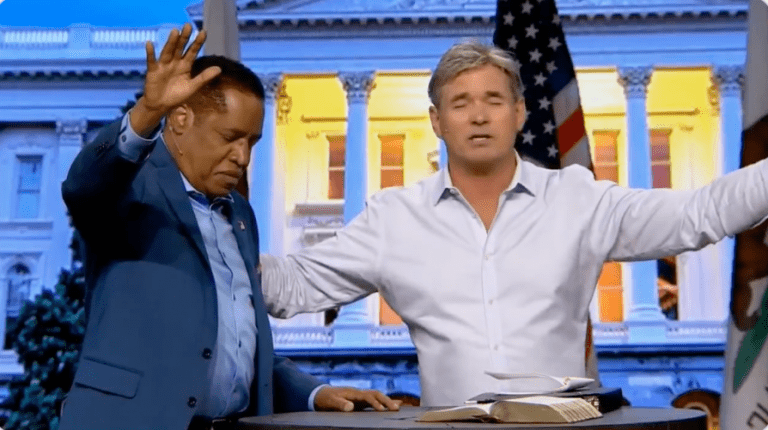 We have posted about Jack Hibbs and Calvary Chapel–Chino Hills before. I have heard from area pastors who are concerned about his church and people who are worried about attending the Christian nationalist, pro-Trump, anti-mask, and anti-vaccine mandate congregation. Today we are posting a letter from Jan of Loma Linda. It is representative of many of the messages I receive whenever I post about Hibbs. Jan is also trying to get this published as a letter to the editor in several California newspapers.
Here it is:
My vibrant, beautiful daughter, has fallen into the hands of a sect. A sect with a cult of personality surrounding its authoritarian "lead pastor." With her, go my wide eyed, innocent grandchildren.
The sect, innocuous at first sight, is a blossoming community. It gathers in flocks, to hear the Christian message of hope and redemption, packaged with an Alt-Right political message of division, anti-intellectualism, anti-science and distorted "historical" information. It is the Calvary Chapel, Chino Hills.
The worship services, proudly distribute the message of the false prophet "Jack". Take the rally broadcast on September 19th 2021. An edited (sanitized) version has been posted on You Tube. The original service (rally) contained praise singing, then a troubling monologue by "Pastor Jack"(now edited out). Since the editing, the podcast now launches right into an alternate History "lesson" by David Barton he titles  it "Contending for the Truth". The service wraps up with an anti-Muslim and anti-Black Lives Matter  message from Hibbs.
In the original full service, after singing about their love for Christ, and redemption from past sins and addictions, the proselytizing begins. Three mega-screens illuminate Pastor Jack. He cuts a rockstar figure. Tight T shirt conforming to a gym toned frame. There are no trappings of humility here. A concert vibe washes over the throng; packed expectant, unmasked. unvaccinated, and shoulder to shoulder, in stadium seating.  The political rally begins.
The message is slick, cleverly packaged between Bible passages. Test phrases inserted in the "sermon" to gauge the opinions of the throng. What excites these people? What will they rally around, march for? The sermon and speakers continue. The message subtly takes a political turn. Marching orders are given. Go out into the world, and spread our message of anti-science, anti- intellectualism, anti-Islam, anti-choice, and anti-LGBTQ rights. The people in the pews will prove their loyalty by spreading the anti-Democratic lie of the Big Steal, voting for Larry Elder in the California recall election, and most of all, by standing up for their freedom to refuse vaccination for themselves and their children. 
And so, the lost, the weak minded, and the easily led; file out into their larger communities. They will spread the message of freedom to do and say whatever one wants, regardless of how their choices effect others. They act as vectors, spreading the virus that kills and sickens.
These mindless flocks of sheep, have been persuaded that they are speaking and acting on their own free will. The irony is lost on them, as they chant the rhetoric of personal freedom and freedom of speech. But the message emanates not from their own mind, but from a false prophet, a power and glory hungry man. This is not the way of Jesus. This "pastor" is a man looking for rally numbers, for political and monetary gain.
For over a year my daughter's family was not able to break bread with us. We older family members are at high risk for serious Covid-19 outcomes.  We feel a betrayal in trust; knowing that my daughter and her family exposed us to a possible life threatening risk; (before we realized she was not taking precautions not to catch and transmit the potentially deadly Covid virus). The betrayal is hard to overcome. All along, we thought she had come by her misinformation in the Gym Junkie culture, or in on-line Q-Anon, group or anti-vaxxer rabbit holes. But the source, we now know, is much more troubling.
Jan Clouse, Loma Linda