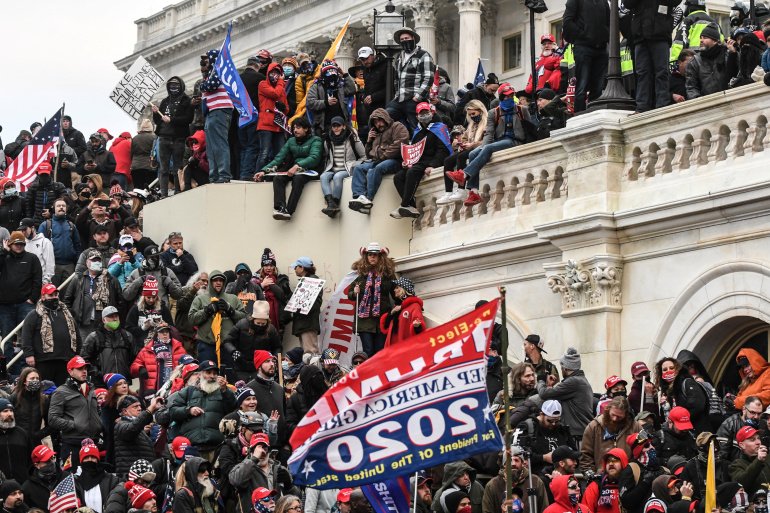 Are we seeing a new Lost Cause? David Graham of The Atlantic thinks so. So do these scholars and writers:
The Evangelical Lost Cause comes to Orlando
Are conservatives advancing a new Lost Cause?
The Evangelical Lost Cause is alive and well in Chino Hills, California
David Blight on MAGA and the new Lost Cause
Here is a taste of Graham's piece:
The pledge at a rally for the Republican gubernatorial candidate Glenn Youngkin in Virginia on Wednesday night was different. At the beginning of the event, which Steve Bannon hosted and Donald Trump phoned into, an emcee called an attendee up onstage and announced, "She's carrying an American flag that was carried at the peaceful rally with Donald J. Trump on January 6." Attendees then said the pledge while facing the flag. (Youngkin didn't attend, and later tepidly criticized the moment.)
This is a bizarre subversion. The pledge affirms allegiance to the republic, indivisible and offering justice to all. This flag was carried at a rally that became an attack on the Constitution itself: an attempt to overthrow the government, divide the country, and effect extrajudicial punishment. Elevating this banner to a revered relic captures the troubling transformation of the events of January 6 into a myth—a New Lost Cause. This mythology has many of the trappings of its neo-Confederate predecessor, which Trump also employed for political gain: a martyr cult, claims of anti-liberty political persecution, and veneration of artifacts.
Most of all, the New Lost Cause, like the old one, seeks to convert a shameful catastrophe into a celebration of the valor and honor of the culprits and portray those who attacked the country as the true patriots. But lost causes have a pernicious tendency to be less lost than we might hope. Just as neo-Confederate revisionism shaped racial violence and oppression after the war, Trump's New Lost Cause poses a continuing peril to the hope of "one Nation under God, indivisible, with liberty and justice for all."
Read the rest here.