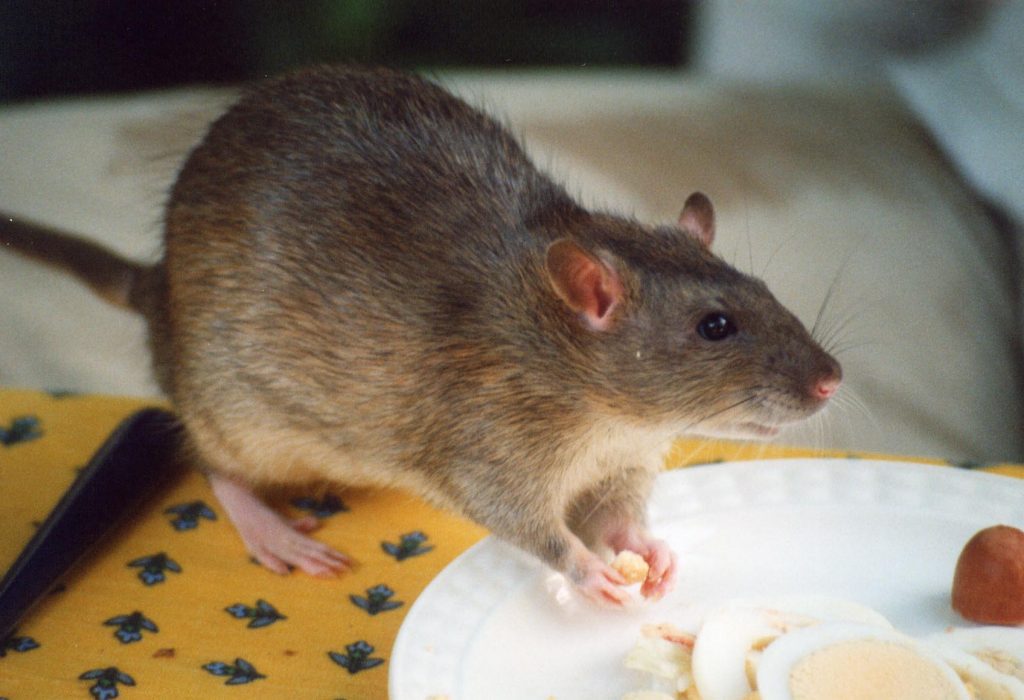 On this troubled earth, daybreak can't come quickly enough
Day 11
After the nightmare of the past few days, I dream that our house has a ragged opening in one of the walls. A portal where dark things can come and go. Just before the dream ends, I realize the gap is marked with blood, as if our home is set apart for affliction. I wake sometime in the night, longing for daybreak.
Day 10
Like in a vampire movie, nightfall means anxiety and vigilance. At bedtime, we pray to be "delivered from vermin." I can't sleep, so I walk around our house, room by room. After midnight, standing in the kitchen with the lights off, I sense something nearby, just out of sight—quiet and holding still.
Day 9
The animal-control company can start tomorrow, so my family and I stay at a hotel. Watching the news, I hear about a new virus variant. We all gather on one bed and watch cartoons together. My four-year-old daughter says, "Can we stop talking about rats?"
Day 8
My wife wakes me at 3am, says there's something in the room. I shine a flashlight in the corner, beneath our dresser. A rat leaps out, runs across my wife's bare feet, and she screams. Later, she tries to sleep, and I rock our infant daughter until sunrise. My wife takes the kids to her sister's house.
Day 7
Our four-year-old has blood on her sheets from what we assume is a nosebleed, which she gets occasionally. She also has a wound on her arm that looks like a bite. We take her to the doctor, confessing that we have a rat infestation. Does it look like she was bitten by something? He says no, she must have banged her arm in the night. Still, I sleep in my kids' bedroom on an inflatable mattress, flashlight beside me. I click the light on and sweep the room when I hear anything.
Day 6
The pest control man walks me through our house, pointing out "egregious entranceways," places where rats can come and go. He says, "You should warn your neighbors about what's happening here." I carry perpetual dread. I imagine pathways behind our walls, dark corridors with a shower of broken plaster and dust over everything. A line from W. H. Auden keeps running through my head: "In the burrows of the Nightmare."
Day 5
There's a smell of urine coming from the kitchen wall. At night, after everyone has gone to bed, I smear sticky-traps with peanut butter and leave them around the refrigerator. The next morning, streaks of peanut butter, blood, and dark hair cover the kitchen floor. I clean it up before everyone wakes. I leave for work. Rat race. Ratted out. Rat's nest. Pack Rat. Rug rat. Ratatouille. I wince when I hear the word.
Day 4
I call my dad to ask for advice. In Vietnam, he was part of a civic action team that dug water wells, delivered medical supplies, and trapped rats, testing them for disease. Once, driving across the Mekong River Delta, he transported the biggest one he ever caught, only to look back and see that its cage was open and empty. He leaped from the moving jeep. When we talk, he says, "You gotta do something about this. They can carry the bubonic plague."
Day 3
We're having dinner, and everyone hears scratching from another room. I investigate. Peering into my kids' playroom closet, I realize that I'm staring at a rat—its black, hairy back rising and falling in quick short breaths amid stuffed animals and crumpled superhero costumes.
Day 2
We return from a visit to see family, mask-free, and my wife mentions hearing something in our bedroom wall the previous night. Under our bed, I find a half-eaten chocolate bar, its wrapper in shreds.
Day 1
Because of the virus, my kids and I spend lots of time outside. With online classes, mask mandates, and social distancing, we are naturalists of necessity. We marvel at the birds in our yard—the elegant sweep of landings, hops across the grass, the stuttered swivel and sway of their heads, their embroidered colors and sunrise songs. They seem almost magical. The kids name them: Christmas Bird, South American, Vanilla, Tiger Bird, and Brownie Heart. Our family's taxonomy is part of a little world, separate from the pandemic. I think, There is still wonder all around us—and better days ahead.
Robert Erle Barham is Associate Professor of English at Covenant College in Lookout Mountain, GA.