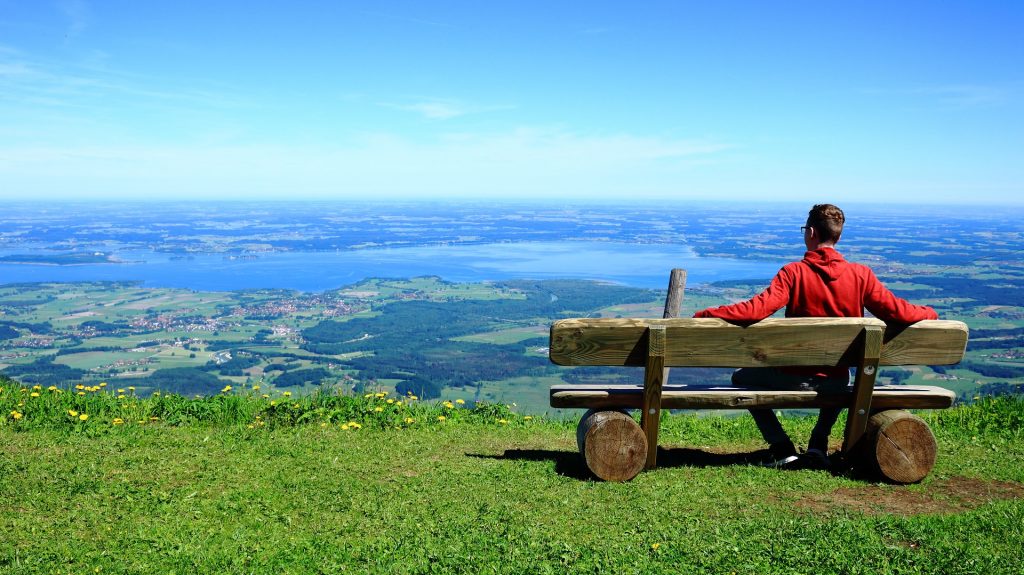 What would happen if we all took a month off?
Over the past decade tensions have arisen in America that precariously stretch ideas that have for centuries held us together. Polls find that Republicans and Democrats are increasingly divided over various issues, but none more than their views of one another.
Our growing animosity toward each other seems to be driven not by interaction with those with whom we disagree but rather our isolating of ourselves from one another. The experiment of social media and the politicization of major news sources has become a major contributor to this division. Perhaps it is time for a purposeful break from our remote connections with the world.
But everyone lives on their devices—and it's all about keeping in touch with family, right? And aren't journalism and news needed to sustain democracy?
Well, yes and no. Perhaps we can learn a bit from American history and a bit from the science of human cognition to consider a potential solution to this crisis of confidence in our fellow citizens.
During the Great Depression, Franklin D. Roosevelt declared a "Bank Holiday" to stem the panic that was driving the Depression deeper and fueling more panic. Now, some argue that all of the federal efforts to combat the Great Depression were unable to stop it; indeed, some claim they actually extended it. However, the bank holiday seems to have been an important early step in restoring confidence in the banking system.
It is my contention that what we need in 2021 is a new holiday: a media holiday. If the entire nation could cut out all forms of media for an entire month, it would do a great service toward restoring our confidence—not in media but one another. People spend increasing amounts of time on media of various forms and there is a well-documented echo-chamber effect built into most advanced technology today, so that we end up becoming more myopic in our thinking and more divisive in our views. On top of this—which has been documented for years—the pandemic has exacerbated these tensions by politicizing what never should have been subject to politics in the first place. Public health and scientific inquiry are things that ought not to be used to promote hatred of one another, but that is exactly what we have witnessed in the past two years, culminating in the most divisive and hateful speech of an American President in my lifetime, in which one group of Americans was presented as an "other" and charged as a threat to everyone else. We have seen a reasonable response to a terrible virus turn into a game of blaming, mocking, and punishing those with whom we disagree.
Perhaps you find the idea of a media holiday appealing but think it would be devastating for individuals and businesses who so fluidly operate through media in today's world. Well, from a human cognition standpoint, we are quite malleable. We would deal with the transition just fine. Sure, there would be bumps, as for most of us accessing and ingesting media are little more than an addiction. But human beings are creatures of habit. One consistent finding from decades of research on the mind: What people do most of the time is simply what they do most of the time. While it is absolutely true that persons are addicted to their phones and respond to them slavishly at each new "bing" they receive, they do so because that's what they usually do. We have, in layman's terms, programmed ourselves to do that. And with time we can deprogram ourselves, too. So, while it might be odd to take a break for a little while, if we can give ourselves a full month of separation from all forms of media I think we can make a huge step towards seeing each other not as enemies but as members of infinite worth in a shared humanity.
One major distinction I see between FDR's Bank Holiday and my proposed media holiday is that while we have a similar aim—restoring confidence and stopping the panic—my proposed goal is different. I do not propose that the federal government conduct any oversight or take any action against these media companies, whereas during FDR's "Bank Holiday" each bank was inspected to meet particular criteria. The rationale for this is that our aim would be to reform not an industry but ourselves. The truth of the matter is that our division against one another is largely our own doing. These media networks are simply feeding our desire. As Alexander Solzhenistyn wrote, "we can do—everything!—even if we comfort and lie to ourselves that this is not so. It is not 'they' who are guilty of everything, but we ourselves, only we!" Or as G.K. Chesterton succinctly replied to a question on what was wrong with the world: "I am, sincerely, G.K. Chesterton." From a Christian standpoint the root of our trouble is sin; and sin is at work within each of us. While other religions may not all call it sin, all efforts to explain what is wrong with the world find at the core a battle within ourselves.
Okay, fine, you say: From a cognitive standpoint we'll survive. But won't stopping the news from telling us about the dangers of the coronavirus and the threats all around us lead to massive deaths?
Nonsense. For centuries people lived without being bombarded daily—let alone minute-by-minute—with news, spun by the people with whom we agree to foment tension and passion. And they survived. So will we. What we need more than anything at this time is not more news—it's less news and more time with other people. Shutting down all media for an entire month would provide ample time for people to rethink their learned hatred of their neighbors. In fact, it would compel them to actually interact with their neighbors instead of reading about "them" on the latest thread of divisively framed news. After all, what else would there be to do with our time? (And it's a lot of time, on average!)
One of the single best steps we can take to improve our collective trust in one another is to stop ourselves from listening to those who say the worst about our opponents and instead heed the advice of Jesus of Nazareth, who, in responding to a trap question from the Pharisees about what the greatest commandment was, replied: "Love the Lord your God with all your heart and with all your soul and with all your mind and with all your strength. The second is this: Love our neighbor as yourself. There is no commandment greater than these."
There never were truer words. We need to heed them right now: Love your neighbor as yourself.
Kevin S. Krahenbuhl is Associate Professor of Education and Program Director for the Assessment Learning and Student Success EdD at Middle Tennessee State University. He works with public schools to improve learning and his research centers on cognition, truth, and enhancing student learning.