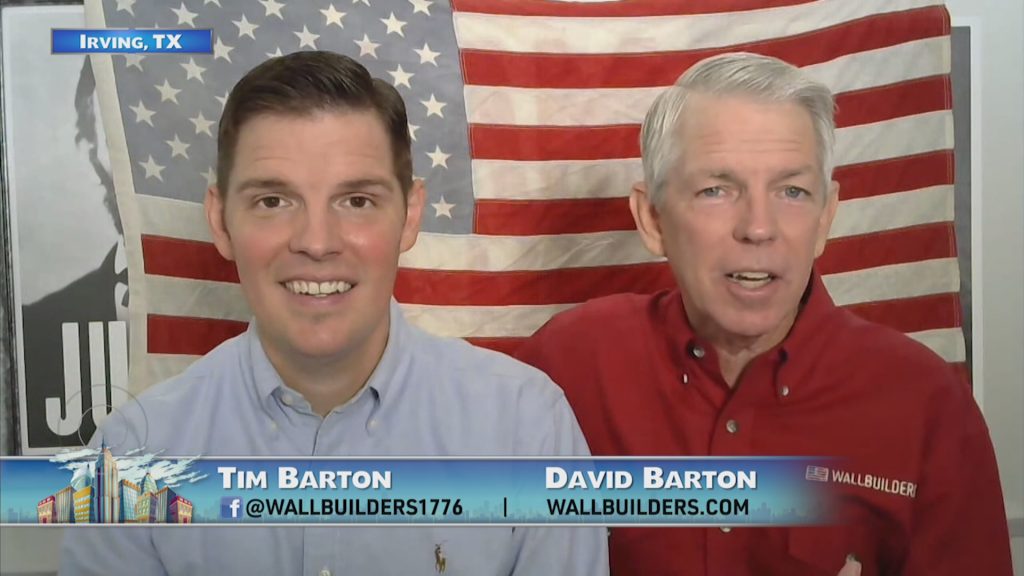 Tim Barton, the son of David Barton, appeared on sports writer Jason Whitlock's show "Fearless." The show is part of Glenn Beck's "Blaze Media." Whitlock joined Blaze Media because he "wanted to partner with people who wouldn't look at me funny when I referred to Jesus as part of my journalistic worldview and platform."
What happened to Whitlock? I used to watch this guy on the Sports Reporters and always enjoyed his commentary.
Watch (Tim Barton comes on the show at the 37:45 mark):
Let's break it down:
38:51: Whitlock begins by calling the 1619 Project "evil." He refers to The New York Times as an "alleged journalism organization." We are off to a "good" start.
39:00: The irony in this interview is so thick that you can cut it with the proverbial knife. Tim Barton comes out of the gates with this line: "When you claim to be promoting history and yet all you are doing is promoting an agenda, there is (sic) a lot of problems with that." Anyone who has spent time on the Wallbuilders website or has listened to David Barton and Tim Barton speak will realize that such a claim is dripping with hypocrisy. Actually, all one has to do is watch the rest of the Whitlock interview with Tim Barton to see how Christian Right politics shapes the way he approaches the past. He and his father are not in the business of history. They are in the business of propaganda.
39:20: Barton references (without naming them) the historians who have pointed out the problems with the 1619 Project. What he doesn't say is that all of these historians–Sean Wilentz, Richard Cawardine, James McPherson, Allen Guelzo, Gordon Wood, Victoria Bynum, James Oakes, the writers at the World Socialist Web Site, and others–would roundly reject the stuff that passes for history at Wallbuilders. Moreover, Barton never actually discusses the real flaw in the 1619 Project, namely the claim that the preservation of slavery motivated the American Revolution.
Barton keeps saying that there were 19 slaves who came to Virginia in 1619. The records say that there were "20. and odd negroes."
40:19: Barton says that "slavery was against the law in Jamestown" in 1619. This is not true. There were no laws regarding slavery in Jamestown in 1619.
40:45: Barton says that all "19" Africans who arrived in Jamestown in 1619 were indentured servants who were eventually given their freedom and a parcel of land. Wrong again. We know very little about what happened to these "20. and odd negroes." Barton's claim that they all became indentured servants, were all set free, and were all provided with land is not backed by evidence, although it is likely that some of them were set free after a period of time. But Barton is not interested in this kind of nuance. He would rather cherry-pick the parts of the story that work best for his (and Whitlock's) agenda of undermining The New York Times 1619 Project.
41:31: Barton references the "sins of Jamestown" and those moments when "America was not perfect." I would like to see an article on that topic at Wallbuilders. The recognition of human sin in the American past might be a Christian way of thinking about early Virginia, but not at Wallbuilders. For the Bartons, patriotism almost always trumps Christian theology.
41:45: Barton says that those historians who embrace what I have said above about the fate of these "20. odd negroes" are "lying."
41:55: Barton chides Virginia Senator Tim Kaine for saying that America "created slavery." If Kaine did indeed say this**, he is wrong. But Barton's decision to invoke Kaine is further proof of his ultimate goal–to use the past to advance a political agenda and then claim that all he is doing is "telling the truth of history." It's a scam. Hundreds of thousands of my fellow American evangelicals are buying it.
Barton also fails to consider change over time. He leaves us with the false idea that Africans came to Virginia, worked a few years, and were set free to pursue the American Dream. What he doesn't tell us is that by the 1660s Virginians were passing laws to make Africans slaves based on the color of the their skin. It is hard to think of a more clear and overt example of systemic racism in early America. He also fails to tell us that many of the leading planters of colonial Virginia built their fortunes on slavery. These were the same people who could afford to send their kids to William and Mary or Princeton to learn about the great Western ideas of "liberty" and "freedom." Many of these children and grandchildren led the American Revolution.
42:30: Whitlock jumps in and says that the "African-American journey" should be "celebrated because it highlights the best of America". He adds: "Black people were the steroids for America." Black people, Whitlock suggests, made America live up to its promises in the Declaration of Independence and Bill of Rights. Barton agrees "unquestionably" with Whitlock's claim and then references Crispus Attucks and Black spies in the Continental Army. He argues that if Attucks was not killed at the Boston Massacre and these spies were not present at Yorktown, the "American Revolution would have gone very differently" and we "might not have had the success we had." This is both wishful thinking and awful history.
49:00: Barton talks about all the books in the Wallbuilders collection written by Black abolitionists. I have no doubt that they have copies of such books. But I wonder if they have a copy of Frederick Douglass's "What To a Slave is the Fourth of July?"
49:30ff: Barton says that no one studies or teaches about Black abolitionists and the role of Blacks in revolutionary America. This shows his ignorance of the last fifty years of historical scholarship and historical pedagogy.
49:50: Barton seems to be promoting the idea that America would not exist today if "Black and whites" did not "link arms together" in the "cause of liberty and in the cause of equality and freedom and prosperity." Not only is this claim largely inaccurate, it also presents a view of the origins of America that completely ignores the persistence of slavery and racism in post-revolutionary America. I would love to hear how Barton explains the years between 1776 and 1861. Based on what he tells Whitlock, one is left wondering why a Civil War was needed when Black and whites were engaged in such a kumbaya moment.

The Bartons are fast talkers, they throw a lot of information at their audiences, they only appear in friendly venues, and they refuse to debate their critics. But I have never heard one of them speak without butchering either the facts or the way in which the past informs the present. Tim Barton is picking-up where his father left off.
50:35: Whitlock says that modern historians have "reduced" Black history to "tragedy" and not "contribution." Again, Whitlock does not seem to have read much Black history. Much of African-American historiography in the last half century has pointed to both systemic racism and the heroic efforts of Black men and women who have challenged it. But I don't think Whitlock cares, because calling attention to this point does not fit the political narrative Glenn Beck pays him to promote. Maybe Whitlock should stick to writing about the Kansas City Chiefs.
51:30: Tim Barton decries what he calls "victimhood politics." Think about this for a second. The successor to a guy (David Barton) who built his entire career on playing the victim by preaching how secular humanists are persecuting Christians for their providential views of history is criticizing something called "victimhood politics."
54:00: Barton and Whitlock move on to Woodrow Wilson. Barton talks about Wilson's racism and calls him a "scumbag." I thus assume that Tim Barton agrees with Princeton University's decision to change the name of the Wilson School of Public and International Affairs. I imagine that the Bartons don't want a scumbag on the campus of the school where Jonathan Edwards and John Witherspoon served as president. Or maybe they believe Wilson's name should remain prominent at Princeton, much in the same way David Barton defended a monument to Nathan Bedford Forrest
Tim Barton says that it was the "progressives" who were the racists in the early 20th century. Today's progressives in the Democratic Party don't celebrate Black heroes, he asserts, because Democrats are the descendants of Wilson. As noted earlier, the Bartons are notorious for ignoring change over time when it doesn't fit their narrative. They prefer to draw a direct line between an early 20th-century racist progressive president and those in today's social studies lobby who call themselves "progressives." Tim Barton makes it sound as if Wilson and his racist cronies got in a time machine, landed in 2021, and joined the Democratic Party of Alexandria Ocasio Cortez and Bernie Sanders. I wonder what Tim Barton thinks about another racist progressive–the Republican president Teddy Roosevelt? But I digress. Any first-year history major who takes my Introduction to History class or reads my book Why Study History? will identify Barton's faulty logic and bad historical thinking skills.
How long are evangelical Christians going to listen to David and Tim Barton?
**ADDENDUM (10:36am): Kaine did not say that America invented slavery. Yet another false statement.