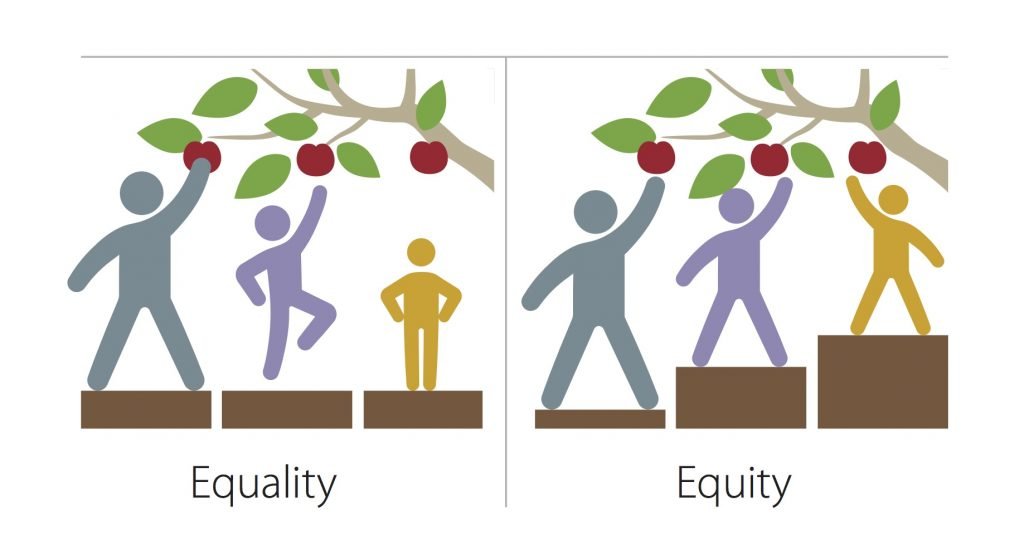 The pursuit of equity threatens to inflame divisions. Equality promises a better way.
Over the course of just a few years' time, equity has increasingly displaced equality in the hearts and minds of those who are concerned with justice in public life. This is particularly true when it comes to matters of race. Many Americans believe the ongoing legacy of slavery demands a renewed moral response. The questions we face now center on whether equality really was a flawed goal, and whether equity is a worthy one.
Proponents of the new antiracism often assert that justice absolutely requires the pursuit of equity over the establishment of equality. Most of us have seen images that attempt to depict the implicit injustice that equality leaves in place. Designed to start a conversation about where unfairness might exist in the world, these graphics purport to show that neutrality offers insufficient hope for those who start with some disadvantage in life. They implicitly demand that something else must be done. And, of course, something has: Departments dedicated to diversity, equity, and inclusion can be found throughout higher education, the non-profit world, government, and big business. These institutions and the activists who advance their work are at the heart of current controversies over the various kinds of training that aim to end racism in American life.
Rhetorically, it's relatively easy to see why the language of equality has been supplanted. At least when it's used in a legally enforceable sense, equality tends to point us to relatively clear rules about what is and is not fair. But the rules themselves do not guarantee equal outcomes. In fact, because they leave everyone free to pursue their own goals around those rules, unequal results are practically guaranteed.
There is yet another sense in which equality might warrant being demoted: Many of us yearn for our public life to be more like what we share with our family and friends—relationships where clear rules of equality govern our lives far less. It's hard to imagine dealing with one's parents, spouse, or children strictly in terms of equality because these varied relationships demand something different from each of us, depending on our role. Being just to one's children isn't simply a matter of equally distributing household goods and parental attention; it rests in recognizing each child's gifts, their strengths and weaknesses, and working out how to behave from there. Our family life, in sum, is often guided by a sense of equity. And while friendship naturally seems to fall lower in the hierarchy of moral priority than one's family, most of us typically engage with our friends in a manner that might be best described as equitable rather than egalitarian.
All of this is to say that there is nothing wrong with equity per se. The trouble comes when we desire to enforce equity everywhere—for there are places in which equity naturally falters as a reasonable way of pursuing justice. These failings have as much to do with knowledge as they do will.
Parents reading this know how challenging it is to judge what is equitable among their children. Children with special needs will take more of their parents' time and money; their siblings may or may not understand at first why their parents show what seems like an uneven love to the one child's particular needs over their own. Doing justice among the differences in gifts and disposition between children is a vexing business in any circumstance. How do you compensate for one child's deep devotion to a time-consuming sport, a second child's medical needs, and balance these against a third child's wants?
How much more treacherous is the path when we attempt to offer equity to those outside our friends and families, those whose lives we understand less.
Leaders in business, civil society, or political life usually try their best to recognize and offer scope to the varied gifts of their constituents and subordinates. But they inevitably fail to give each person what they see as their due. Even if they truly yearn to do right by the people for whom they are called to care, part of the problem these leaders face is more than one of sheer knowledge. It is not just that if they knew of their people's unseen yearnings and skills, they would be able to recognize them—once you consider self-interest, vanity, pride, and the vast multitude of all-too-human vices, generalizing the pursuit of equity grows more fraught. Insisting on equity will multiply resentments in short order, defer forgiveness, and spark disunity in social circles that are bound by something less than the love of friendship and family.
It may be, then, that doing right by those outside our immediate social life requires that we care for those we do not know by relying on rules that apply to all comers, regardless of their needs or gifts. Rather than pursuing an elusive and problematic equity, we might instead seek to build structures of equality grounded in respect.
The limitation that equity advocates rarely confront squarely is how they expect flawed human beings with limited knowledge of their subjects to provide the kind of tailored remedies against injustice that equity demands. Whatever your opinion of these kinds of initiatives, it is important to remember that they cannot help but be impersonal.
One reason we should turn to general rules of equality to help in these matters is how hard most people find it to be impartial when judging cases on the tailored terms that equity demands. While we often falter in applying what we believe are just rules to our lives, we look to the rules in the first place to help us understand the contours of what morality requires. Rules of equality at least sometimes avoid the traps of our own partiality. This is not to say that rules cannot be abused, or that they always produce outcomes we desire. In practice, equity initiatives implicitly recognize our deficits here—if not our incapacity—in their reliance on schemes that systematically advance "disadvantaged" groups over "privileged" ones. They tend to reduce human beings into identity or affinity groups and work from that perspective.
Antiracism advocates rightly emphasize that our compassion ought to lead to personal works against injustice. But to the degree that they fail to see how real equity requires that we tailor all our actions to individuals, they risk mistreating human beings by reducing them to abstract categories that have the perverse effect of intensifying the racial and social divisions of our day. 
We all practice a kind of equity in the personal relationships of our everyday life. We would be moral failures if we did not. But we should never forget that ignoring equity's limits courts moral disaster. A world in which we continue the age-old habit of evaluating human beings through the lens of categories like race will further diminish our ability to strive for the common good and will intensify the factional divides already present in our fragile, fraying republic.
Brian A. Smith is the managing editor of Law & Liberty. He is the author of Walker Percy and the Politics of the Wayfarer (Lexington Books, 2017). Before joining Liberty Fund, he taught politics and great books at Montclair State University.