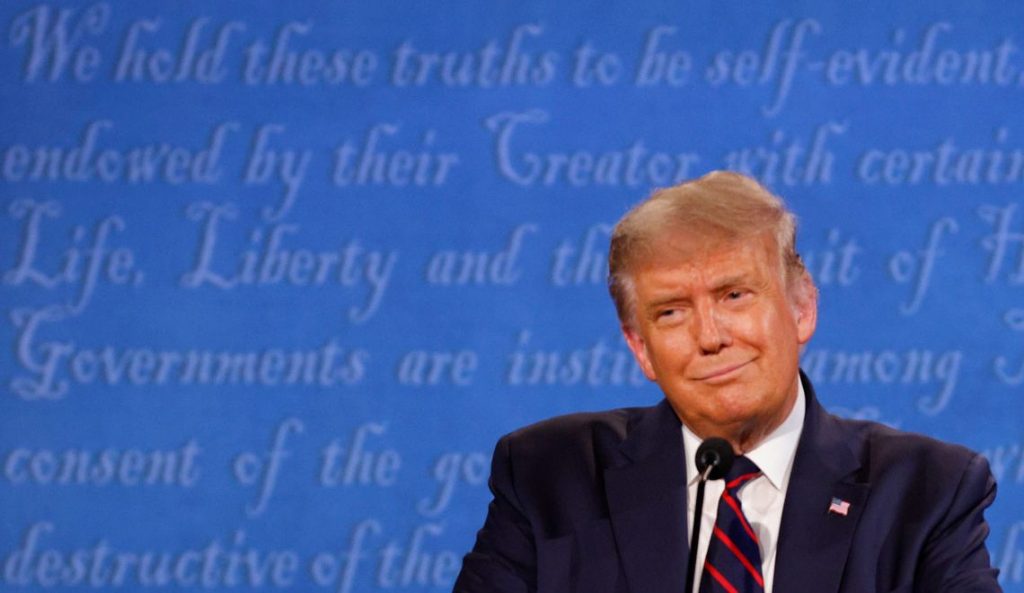 What happens when party loyalty and a cult of personality trumps our loyalty to the checks and balances built into the United States Constitution? We have a Constitutional crisis like the one we are currently experiencing.
Here is Robert Kagan at The Washington Post:
In recent decades, however, party loyalty has superseded branch loyalty, and never more so than in the Trump era. As the two Trump impeachments showed, if members of Congress are willing to defend or ignore the president's actions simply because he is their party leader, then conviction and removal become all but impossible. In such circumstances, the Framers left no other check against usurpation by the executive — except (small-r) republican virtue.
Critics and supporters alike have consistently failed to recognize what a unique figure Trump is in American history. Because his followers share fundamentally conservative views, many see Trump as merely the continuation, and perhaps the logical culmination, of the Reagan Revolution. This is a mistake: Although most Trump supporters are or have become Republicans, they hold a set of beliefs that were not necessarily shared by all Republicans. Some Trump supporters are former Democrats and independents. In fact, the passions that animate the Trump movement are as old as the republic and have found a home in both parties at one time or another.
Suspicion of and hostility toward the federal government; racial hatred and fear; a concern that modern, secular society undermines religion and traditional morality; economic anxiety in an age of rapid technological change; class tensions, with subtle condescension on one side and resentment on the other; distrust of the broader world, especially Europe, and its insidious influence in subverting American freedom — such views and attitudes have been part of the fabric of U.S. politics since the anti-Federalists, the Whiskey Rebellion and Thomas Jefferson. The Democratic Party was the home of white supremacists until they jumped to George Wallace in 1968 and later to the Republicans. Liberals and Democrats in particular need to distinguish between their ongoing battle with Republican policies and the challenge posed by Trump and his followers. One can be fought through the processes of the constitutional system; the other is an assault on the Constitution itself.
What makes the Trump movement historically unique is not its passions and paranoias. It is the fact that for millions of Americans, Trump himself is the response to their fears and resentments. This is a stronger bond between leader and followers than anything seen before in U.S. political movements. Although the Founders feared the rise of a king or a Caesar, for two centuries Americans proved relatively immune to unwavering hero-worship of politicians. Their men on horseback — Theodore Roosevelt, Grant, even Washington — were not regarded as infallible. This was true of great populist leaders as well. William Jennings Bryan a century ago was venerated because he advanced certain ideas and policies, but he did not enjoy unquestioning loyalty from his followers. Even Reagan was criticized by conservatives for selling out conservative principles, for deficit spending, for his equivocal stance on abortion, for being "soft" on the Soviet Union.
Trump is different, which is one reason the political system has struggled to understand, much less contain, him. The American liberal worldview tends to search for material and economic explanations for everything, and no doubt a good number of Trump supporters have grounds to complain about their lot in life. But their bond with Trump has little to do with economics or other material concerns. They believe the U.S. government and society have been captured by socialists, minority groups and sexual deviants. They see the Republican Party establishment as corrupt and weak — "losers," to use Trump's word, unable to challenge the reigning liberal hegemony. They view Trump as strong and defiant, willing to take on the establishment, Democrats, RINOs, liberal media, antifa, the Squad, Big Tech and the "Mitch McConnell Republicans." His charismatic leadership has given millions of Americans a feeling of purpose and empowerment, a new sense of identity. While Trump's critics see him as too narcissistic to be any kind of leader, his supporters admire his unapologetic, militant selfishness. Unlike establishment Republicans, Trump speaks without embarrassment on behalf of an aggrieved segment of Americans, not exclusively White, who feel they have been taking it on the chin for too long. And that is all he needs to do.
There was a time when political analysts wondered what would happen when Trump failed to "deliver" for his constituents. But the most important thing Trump delivers is himself. His egomania is part of his appeal. In his professed victimization by the media and the "elites," his followers see their own victimization. That is why attacks on Trump by the elites only strengthen his bond with his followers. That is why millions of Trump supporters have even been willing to risk death as part of their show of solidarity: When Trump's enemies cited his mishandling of the pandemic to discredit him, their answer was to reject the pandemic. One Trump supporter didn't go to the hospital after developing covid-19 symptoms because he didn't want to contribute to the liberal case against Trump. "I'm not going to add to the numbers," he told a reporter.
Because the Trump movement is less about policies than about Trump himself, it has undermined the normal role of American political parties, which is to absorb new political and ideological movements into the mainstream. Bryan never became president, but some of his populist policies were adopted by both political parties. Sen. Bernie Sanders's supporters might not have wanted Biden for president, but having lost the nomination battle they could work on getting Biden to pursue their agenda. Liberal democracy requires acceptance of adverse electoral results, a willingness to countenance the temporary rule of those with whom we disagree. As historian Richard Hofstadter observed, it requires that people "endure error in the interest of social peace." Part of that willingness stems from the belief that the democratic system makes it possible to work, even in opposition, to correct the ruling party's errors and overreach. Movements based on ideas and policies can also quickly shift their allegiances. Today, the progressives' flag-bearer might be Sanders, but tomorrow it could be Sen. Elizabeth Warren or Rep. Alexandria Ocasio-Cortez or someone else.
For a movement built around a cult of personality, these adjustments are not possible. For Trump supporters, the "error" is that Trump was cheated out of reelection by what he has told them is an oppressive, communist, Democrat regime. While the defeat of a sitting president normally leads to a struggle to claim the party's mantle, so far no Republican has been able to challenge Trump's grip on Republican voters: not Sen. Josh Hawley, not Sen. Tom Cotton, not Tucker Carlson, not Gov. Ron DeSantis. It is still all about Trump. The fact that he is not in office means that the United States is "a territory controlled by enemy tribes," writes one conservative intellectual. The government, as one Trump supporter put it, "is monopolized by a Regime that believes [Trump voters] are beneath representation, and will observe no limits to keep them [from] getting it." If so, the intellectual posits, what choice do they have but to view the government as the enemy and to become "united and armed to take care of themselves as they think best"?
Read the entire piece here.
Kagan's focus on the uniqueness of Donald Trump in American politics is one of my biggest takeaways from this piece. It is what I have been saying about him for the last half decade. This is why I largely object to the "but what about Biden?" rhetoric I often get from Trump supporters. Biden is a not a unique figure in American political history. Unlike Trump, Biden's power does not come from a a cult of personality. There is no moral or constitutional equivalence between the two presidents. Comparing Trump is like comparing apples (rotten in Trump's case) and oranges.