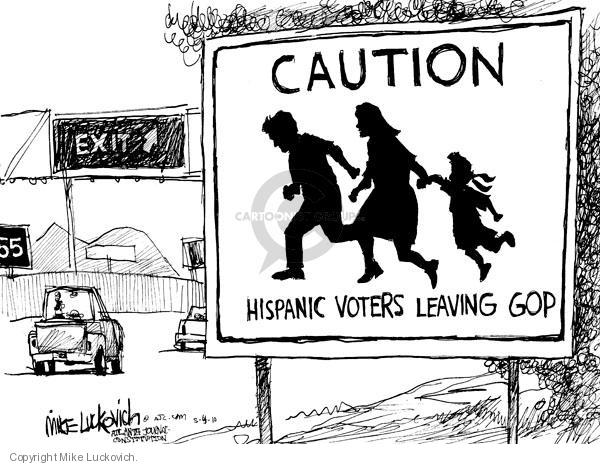 The evangelical nativist Charlie Kirk, a regular visitor to megachurches across the country, "said the quiet part out loud" yesterday on his radio show.
Here is a clip:
I have posted the video of the entire show below. The conversation about immigration begins at about the 54-minute mark. Kirk tries to defend his "white demographics" remarks in the minutes following the clip. This part is worth watching because his nativism actually gets worse. Kirk is upset that too many immigrant families are coming into the country. So much for family values.
In the above video, Kirk plays a clip from a speech Biden gave during his vice-presidency and takes Biden's words out of context.
I have provided a transcript of Biden's comments at this February 17, 2015 summit on countering violent extremism and combatting terrorism. I have highlighted the section Kirk cherry-picked from Biden's remarks.
Over the next three days we'll hear from leaders from government, from civil society, from communities in nearly seventy countries around the world in this three day conference, about how they believe we can make good on the collective commitment to build from the ground up here…We're going to hear from representatives from Los Angeles, Minneapolis, St. Paul, as well as Boston, as well as U.S. attorneys from each of these locales who have been leading in this effort as well…
I want to make it clear, though, I'm not suggesting to the press or any of our guests that I think America has all the answers here. We just have a lot more experience. By that I mean, we are a nation of immigrants. That's who we are. That is not hyperbole. We talk, teach our kids we're a melting pot. The God's truth is, we are a melting pot. It is the ultimate source of our strength, it is the ultimate source of who we are [and] what we've become. It started all the way back in the late 1700s. There's been a constant unrelenting stream of immigration. Not in little trickles but in large numbers. I had an opportunity to be in Singapore with the former president who is now 93 years old and I was talking to him on my way to China, to meet with the president…He's known as a sort of Henry Kissinger of Asia. For real. A very wide man. I said to him, "what are the Chinese doing now?"'…He said "they're in America looking for the buried black box." And I looked at him just like you're looking at me, like,what is he talking about? He said, "They're looking for that secret that allows America to constantly be able to remake itself. Unlike any other other country in the world." I said, "I can presume to tell you what's in that black box, Mr. President. I'm old enough now." I said, "One is that there is–in America an overwhelming skepticism for orthodoxy. From the time a child, whether they're naturalized or they're native-born, they think about. A child never gets criticized in our education system for challenging orthodoxy–for challenging the status quo. I would argue it's unlike any other large country in the world."
There's a second thing in that black box. An unrelenting stream of immigration. Nonstop, nonstop. Folks like me who are Caucasian, of European descent, for the first time in 2017 will be an absolute minority in the United States of America. An absolute minority. Fewer than 50% of the people in America from then on will be White European Stock. That's not a bad thing. That's a source of our strength. We haven't always gotten it right. I don't want to suggest we have all the answer. But we a lot of experience of integrating communities into the American system, the American Dream. A generation from now, as I said, things will change even more. It's not merely that we're a melting pot, but we're proud to be a melting pot. With that we've made a lot of mistakes. But we've also made a lot of progress. We've learned a lot of hard lessons. But the most important lesson we've learned, we don't always practice. It is that inclusion counts. Let me say that again, inclusion counts. Inclusion counts. Being brought in and made a part of the community, whether as my Irish ancestors, with signs "No Irish Need Apply" and the anti-Catholic Know Nothings in the late 1800s, straight through to how some respond today to the number of folks in the United States of America that are of Hispanic background. We've always overcome.
Watch Biden's full remarks below. He is calling attention to the rich history of American immigration in this country. Biden says nothing about immigration as the means by which the Democrats gain political power. Biden thinks this history of immigration is a source of American strength. Kirk thinks this history of immigration is a threat to white America.
Tucker Carlson tried the same stunt the other night on his Fox News Show:
Kirk and Carlson regularly describe the arrival of migrants and refugees as an "invasion." Here are some cartoons to put their "invasion" rhetoric in historical context:
1870: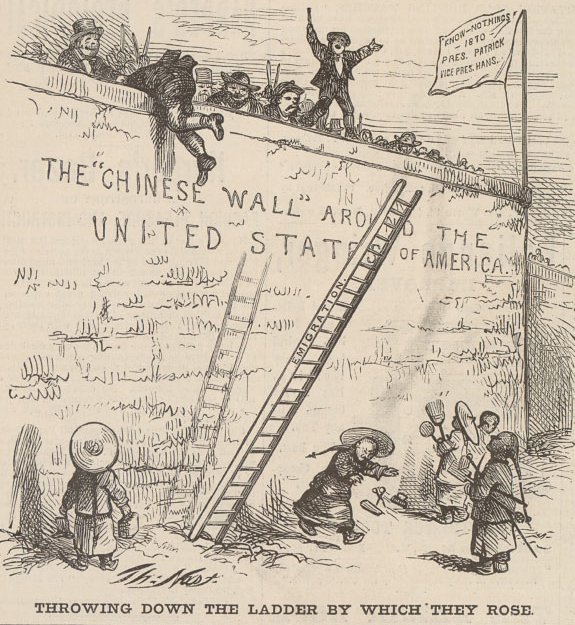 Harper's Weekly, 1871:
Puck, 1893: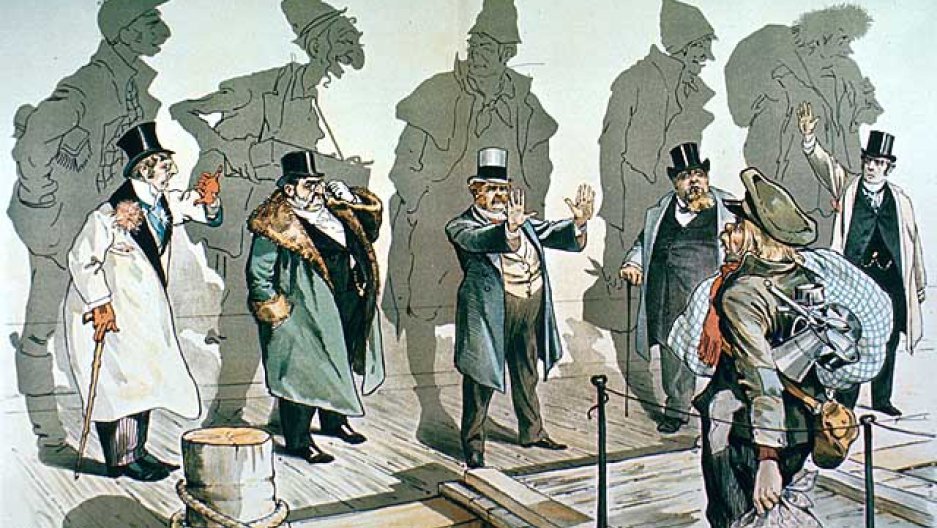 Judge, 1903: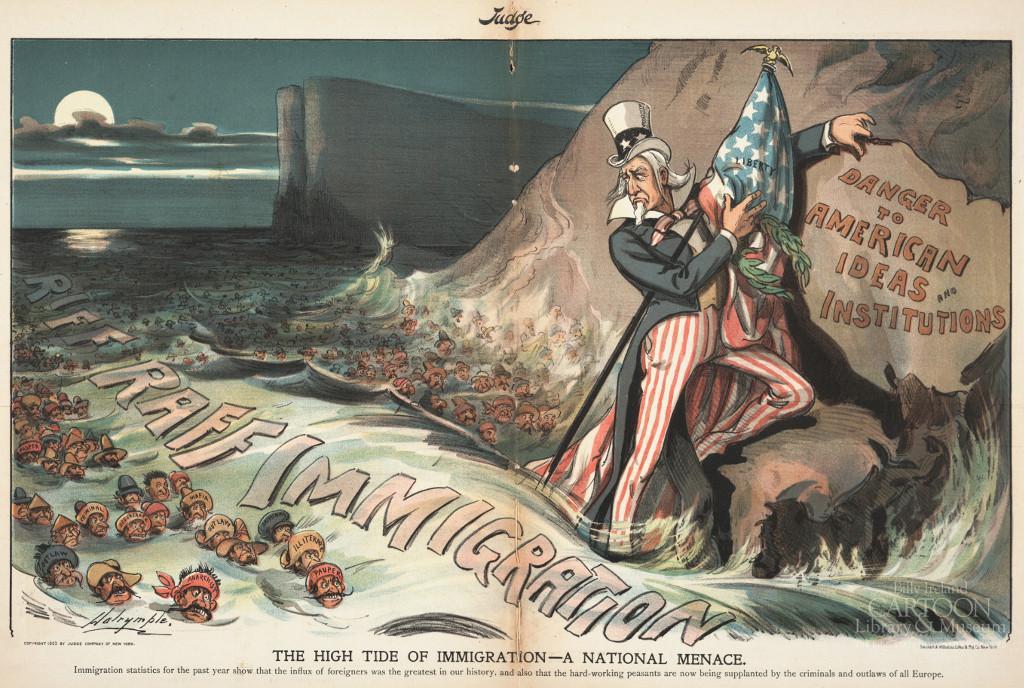 The Fiery Cross (KKK newspaper), 1924: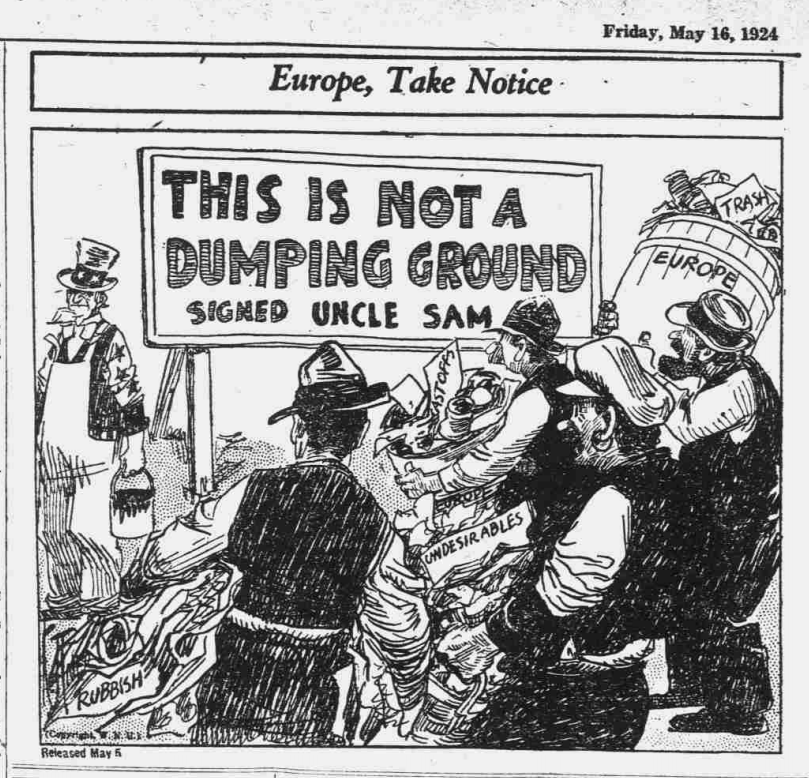 The idea that non-white immigrants are a "threat" to white America is an old story. I remember my grandfather, an Italian immigrant, telling me about how the Germans at a Newark, New Jersey brewery where he worked spewed racial epithets at him because people of his "race" (Italians) did not belong in the United States.
Here, for example, is feminist writer Charlotte Perkins Gilman in the October 1923 issue of The Forum:
The amazing thing is the cheerful willingness with which the American people are giving up their country to other people, so rapidly that they are already reduced to a scant half of the population. No one is to blame but ourselves. The noble spirit of our founders, and their complete ignorance of sociology began the trouble. They honestly imagined that one kind of man was as good as another if he had the same opportunity–unless his color was different. Consequently, they announced, with more than royal magnificence, that this country was "an asylum for the poor and oppressed of all nations. Never was a nation founded at so high a level of political idealism. However, there were three things our generous founders could not forsee: the development of steam manufacture, of steam transportation, and of colossal selfishness ready to sacrifice the good of the country to private profit…
What is an American? The only kind of person on earth who invites all creation to crowd him out of house and home. And even he is beginning dimly to wonder if it is not time to withdraw the invitation.
Here is writer and playwright Langdon Mitchell comparing immigrants to Confederates. It comes from the August 1926 issue of The Atlantic Monthly:
We are no longer a homogeneous people. There are some fourteen millions of foreign-born among us, whose ideals are not ours. When we seek to Americanize them, they tell us in their foreign tongues that the country is as much theirs as ours, and that they propose to remain themselves, to remain European, and even to Europeanize our social, moral, and political state of affairs. When we protest, these people accuse us of intolerance. And they are not beside the mark in doing so, for clearly we do not tolerate them as they are. But, on the other hand–a thing not so often mentioned–they do not tolerate us: our literature, art, morals, habits of life, our ideals, religion, traditions, and the Republic we have created. There is no mistaking their feelings in the matter, for they tell us in plain words, in editorials, in books, in plays, in political addresses, that they don't like us and our ways. We reply in as plain. And, as I have indicated, this growth of mutual intolerance has come about because our fundamental ideals are at variance.
To cover the whole immense and complicated state of affairs with a word, we are no longer "likeminded." And this, I take it, is the gravest mischance which can befall a people. Hence, and quite inevitably, the spirit of extremism, of unrest, of dissension, of dislocation, which, under a calm surface, is continually in evidence.
These various foreign races, often greatly gifted, and gifted in ways other than our own—peoples, therefore, that we like, or certainly admire—have really created, in their mass, a spirit which is in no wise different from the spirit of Secession. They are here; they are with us; we have one State and one Fate; but they have seceded in spirit, and they think it as right and reasonable as did John C. Calhoun.