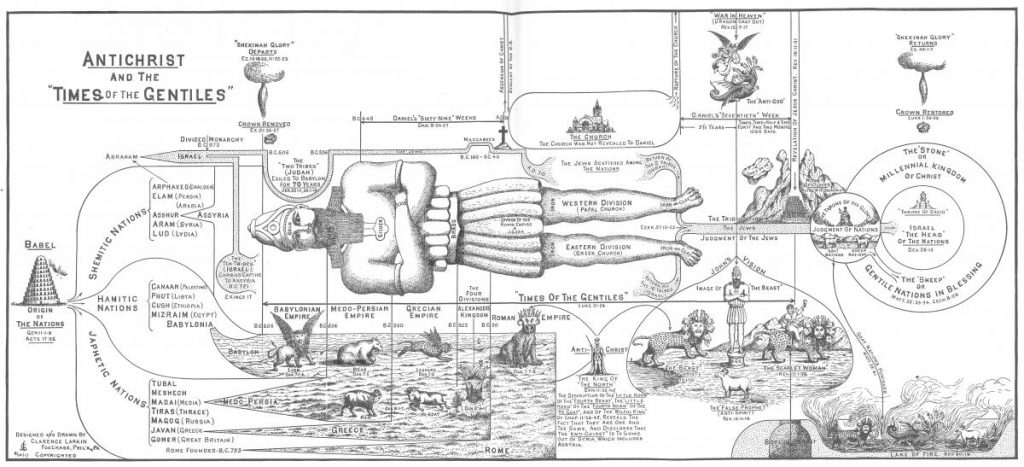 What is happening in Evangelical land?
The majority of white evangelical Protestants believe Donald Trump is a "true patriot."
When the KKK funded Billy Sunday:
The president of the National Association of Evangelicals meets with Biden.
Men's groups are reading Jesus and John Wayne:
Robert Jeffress still wants you to get the vaccine:
Let's be clear. When the Liberty University Standing for Freedom Center talks about "faith" in this tweet they are actually equating Christianity with Christian Right talking points. I am pretty sure that if Christians articulated a vision of public life that does not conform in every way to Liberty University's neo-fundamentalists talking points they would not be encouraging them to be so "bold":
"You're being led to believe":
A "Christian counselor" and Southern Baptist divinity school graduate talk foreign policy:
The 2020 census and the future of American evangelicalism.
Jesus is Lance's vaccine:
David French on the "God-and-country lifestyle brand."
It only took four minutes before Eric Metaxas and John Zmirak brought-up Hitler. Remember those militia groups in Michigan who tried to kidnap governor Gretchen Whitmer? They were mostly FBI agents.
A Richmond congregation denied a zoning permit wins a lawsuit.
Strong but true words from Tim Keller:
More on evangelical climate scientist Katherine Hayhoe.
Jim Wallis:
The pastor of the world's largest evangelical church has died.
Norm McDonald and Jonathan Edwards:
The Holy Land Experience closes.
Glad to see Shirley Hoogstra is part of this:
German evangelicals march for life.
New Orleans Baptist Seminary serves disaster victims.
The Southern Baptist's Ethics and Religious Liberty Commission is going digital.
Evangelical speaker and apologist Josh McDowell steps away from ministry to enter a "season of listening" after he made racially insensitive remarks.
A gay man launched the Jesus Movement. Also, I just learned about the Jesus People Movement Oral History Project.
Blast from the past:
Christian fiction as a window into evangelicalism.
Kristin Kobes Du Mez responds to John Wilson:
Chris E. Green reviews "The Eyes of Tammy Faye."
Joy was one of the original employees of the American Association of Christian Counselors when she worked for evangelical psychologist Gary Collins in the early 1990s. Today, under the leadership of court evangelical Tim Clinton, the organization's annual conference has become a Trump fest. Speakers at the organization's recent conference included Ben Carson, Janet Parshall, Jay Strack, Samuel Rodriguez, Darryl Strawberry, Tom Mullins, and Jerry Boykins. Trump lawyer Jenna Ellis was also there:
While we are on the subject of Jenna, she retweeted this tweet from a member of Congress:
A student at John Brown University in Siloam Springs, Arkansas wonders why her university is so "gray" on COVID-19.
The "prolonged battle," whatever that is, is apparently over:
Wait, what happened to make America great AGAIN?:
More chaos in the Southern Baptist Convention as the Executive Committee meets. And this:
Marxism is invading the public schools. James Dobson is on the case. And yes, Hitler is mentioned:
Some Southern Baptists believe that the judgement of God is on the denomination. More here.
Franklin misses Donald:
Ryan Burge and evangelical data.
Albert Mohler interviews George Packer:
Tennessee governor Bill Haslam talks to The Gospel Coalition.
Shane Claiborne on welcoming immigrants:
Shane remembers Henri Nouwen:
The evangelical anti-vax app.
An Evangelical Free Church changes its name to GracePoint Church to avoid using the word "evangelical." A few years ago my church changed its name from "West Shore Evangelical Free Church" to "West Shore Free." I don't think I have ever heard the explanation.
Iowa evangelicals love Senator Joni Ernst.
A Pennsylvania megachurch charter bus crashes.
There are a lot of evangelicals on this list. John Hagee is proud to be #2 behind Mike Pence:
A Southern Baptist Church in Louisiana doubles as a Hurricane Ida command center.
Owen Strachan went from Southern Baptist Theological Seminary in Louisville to the less-prestigious Midwestern Baptist Seminary to a small storefront seminary in Arkansas. Soon he will be the only white guy on an island somewhere in the Pacific chastising the natives for their unorthodox beliefs. This is what fundamentalism looks like today:
And this:
Sexually-abused Southern Baptist women tell their stories.
Should churches keep having altar calls?
Tim Barton, the heir to his father's throne at Wallbuilders, thinks the Constitution was an anti-slavery document.
In this video, Tim Barton says that public school students are not learning about the Constitution. I challenge him to find any state with social studies standards that do not include the study of the Constitution:
While American historians on Twitter debate the importance of historiography, David Barton and friends are raising money for their Patriot Academy. Here is Wallbuilder's Rick Green's FB page:
Beyond Blessed today as we reflect on the weekend. It was absolutely incredible. Lauren Boebert, Beneil Dariush, Timothy Barton, David Barton/WallBuilders, Senator Bob Hall, and so many of YOU! What an amazing weekend! We kicked off our inaugural fundraiser in Ft Worth for the Patriot Academy Campus with 500 people! It was like a big family reunion. So much fun! If you want to be a part of supporting the Patriot Academy Campus, you can sponsor a brick engraved with your name to be installed on the campus grounds:
No more "Crusaders" at Evangel College.