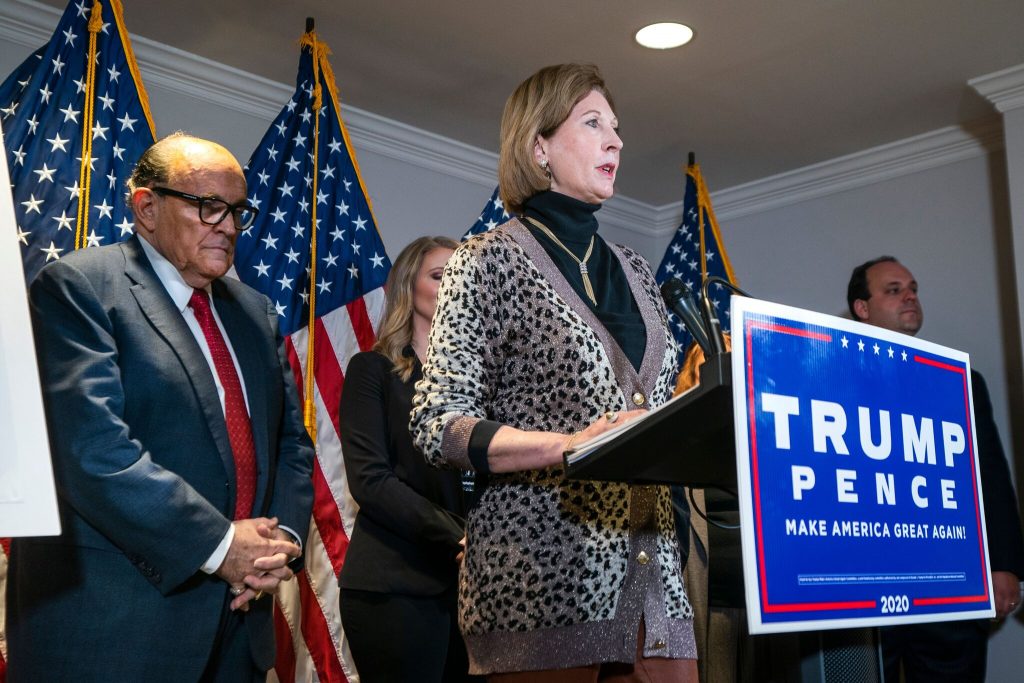 Andrew Wommack is a Seven Mountain Dominionist. He believes that Christians must gain control of the seven spheres of cultural influence: Business, Government, Media, Arts and Entertainment, Education, Family, and Religion. When Christians control these spheres, Jesus Christ will return.

Just listen to the start of Wommack's show "Truth and Liberty." The announcer says, "we believe we have a mandate to bring Godly change to our nation and the world through the seven spheres or mountains of influence." Wommack runs Charis Bible College in Woodland Park, Colorado. Political activist and purveyor of the past David Barton includes Charis on his list of safe colleges and universities. The school's most famous graduate is Tyler Ethridge, the youth pastor who lost his job after he posted on social media from inside the U.S. Capitol on January 6, 2021.
Sidney Powell, the former Trump lawyer who argued that Dominion software rigged voting machines in favor of Joe Biden in the 2020 presidential election, was Wommack's guest on the September 13, 2021 episode of his Truth and Liberty program. You can listen to it here.
Dominion Software is suing Powell, Rudy Giuliani, and Mike "MyPillow Guy" Lindell for spreading misinformation about the company. In this interview, Powell says that Dominion is suing them because the company knows Powell is right about its role in 2020 election fraud and it wants to change the news narrative.
But today pundits are talking about these comments:
Notice the Andrew Wommack Ministries prayer line running on the bottom of the screen as Wommack disciple Richard Harris interviews Powell.
Apparently this is not a new conspiracy theory:
Here is the rest of the what Powell said:
[
There are] known people out there who want to destroy us and have been working to create what I call the apocalypse hoax with the response to COVID and every other problem we've had for the last four years at least, doing everything they could to undermine the Trump administration because they want to destroy the middle class, they want to turn us into a totalitarian, communist, fascist state that they control for their own power and wealth. That is the bottom line. And it is very real–we are seeing it more every day and that's what we're fighting. And they have far more control over people and government in high places than anyone wants to acknowledge.
Powell then says that there have been threats on her life, but she "keeps angels" on her "'shoulders," adding that "God did not give me a spirit of fear."
She then says that January 6th insurrectionists are being treated like "Guantanamo Bay terrorists:
There are about 80 of them who are kept in solitary confinement in absolute bug-infested holes that no human being should be forced to occupy and kept there for months. One guy was beaten almost to death. He's blinded in one eye, beaten by the guards. We've been trying to get emergency medical help for him. We filed that motion Friday night about 10:30 or 11:00 o'clock.
Powell is referring here to this.
And then Powell offers some good old-fashioned Christian nationalism mixed with American exceptionalism:
We cannot let this [treatment of prisoners] stand…You cannot have a coup of the greatest country on earth by massive, obvious, documentable fraud. It just cannot be allowed to stand. The Supreme Court is going to have to step-up and fix it or they will have absolutely no further use in the United States of America. We've witnessed a complete institutional failure or every institution in our constitution that was created to protect the rights of individuals of this country which was divined by God to be the beacon of freedom on the face of this earth. We cannot let that light be snuffed out. We must not let that light be snuffed out.
Meanwhile, we just learned that Trump's campaign knew that the claims about Dominion fraud were false, but Rudy Giuliani continued to push them.