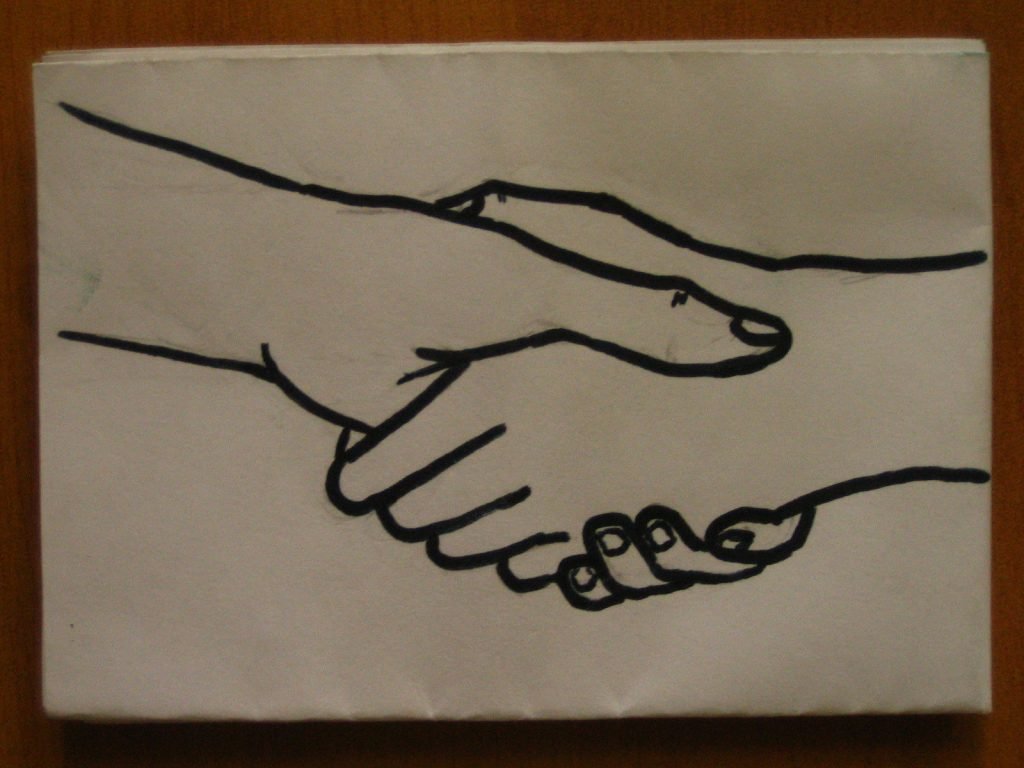 If libertarianism has recently united these old foes, maybe opposition to it can, too
I read with surprise John Fea's recent essay, "Jesus is My Vaccine." Evangelicals have been among the most vocal supporters of Trump, and Covid denial (or at least vaccine denial) stands as a litmus test of loyalty to The Donald. More surprising, however, is Fea's account of the theological roots of this denial: Some evangelicals claim Biblical authority for their opposition to vaccines. Fea then goes on to interpret this as "the dark side of Martin Luther's Sola Scriptura. When the Bible is placed in the hands of the people, void of any kind of authoritative community to guide them in their proper understanding of the text, the people can make it say anything they want it to say." Along the way, he contrasts this Protestant principle with the Catholic tradition, which provides clearer limits on biblical interpretation through the Church's magisterium.
I must confess that as a Catholic I felt a touch of schadenfreude, and I feared I was being drawn into the polemics/apologetics of the Reformation era: "See, we told you so! This is where it all leads!" And then I realized: "Wait, I know Catholics who also invoke their faith as grounds for rejecting vaccines." What is going on here?
Let's call this the dark side of the evangelical-Catholic alliance that has served the Republican Party well since the time of Ronald Reagan. This was, at first, a curious alliance, given the historically disparate geographical and economic interests of the two groups (urban, northeast Catholics vs. rural, southern evangelicals) and the persistence of anti-Catholicism among many committed evangelicals. In First Things during the 1990s, this novel alliance found its rationale in a commitment to "traditional" morality but the reality was more often a division of labor between elite Catholic policy wonks (and Supreme Court justices) and evangelical foot soldiers. This moral consensus gave a genteel, Christian ambiance to the practical political agenda of post-Cold War neo-conservativism, in which the United States would serve as the world's policeman, defending the sanctity of free markets abroad and at home. Middle-class, suburban Republican Catholics certainly benefited economically from this agenda far more than the evangelicals who would later make up Trump country. At least since Thomas Frank's What's the Matter with Kansas?, critics have often accused evangelicals of being dupes of a neo-con policy elite.
Still, the battles over Covid have revealed the power of evangelical culture in shaping at least one strand of Catholic conservatism. For reasons that I hope to make clear, I will call this strand "C-evangelicals" (so as not to be confused with George Weigel's concept of "evangelical Catholics").
I live within one enclave of C-evangelicals in the Shenandoah Valley of western Virginia. These C-evangelicals are, by and large, transplants, refugees from the traditional centers of Catholic life in the Northeast and Midwest. Formed by a justifiable reaction against the Vatican II-era liberalism that dominated those regions in the decades following the Council, they defined themselves first of all by fidelity to Humanae Vitae, St. Pope Paul VI's encyclical affirming the Church's traditional opposition to artificial birth control. These C-evangelicals—suspicious of a liberal hierarchy either silent on or opposed to this teaching—withdrew from the parochial school system and embraced homeschooling.
From the outset, Catholic homeschooling drew heavily on models developed by evangelicals fleeing the secularism of the public schools. Religious instruction remained firmly Catholic, often based on pre-Vatican II religion textbooks, but the subjects of literature and history valorized a very evangelical version of 19th-century rural America as the gold standard of culture. Laura Ingalls Wilder's Little House books provided the canonical texts (and in the case of young homeschool girls, a guide to fashion). Nostalgia for the days of rugged, frontier individualism-colored attitudes toward most social institutions. Some, a la Rod Dreher's "crunchy cons," embraced natural food and organic medicine, perhaps more for the sense of control over health than for health itself. Incongruously, this drive for independence proved compatible with a growing attraction to the liturgy of the pre-Vatican II Church, with the Tridentine Mass a symbol of the Church at its most authoritative and a cover for the increasing social libertarianism developing within the C-evangelical subculture. Attachment to the authority of the papacy and the persons of St. John Paul II and Benedict XVI seemed all that that kept C-evangelicals from schism. 
The election of Francis to the papacy in 2013 threatened to sever that last thread of connection. C-evangelicals had lost their man in the Vatican. Gone was John Paul's staunch anticommunism, gone was Benedict's support for the Tridentine Mass. C-evangelicals interpreted Francis's embrace of environmentalism in Laudato si' (2015) as an endorsement of population control and his outreach to divorced and remarried Catholics in Amoris Laetitia (2016) as a rejection of the Church's teaching on the indissolubility of marriage.
Sulking, discontented C-evangelicals finally found their champion in Archbishop Carlo Maria Viganò, a Vatican bureaucrat who had served as Apostolic Nuncio to the United States from 2011 to 2016. In 2018, Viganò published an open letter calling on Francis to resign due to his complicity in covering up clerical sex abuse and his refusal to discipline Cardinal Theodore McCarrick, the highest churchman to be accused of abuse. Viganò went into hiding, continued his assault on Francis, and by 2020 was looking to Donald Trump as the only person capable of saving Christians from a deep state conspiracy to use the Covid pandemic as a means to establish world government.
The C-evangelicals of my community seem to have swallowed this whole. At a recent weekday Mass, a local priest glossed the parable of the trees from Judges 9: 6-15 as a story for our time: We are living in the age of the buckthorn! On the commemoration of the martyrdoms of Sts. Pontian and Hippolytus, a local priest compared the compulsory vaccination of healthcare workers and military personnel to the persecution of the early Church. At our local town council meeting, it was the minority Catholic council members who proposed a "Medical Freedom Ordinance" to prevent employers from requiring vaccines of their employees. (It was defeated by the non-Catholic majority on the council.)
I would like to follow John Fea's lead and trace this all to the legacy of the solas. But my experience with C-evangelicals suggests a more proximate cause: good old-fashioned American libertarianism, which has long united conservatives across confessional lines. Evangelicals invoke the Bible to justify their resistance to masks and vaccination. The C-evangelicals of my community invoke the American tradition of religious freedom, even against the authority of their own bishop, who is supportive of both masks and vaccinations. The end result is the same.
I generally do not wish to see disputes settled by thunderbolts from Rome. But the corruption of Christian faith by libertarianism cries out for some official condemnation—and maybe some statement by a different sort of alliance between Catholics and evangelicals together, again.  
Christopher Shannon is associate professor of history at Christendom College in Front Royal, Virginia. He is the author of several works on U.S. cultural history and American Catholic history, including the forthcoming American Pilgrimage: A Historical Journey Through Catholic Life in a New World, due out in the spring of 2022 from Ignatius Press.