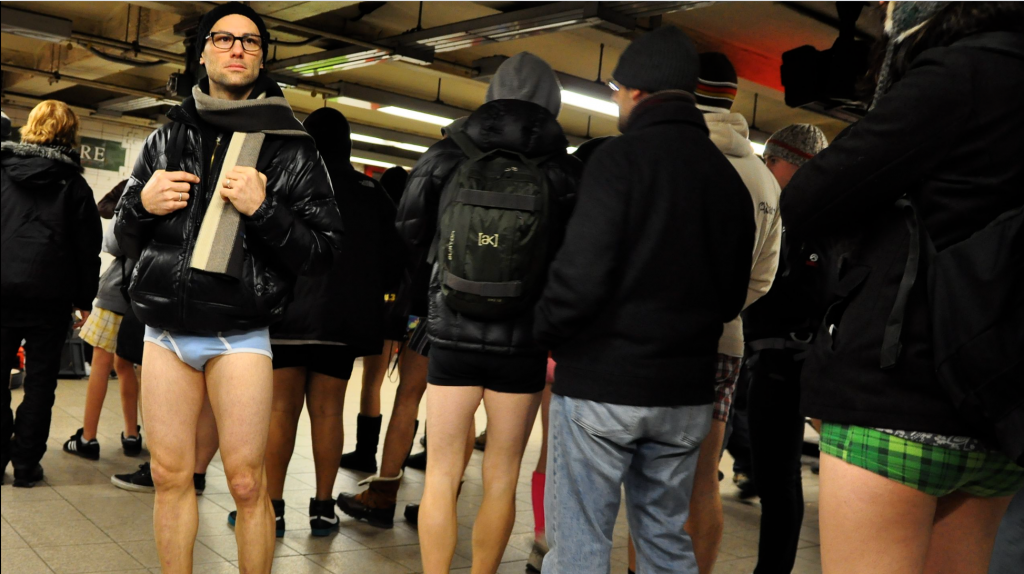 If personal responsibility is so great, why isn't it working?
As America confronts a COVID surge unlike any we've seen before, we face a corresponding surge in demands about freedom. People who hate masking, or who don't believe in masking, do not accept that anyone can compel them to mask up. And if they don't want to, it's wrong to make them.
Mandatory masking supposedly violates the golden ideal of personal responsibility. I am in charge of my body, and the state has no claim over it. Each person makes the correct choice for themselves. And if my choice harms your health, so be it. My freedom is what matters.
Freedom here means the ability to do what you want, when you want to.
So what's next?
Probably pants.
I mean, what gives the state the right to make me wear pants?
Of course, anyone who wants to wear pants can. But we shouldn't require it. In the words of Texas Gov. Greg Abbott, "Everyone can voluntarily implement the mandates that are safest for them, their families, and their businesses." Florida's Ron DeSantis is currently suing Florida schools for implementing mask mandates without his say-so, arguing in part that the mandates aren't needed because whoever wants to wear a mask can do so.
And the same is true of pants!
Sure, the "mainstream media" tells us about the so-called health risks of going naked to the grocery store or the football game. I guess they think putting your bare backside down wherever you feel like it can cause disease to flourish and spread. Or they say it violates common decency.
I hear you. But do health and decency really matter when we're discussing personal freedom?
I have a body, and I have the right to take whatever health risks I deem appropriate. And like all rights in a libertarian fantasyland, that right is unlimited. "No Shirt, No Shoes, No Service" is mere Orwellianism.
What's more, anti-pants parents have the right to choose what risks their children take. So if you think schools should make students wear pants, what is your problem? Your kids can wear pants! Stop living for the rest of us!
I'm also sure all parents and kids will exercise "personal responsibility" regarding pants. So to parents who demand these fascist pants mandates: Aren't you worrying over nothing? Everyone will probably be responsible and wear pants. I am also sure that kids will safely use the guns, knives, and pharmaceuticals they should also be allowed to bring to school and use with personal responsibility.
You get the joke.
Anti-maskers are telling a great lie about personal responsibility. They make claims for responsibility, but what they are asking for is choice. ("Our Children, Our Choice!" shouts a sign from my neighbor's lawn.)
But responsibility and choice are different things. Indeed, responsibility often means that we do not have a choice. Responsibility is the act of living up to our obligations to others. Responsibility means that we actually don't have much choice when it comes to paying our bills, serving our country, loving our spouses. And we don't have much choice when it comes to wearing masks in public.
Masking reduces and controls the spread of the coronavirus. But it only works if everyone does it. If some people don't mask, everyone can get sick.
So your responsibility is to mask.
Sure, some people can't mask for medical reasons. But the vast majority of us owe it to our fellow citizens to mask up.
If personal responsibility were as strong in Florida and Texas as their governors claim it is, those states would mask up and COVID would slow dramatically.
Instead, the opposite has happened. People did not mask up, they did not get vaccinated, and now Texas and Florida lead the nation in delta-inspired surges. The more unvaccinated cases rise, the more breakthrough cases the vaccinated experience, and the more chance the virus has to mutate. And the pandemic goes on.
Personal responsibility has not worked as a state policy. Actually, personal responsibility virtually never works as a state policy. We make laws precisely because people are not responsible all the time. The entire American government is based on James Madison's notion that "If men were angels, there would be no need of government."
This is why we have laws against indecent exposure.
A month ago, Abbott declared that "the path forward relies on personal responsibility rather than government mandates." It's a great soundbite—and deeply meaningless. Every law is also a mandate. If personal responsibility worked—if men were angels—we would need no speed limits, no food safety legislation, no laws against fraud or larceny. The state has "mandates" against pedophilia and murder. The notion that personal responsibility is a cure-all for a functioning state is fictional.
So again: If we're going to ban mask mandates, be ready for an end to pants mandates. Yes, it seems crazy. But so does 2021.
Those who do not want to cover their nose cannot complain when others won't cover their tuckus.
Adam Jortner is the Goodwin-Philpott Professor of Religion in the History Department at Auburn University. He is the author of the Audible series Faith of the Founding Fathers and was part of the creative team behind Where in Time is Carmen Sandiego?