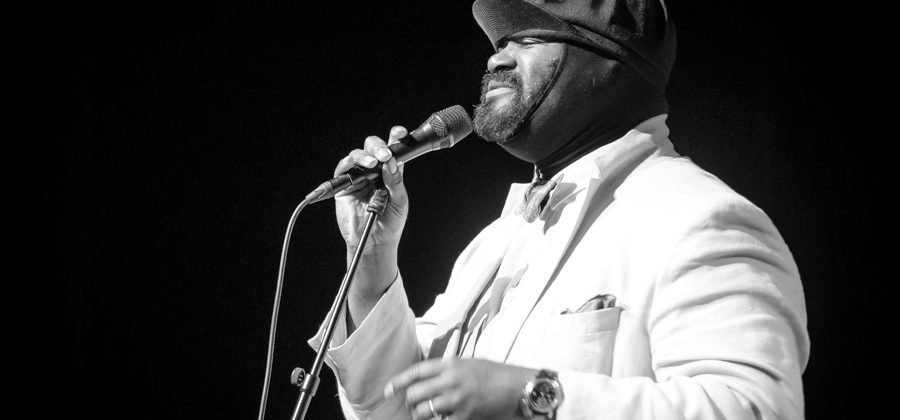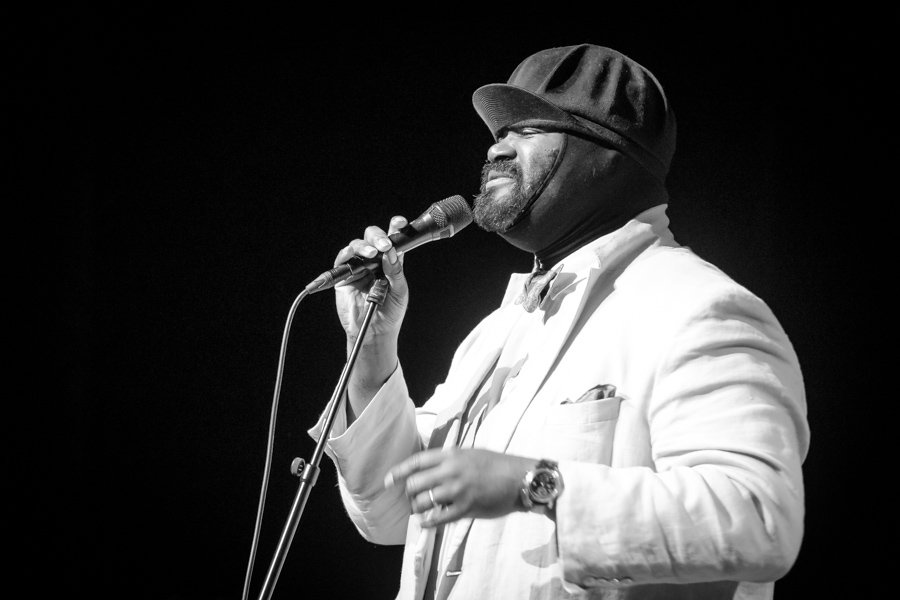 In his music, Gregory Porter shows how far gratitude and respect can take us
The Grammy didn't go Gregory Porter's way this past March, for a change. A two-time winner for Best Jazz Vocal Album, Porter had garnered his seventh Grammy nomination for All Rise , up for Best R&B Album. In a decade that began in great recession and ended in insurrection, Porter's emergence hit like resurrection, a resurrection of hope—his mysterious "jazz hat," as he calls it, its unexpected symbol.
Hope surged through the streets on a hot June day in 2018, when I saw Porter and his band at the Pittsburgh Jazz Festival. Gregory Porter, the artist, stands in the tradition of his mother, the minister. She shepherded a church in Bakersfield, California while also raising eight children. Cancer took her when Porter (soon to turn fifty) was twenty-one, and he has eulogized her in tender ways. "She never walked on water," he intones, "She never turned that water to wine/ But being 'round her made my blind eyes see." If art imitates life, hers was a life that knew brokenness to be a passageway to wholeness—and knew how to guide others on the way.
You come to know this way on All Rise. It begins with the aural rush of "Concorde," the bass beneath Porter's baritone signaling, after a trek across starry but empty skies, reunion: "30,000 feet up in the air/ I can't wait to get there, drop down." But it's where Porter lands that gives the album—and in fact his entire body of work—its arc. With the next track we realize with a start that we've dropped out of the sky and into church, where a Hammond organ is showing the way, a choir is swaying, and Sunday is breaking out. The vibe is worship but the lyric is biography. The song turns out to be about Porter's father; in fact, we're in his father's church—his father who didn't teach him "a dad-gone thing—but how to sing."
That is a big but. It's the conjunction of redemption, the sudden, unexpected arrival of freedom. Porter's gratitude for his father isn't cheap; his pain goes on. "He could out-play the devil/ But why did he play me?/ I stood right in front of his stage/ But still I was hard to see." Absent in his son's life, Porter's father yet gave a gift—and it is gratitude for this gift that, even in a song about loss, issues in worship. The vibe is true.
At the 2018 festival I felt this vibe and longing, and thought the show might be building toward Porter's haunting "When Love Was King," a mythic tale, eight minutes long, that awakens and intensifies a yearning for all-pervading love. But the performance actually peaked with a white-hot medley, the center of which, "Musical Genocide," offers a sharp picture of Porter's evident sense of calling—the ways he shapes his art to heed our yearnings, heal our fractures, renew our sense of the possible. The lyric begins in defiance. "I do not agree, this is not for me/ No, Musical genocide." What does he mean? Instead of moving away from the past, he seeks to open it.
Give me a blues song
Tell the world what's wrong
And the gospel singer giving
Those messages of love
And the soul man with your
Heart in the palm of his hand
Singing his stories of love and pain
Amid the diminishing landscape of popular song, it's wealth that Porter is after, and poverty he fears—the wealth of long, seasoned traditions of expression; the poverty of diminished feeling and shrinking knowledge, suffered alone.
Porter's apprenticeship in these traditions was long. His first album, Water, was released when he was thirty-eight, though he had been studying jazz since his university days. Measure by measure you hear his immersion, his carefully formed— and informed—inflection taking us into a history richer than we know, certainly than we deserve. If gratitude marks Porter's art, it is born of the fundamental respect that grounds his vision, a respect for the reality of life itself and its myriad modes of expression. Listen to his covers of standards—his golden rendition of "Imitation of Life," say, or his piercing a cappella version of Billie Holiday's "God Bless the Child." They bear witness of submission, the artistic submission that leads to the only kind of originality that matters. Absorbing Gregory Porter, we learn what respect looks like, and we come to sense more acutely its presence, and its absence, in our art and in the world.
In All Rise, this respect flowers vibrantly. His lovely "Merry Go Round" plays like an ode to one of his heroes, Nat King Cole, while the infectious funk of "Faith in Love" brings back Marvin Gaye with an affection that soars to celebration. In Porter's hands R&B becomes a kind of Ur-language of modern American experience. It sways and swirls all around us, threaded with gospel, blues, jazz, pop, even touches of country, classical, folk. And it calls us together, calls us home, by calling out our troubles, from racial strife ("Mr. Holland") to sexual exploitation ("Merchants of Paradise"), and gathering us anew within a cosmos formed from love—and formed for it, as "Phoenix" sublimely affirms.
Art, clearly, is not Porter's end. His gratitude tunnels beneath it. He closes All Rise by taking us back to church. In "Thank You" we hear the same band, the same choir, the same doxological feast of the album's second track. But this time it's not Porter's absent dad but his present God who stands at the center. "You put the spark and the flame in the fire/ You inspire me," he confesses. "Rough-cut stone, I couldn't polish myself/ Had to be done by someone else." The album's final lines drop us down from a brilliant musical journey into the blessedly earthy place where Porter's own journey began. The band grows quiet, the choir claps along, and we're left with one voice.
When I was nine or ten
You became my beginning and my end
In between Lakeview and Haley Street
That's where the outdoor church would meet
Thank you
Thank you
Thank you
I've lived with All Rise for a year, and it is alive in me, a light on a pathway that needs it. In this dark maze of dreams and loss, Porter's beacon shines. For this, I thank him.
Eric Miller is Professor of History and the Humanities at Geneva College, where he directs the honors program. His books include Hope in a Scattering Time: A Life of Christopher Lasch, and Brazilian Evangelicalism in the Twenty-First Century: An Inside and Outside Look(co-edited with Ronald J. Morgan). He is the Editor of Current.