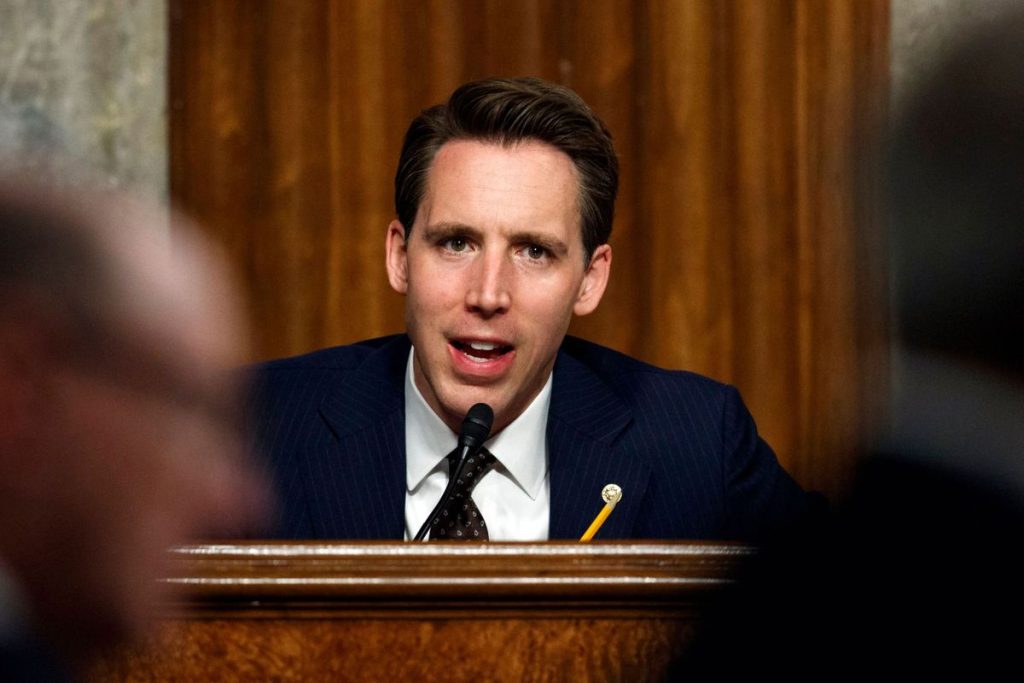 Josh Hawley, the evangelical Christian Senator from Missouri, has really made a name for himself in 2021.
In January, he fed the conspiracy theories about the illegitimacy of the 2020 presidential election by refusing to vote to certify the results. Conservative writer George Will called him one of the "Constitutions most dangerous domestic enemies" and wondered if any Senator had ever possessed such a "high ratio of ambition to accomplishment."
Though it is hard to make the case that Hawley was somehow directly responsible for the January 6 insurrection on the U.S. Capitol, his name will always be associated with this dark moment in American history. When Simon & Shuster pulled Hawley's book deal, he said that the publishing house was run by a "woke mob" that was denying him his First Amendment rights. One of Hawley's mentors, former Missouri GOP Senator John Danforth, said that his support of Hawley's candidacy for Senate was "the biggest mistake I've ever made." Meanwhile, the Kansas City Star's editorial board announced that Hawley's "mind is permanently closed, open only in the service of his ambition."
In February, Hawley delivered a speech at CPAC claiming that democracy was under attack, citing supposed election fraud in Pennsylvania as his evidence.
In August, Hawley wrote a New York Post op-ed claiming that children were getting a false view of American history. ""Let's be clear," he wrote, "This isn't a nation of oppressors. This is a nation of liberators." The op-ed attacked the New York Times 1619 Project and critical race theory. The piece was designed to promote his "Love America Act," an attempt to introduce patriotic history in America's public schools. We broke down that bill here. It serve no purpose other than getting Hawley in the news again.
Later in August, Hawley challenged people to read and see what was in Joe Biden's bipartisan infrastructure bill. So we did. It looked pretty good.
Today Hawley announced that he would make it difficult for Joe Biden to nominate candidates to posts in the State and Defense Departments until he fires Secretary of State Antony Blinken and national security adviser Jake Sullivan because of their role in the Afghanistan exit. Then he called for Biden to resign.
Here is Jordain Carney at The Hill:
"I will not consent to the nomination of any nominee for the Department of Defense or for the Department of State until Secretary Austin and Secretary Blinken and Jake Sullivan resign," he said during a Senate floor speech, knocking the administration's botched exit strategy.
Hawley's warning comes after he called late last month for Biden's national security team to resign, and subsequently for Biden to resign.
Biden's handling of the Afghanistan withdrawal has sparked bipartisan pushback on Capitol Hill. Though Democrats largely agree with the decision to withdraw the U.S. military, Biden is facing questions about why the administration was caught off guard by the Taliban's quick rise and the Afghan government's rapid collapse.
Hawley, during his floor speech, unloaded on the president, calling him a "disgrace" and urging him to resign.
"His behavior is disgraceful. He has dishonored this country with his shameful leadership in this crisis. And it is time for him to resign. And if he had the responsibility of leadership, he would resign," Hawley said.
Read the entire piece here.
Watch:
The part of about never wanting to hear "disgraceful" and "shameful" words from a President of the United States is rich coming from a Trump supporter.