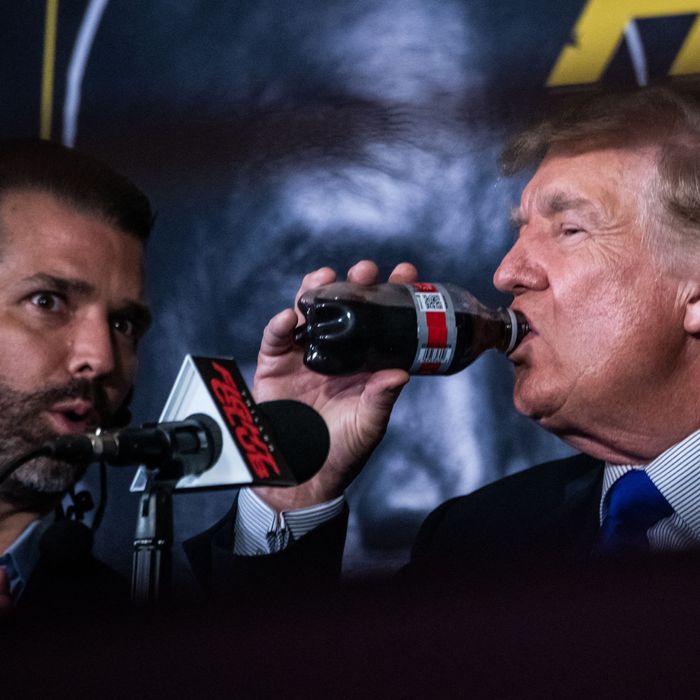 Joe Biden, Barack Obama, and Bill Clinton were at the World Trade Center Memorial in New York City. George W. Bush was in Shanksville, Pennsylvania.
Donald Trump started the day at a New York police station ripping Joe Biden's withdrawal from Afghanistan:
Then there was this taped message to the Sean Feucht worship event in Washington D.C.:
He followed this up with a speech to a conference organized by the widow of Reverend Sun Myung Moon, the founder of the Unification Church or "Moonies":
And he finished the day at boxing match:
Here is Politico:
Earlier that morning, Americans woke up to the image of three presidents standing side by side at the National 9/11 Memorial in New York City, dressed in black or navy blue, left hand on their hearts. Donald and Melania Trump were not there. As he had during his successor's inauguration, breaking with tradition by skipping the ceremony to fly to Mar-a-Lago, Trump spent Saturday in a peculiar bubble, pursuing his own interests in a series of semi-public appearances, some of them money-making. Nothing would have prevented him from being the fourth president at the New York memorial or traveling to Shanksville, Pa. — deep in the heart of Trump Country — where President George W. Bush spoke about healing the nation's internal divisions.
Instead, Trump appeared via taped video at a conference of the Unification Church, better known as the "Moonies cult," and made a visit to a fire and police station in New York, where he began his opening remarks by criticizing Joe Biden for "fleeing" Afghanistan, repeating the lie that the election was "rigged," and suggesting very strongly that he will run for president in 2024. "I think you're going to be very happy," Trump told police officers that morning. "Let me put it that way, OK? I think you're gonna be very happy." By nightfall, he was at a South Florida casino delivering several hours of commentary on four boxing matches for Triller Fight Club in an "alternate telecast" available for $49.99 to pay-per-view ticket-holders. It was, in his son's words, "a bit of levity on a somber day." The entire day was a rolling "alternate telecast," a parallel reality of Trump's own devising — his own strange vacuum, designed to entertain, or outrage, in which he was free to lace every appearance with a self-serving narrative, unencumbered by traditions of nonpartisanship, or the presence of unwelcome rivals.
Read the entire piece here.