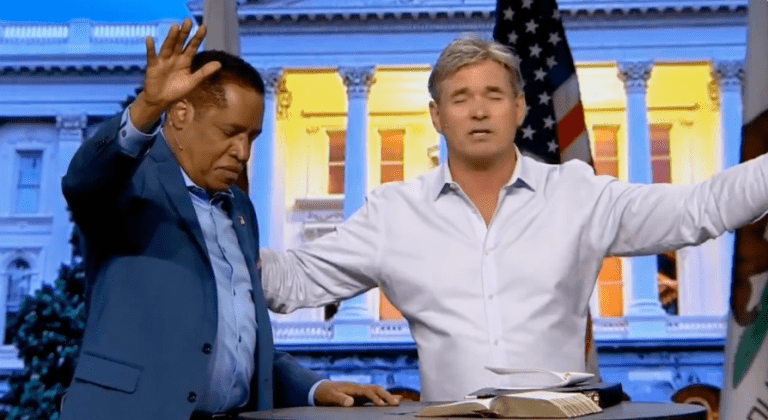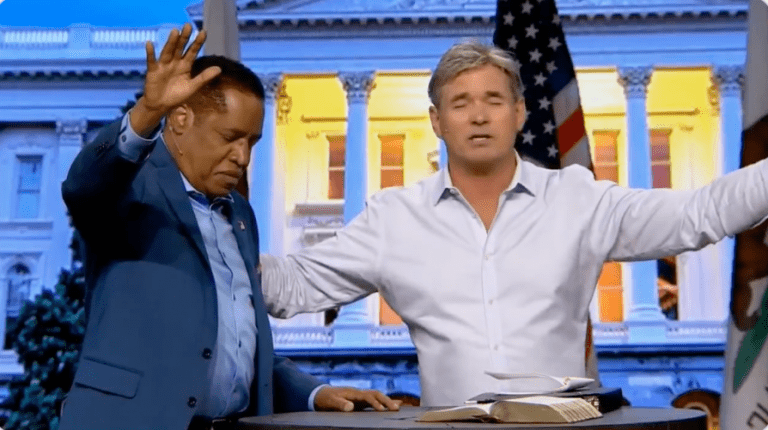 Here is Jack Hibbs, pastor of Calvary Chapel–Chino Hills, coming just short of telling his congregation to pray that talk radio host Larry Elder replace California governor Gavin Newsom in the upcoming recall election.
As is often the case with these Facebook posts, the comments from Hibbs's followers are revealing. Hibbs did not have to explicitly tell his congregation to pray for a Newsom recall and an Elder victory. They got the message.
Here are some of 672 (so far) comments:
Praying they don't cheat. Democrats are known to do that.
Thank you so much Pastor Hibbs for fighting the good fight! We are coming to your church for the first time this weekend and I am so excited to spend time with a God fearing patriot! Can't wait! God bless you!
Kamala knows Newsom has it in the bag bc they know how to cheat and not sure how you are going to stop it. Only God can.
This is our David VS Goliath moment. Theory is that Biden made the vaccine mandate on Thursday in order to wake up the Democrats in California to vote. The teachers unions jumped on it immediately. Biden is coming to California on Monday. We need people there checking for vaccines passports and masks.
Thank you Pastor Jack..WE ALL NEED TO BE LIKE MINDED AND TAKE A STAND!!! This horror show under the Biden regime needs to end! Enough is enough! Check out this song from rambo monkey. https://fb.watch/7XiEOmQJJW/
I voted for Larry Elder via mail but I will be following or tracking my vote. I do not trust the mail system and always have my doubts in the previous elections and the demoRats way to win. Not this time!
A vaccine mandate may not be the "Mark of the Beast" but not for a lack of trying! The evil intent is obvious!
Abba Father, I pray that you would remove Newsom from office and replace him with a godly leader such as Larry Elder!!! California needs a change Lord God for the better. Please appoint Larry Elder to bring that change. In Jesus name!!
Praying for California and THE PEACE OF JERUSALEM
I pray that Larry Elder becomes Governor and the election fraud sure to happen is absolutely snared!!
Its here people…. the blackmailers,,, the bullys,, the tyrants are actually in Bishop,,, our wonderful valley… and they are trying hard to take over your life………………… Its actually happening…… get the jab or lose your job,,, get vaccinated or you dont work to feed your family. The democrats are saying this now to many of your friends ,,, DONT COMPLY…. TRY HARD TO HOLD FAST TO YOUR FREEDOM AND RIGHTS.
Praying protection over Larry Elder! Praying for Gods divine intervention in this election on September 14th and the counting of votes in winning this Golden State of California back to its' people!! May God hear Our Prayers, and let us have a miraculous spiritual revival started here turning this State around with a voice for the unborn, and freedom from tyranny!
We need a miracle … "Dear Jesus, if Larry Elder is your choice to turn the face of California around, please stop the election corruption, and inspire people, (of all tongues and religions) to let their voices be heard on Election Day by voting Your Choice to govern our beautiful state back to health. In Your Fathers name .. we beg You."
Democrats cheat in all elections look what they did in 2020 and got away with it. There is only one thing that they will not get away with is when they face Jesus Christ on judgment day
Praying the Gods hands put a stop and rebuke the fraud and evil people. Praying in the Name of Jesus and His powerful blood gavin will be removed in the name of Jesus amen!.
Elder is not the panacea people wake up, we need to completely get rid of this federal government read your constitution, we have a prescriptive way to do so
GOD sits on the throne! He will not continue to be mocked with all the evil that this governor and his cohorts are ramping up these days. Heaven come down and shake this state up!