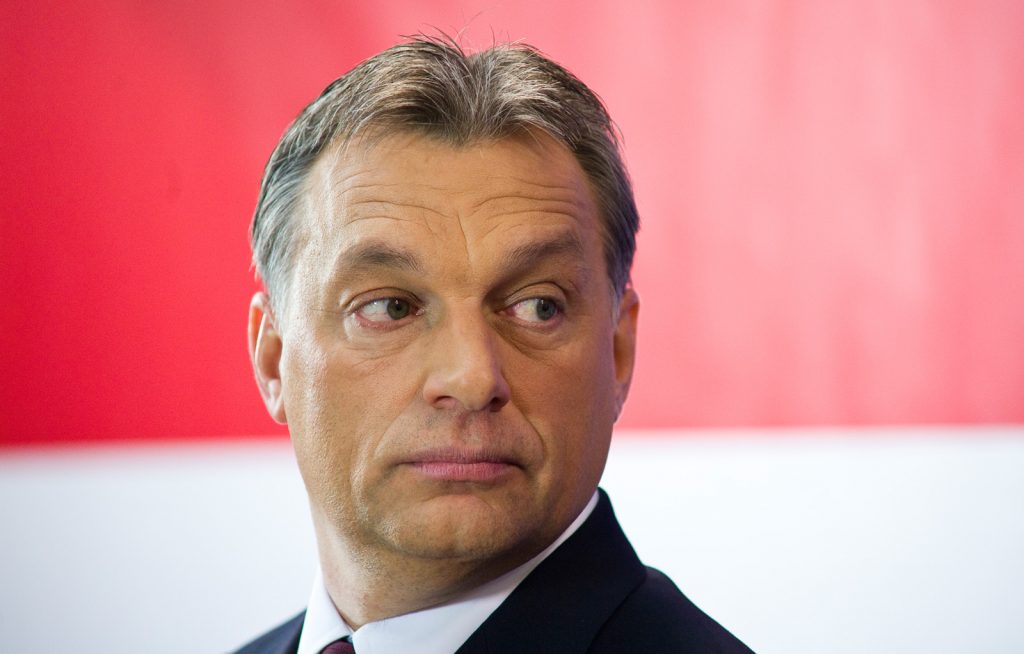 The fascination of conservatives with Hungary underscores the paradox at the heart of the movement
Rod Dreher, the influential conservative writer, has been living in Hungary for four months. Patrick Deneen, the conservative political theorist, visited last fall. Tucker Carlson spent a week broadcasting his eponymous Fox TV show from Budapest in August. I also have visited Hungary and can recommend its beauty and cultural richness. You can bet, however, that Dreher et al. weren't merely looking for culture. They were on a pilgrimage to see Viktor Orbán's Hungary.
Orbán has been Hungary's prime minister since 2010 when his political party, Fidesz, swept into power. He has transformed Fidesz into a self-consciously "illiberal" nationalist party that sees immigration and liberalism as existential threats to a Christian, Hungarian national identity. A rewritten constitution has given Orbán autocratic control over Hungary's political, educational, and media apparatus. Political districts have been gerrymandered, and judges were forced to retire. Central European University was closed, and the ownership of eleven state universities was transferred to foundations created by Orbán's allies. Media companies were forced to "donate" themselves to a new government-controlled holding company, giving the party control over ninety percent of all news outlets. It's no surprise that Freedom House, the non-partisan think tank that evaluates countries' respect for civil and political liberties, no longer considers Hungary a free country.
Nevertheless, many conservative luminaries celebrate Orbán's regime. Deneen calls him "a model" for American conservatives. Carlson describes Hungary as "a small country with a lot of lessons for the rest of us." Dreher has blogged extensively about Hungary for four years, arguing that Orbán is misunderstood. Many others see his regime as a model for a new nationalist conservative politics that rejects liberal political values for the sake of preserving western civilization and national identity.
Some conservative commentators are puzzled by their erstwhile allies' enthusiasm for the Hungarian way. But they shouldn't be surprised. The rejection of liberal political values was inevitable given the paradox at the heart of American conservatism.
For political theorists, conservatism is infamously difficult to define. It has its roots in the writings of Edmund Burke, the eighteenth-century British statesman who defended the "prejudice" of tradition, the tried and tested wisdom of the ages. But this simple commitment to tradition is a dissatisfying theory. Should all traditions be conserved? The constitutional monarchy that Burke himself preferred arose only after the violent overthrow of older established traditions. A cautious skepticism about change may be useful, but we need a more comprehensive set of political values to determine what a just political order looks like, and which bits of a tradition ought to be either preserved or abandoned.
Alternately, the Oxford political theorist Michael Freeden has suggested that what unifies conservative thought is a conviction that there is a deep metaphysical moral order that ought to serve as a society's foundation. Individual conservative thinkers might disagree about what this metaphysical order is—maybe it's the Ten Commandments, or perhaps natural law—but they are all committed to its priority, and they worry that flouting it, as Freeden says, puts "the stability and survival of their societies in extreme jeopardy." The extra-human origin of this order has the effect of diminishing the status of the individual and prioritizing a society's conformity to it. The metaphysical order provides the template; we're supposed to conform to it.
Liberalism is easier to define. These days "liberal" just means "progressive." But more properly, liberalism refers to a range of sometimes divergent theories that share a commitment to human dignity and the priority of individual rights and liberties. Liberals don't necessarily deny the existence of some underlying metaphysical order (maybe persons possess dignity because they are made in the image of God). Rather, they think that for the purposes of politics such an order is secondary to people's right to pursue their own conception of the good with minimal interference. To cite the late liberal philosopher John Rawls' apothegm: "The right is prior to the good." It is wrong, say such liberals, to force people to conform to a moral order in ways that violate their conscience and their dignity.
Liberal theorists disagree over how these rights and liberties ought to be specified or ranked. Classical liberals or libertarians understand both human liberty and property rights in particularly expansive ways, and so are especially skeptical about state power (e.g., mask mandates). In contrast, egalitarian or progressive liberals emphasize the right to equality. For them, respecting dignity means making sure that persons have access to the material conditions for a decent life. Consequently, the state can be an important mechanism to ensure that the benefits and burdens of social cooperation are distributed fairly, and that no one is unduly burdened by others' behavior (e.g., mask mandates). In both cases the dignity of persons takes priority over any attempt to model society on a metaphysical moral order.
Modern American conservatism as we know it is in fact a paradoxical amalgam of conservatism and liberalism. It was invented in the 1950s by William Buckley and Frank Meyer, who used their perch at the National Review to promote conservative "fusionism"—a new political coalition of conservative moral traditionalists and liberal free-market libertarians united against the Democratic Party's embrace of a more activist government and the social and cultural revolutions of the 1960s.
This coalition was enormously successful but also unstable—precisely because its constitutive ideologies are incompatible. All liberals, including libertarians or classical liberals, believe in the priority of individual rights over social or moral goods, and so ought to tolerate people with different moral or religious views. They might affirm some metaphysical order. But they believe that imposing it is a violation of the dignity of persons.
Note, though, that just a little bit of liberalism goes a long way. If one believes in freedom of conscience, for instance, it's hard to see why equality and toleration shouldn't extend to LGBTQ+ persons with regard to laws concerning sexual orientation, gay marriage, and gender identity.
If, on the other hand, someone thinks that political society ought to emerge from a deep metaphysical order, and if he believes that gay marriage and transgender persons conflict with that order, then the rising affirmation of such trends might become an existential concern. If he further concludes that immigration and demographic change are eroding the white, Western Civilization that sustains this metaphysical order, then he might become terrified; it might, in fact, seem like his world is ending. For the sake of preserving the old ways—the true way—he may abandon the liberal values to which he had thought he was committed.
Now imagine these changes taking place against the backdrop of a global economy that generates tremendous wealth for some and tremendous instability for others; a financial crisis that destroyed many people's livelihoods; and a pandemic that destabilizes every aspect of life. Such a person might be willing to do just about anything—including flying to Hungary to see if he can study the playbook of someone who has perfected the art of destroying liberal norms and institutions for the sake of preserving that moral order.
Conservative fusionism has been criticized then and now by those who recognize this paradox. It held together for some fifty-four years as a political coalition of convenience. But new developments have brought these tensions to the breaking point, and some former members of the coalition are going abroad to see how else things might be done. This was inevitable. Either rights are prior to the good or the good is prior to rights. One can either respect the dignity of persons and grant them freedom to pursue their own conception of the good (while at the same time enjoying this liberty for oneself), or one can eschew these rights and liberties entirely and try to shape a society around one's preferred view, other people be damned.
Edward Song is an Associate Professor of Philosophy at Westmont College in Santa Barbara, CA.