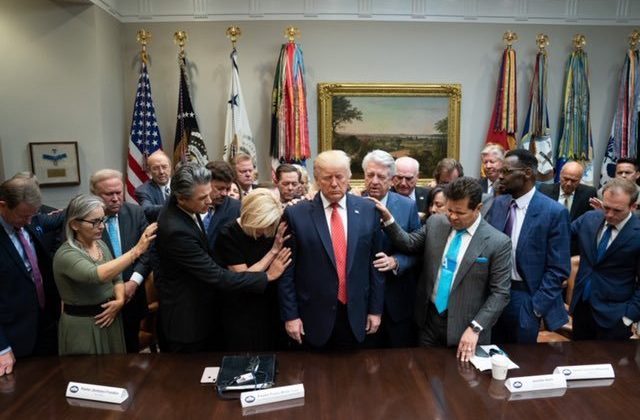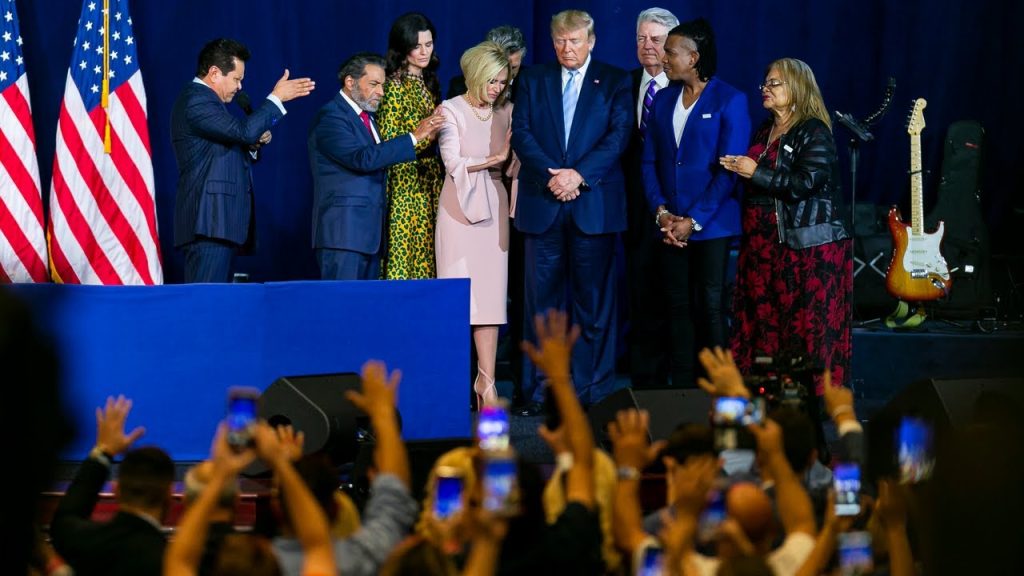 The American people removed the king and his evangelical court from the throne last November, but some of the pro-Trump evangelical courtiers are not going down without a fight.
Here is Forward magazine:
Former Trump evangelicals are launching a new faith-based outreach effort to push back at what Republicans describe as an "anti-faith agenda" by the Biden administration.
Named the National Faith Advisory Board, the coalition is a replica of the White House's Faith and Opportunity Initiative — created by former President Donald Trump in 2018 and revoked by President Joe Biden when he took office — headed by Paula White, a Florida televangelist who was brought into the Trump administration to help shore up support among evangelicals.
Read the rest here.
The organization has a website, but there is not much on it yet.
And here is the launch:
Let's break it down:
The launch video was hosted by an organization called "Intercessors for America. (IFA). I don't know much about this organization, but after watching this video I think a more appropriate name might be "Intercessors for Trump." (To be fair, the IFA website asks followers to pray for Joe Biden, Kamala Harris, and the Cabinet). The host is David Kubal, a graduate of Asbury Theological Seminary and a minister in the Evangelical Presbyterian Church.
In the past, Kubal has claimed that God gave him a "prophetic word" informing him to "battle critical race theory." He calls CRT a "demonic lie" and has prayed that evangelicals would "rise-up" at local school board meetings to resist its teaching. Kubal and the IFA have also called upon evangelicals to pray for Florida governor Ron DeStantis, a Christian leader who is experiencing "attacks from forces of spiritual opposition." Right Wing Watch has been following Kubal closely. If you are interested, you can get up to speed here.
18:29: Trump spiritual adviser Paula White kicks things off:
As ever needed before, we look back in 2015 (sic) we created the Faith Advisory Board, as many of us were personally meeting with President Trump, then Mr. Trump. Of course we know most of the story. It grew to the most robust coalition in modern day history. Our unity brought unprecedented victories, influence, and access. Many who sat on the sidelines got in the fight for our freedoms and most of all for future generations.
Two things strike me about White's opening statement:
First, I wonder if White may be exaggerating a bit when she calls Trump's evangelical advisory board "the most robust coalition in modern day history." 🙂
Second, notice the reference to "access." Early in the Trump campaign Richard Land, former director of the Southern Baptist Convention's public policy arm, also bragged about "access" to the court. It is hard to separate references to "access" from the Christian Right's pursuit of political power. Political influence, many on the Christian Right believe, is the only way to restore the nation to the supposed Christian character of its founding. Like members of the kings' courts during the late Middle Ages and the Renaissance, who sought influence and worldly approval by flattering the monarch rather than prophetically speaking truth to power, the Trump court evangelicals–now Mar-a-Lago evangelicals–boast about their access. Do the Christian Right leaders seeking access know anything about the Old Testament court prophet Nathan? Remember Nathan? He was the one who called out King David for adultery and murder using a parable that ended with the phrase "thou art the man." Trump is no longer president, but he does wield considerable political power in the Republican Party.
19:50ff: Kuval joins the call to pray for Trump. Before he starts his intercession on behalf of Trump, Kuval announces that "President Trump's administration was the most prayed-for in the history of our country." I am not sure how he knows this, but people who get direct words from God probably know things that the rest of us mortals do not. Kubal adds that American Christians prayed for Trump because "they knew the incredible calling upon President Trump's life." Kuval prays for a "blessing on President Trump and his family" and asks God that "no weapon fawned against him would prosper." He asks that God would give Trump "divine revelation."
22:37: Trump joins the phone call after an introduction by Paula White.
23:30ff: Trump wastes no time in blasting Biden for the Afghanistan withdrawal.
25:35: Trump says, "it's really a sad event what took place on November 3 and what they did."
25:45: Trump starts naming some of the old court evangelicals: Jack Graham, Cissie Graham (Franklin's daughter), Jentezen Franklin, Robert Jeffress, Robert Morris, Greg Laurie, Apostle Maldonado, Sammy Rodriguez, Ramiro Pena, Alveda King, James and Shirley Dobson, Tim Clinton ("no relation to crooked Hillary Clinton I can tell you that"), Richard Lee, Michael Tate, James Robison, and "many others."
28:00ff: Trump says that "religion was a big loser" in the November elections but he doesn't elaborate. "Some people voted for the other side," he adds, "and they are very regretful of that vote…what they are doing to religion, what they are doing to Christianity, it's a very, very sad thing for our country."
32:00ff: He says that under Biden countries are "emptying their prisons into the United States."
32:30: Trump says, "our country has never been under siege like it is right now." Historians may beg to differ, but this will play big-time with Trump's base.
32:40ff: Trump says the "people on this call" are the "most respected people in this nation."
The rest of Trump's words are nearly identical to the speech he gave during his presidency every time he met with the court evangelicals. It's a laundry list of "accomplishments."
33:00ff: Trump starts taking questions.
33:07: Jason Yates of "My Faith Votes" asks Trump about Biden's "weakness" in Afghanistan. Trump repeats the false claim that the U.S. left over $80 million worth of equipment in the country. It is obvious Trump doesn't know very much about U.S. policy in Afghanistan. He seems to admit that his understanding of Afghanistan comes from watching the news.
36:33: Brian Burch of "CatholicVote" is next. Trump tells him that he "did a lot for the Catholics." Burch asks Trump about abortion. Trump says that the Catholics are "incredibly pro-life people." He uses the opportunity to once again say that the November 2020 election was stolen and then continues with his criticism of the war in Afghanistan.
39:35ff: Dave Kubal asks Trump about religious freedom. Trump claims he "obliterated the Johnson Amendment" (he did not). He spends the rest of his answer complaining about why so few Catholics and Jews voted for him in 2020.
43:00: Rabbi Yaakov Menken asks Trump about his "proudest achievements" for the Jewish people. This gives Trump a chance to brag about the U.S. embassy in Jerusalem and the Abraham Accords.
45:15: Dave Donaldson of an organization called CityServe and the host of a podcast at Charisma magazine asks Trump how his belief in God gives him hope. Trump says, "I am hopeful, but we have to win elections and we have to find out what happened in 2020." He adds, "I am confident we will be back." Trump is obviously incapable of answering this question apart from generic references to God.
50:00: Robert Morris from Gateway Church closes in prayer. He's all in. Morris thanks God that Trump has "stood strong" for the "Judeo-Christian foundation of our nation" against "attacks from the Enemy." He says that things are "going to get worse" so he prays for people who "voted the wrong way" in 2020 to change their minds in 2022 and 2024. Morris prays that "we will never have another election stolen from us, from the American people." He prays this all in "Jesus's mighty name."
55:00: After Morris's prayer, Kubal unmutes the call and people audibly and simultaneously pray aloud for Trump. Kubal says the church is not a remnant, but a strong force in America. He claims that 30% of the U.S. population are evangelicals (a big high) and "now is the time to get out there to pray and to be active." No narrow roads here.
The video had a chat feature. Here is what some of the viewers wrote in the chat as the live event unfolded:
Lord send your angel armies to crush the enemy in his tracks, and let us have grace for those ready to repent! Soften the harden hearts and let many hearts be humbled before you
Holy Spirit, REVIVE America!
We will be like Dutch. Sheets. Put on your gloves…Everlast and evergreen
Thank you President Trump for your love of the Lord and your love & faithful leadership of our beloved country, defending our religious freedom
Lord please bring President Trump back to office and Lord please also reveal the evil deed of those evil people and groups and bring them to justice!
Praying God will reveal the TRUTH OF 2020 Elections and eliminate the Dominion and smartmatic voting machines
Sound the TRUMPet!
Fulfillment of Prophecy about to happen! AMEN!
Impeach Resident houseplant Biden
Lord heal our land and help us Lord.. WE need a miracle in Washington State..Under so much Tyranny.. And God our entire nation is under this evil administration.. Pls put good ppl back in Charge Lord
The Glory Cloud is here!
I am still praying for the 2020 election to be overturned. President Trump is still our rightful elected president.
I am so honored to be here to witness this launch with the President. I dreamed of this! God is having his way and his purposes will prevail.
Praying for our TRUE President Trump!
We miss you President Trump ~ praying for your protection and the truth about the fraudulent stolen election! We The People WANT you back in office ASAP!!!!
You are the chosen one, President Trump! We are doing all we can to meet you in the middle from the bottom up!
Thank you for helping to make America Great Again
I am not even American, but it doesn't take a rocket scientist to know that your election was stolen!!!
Thank you so much President Trump . You were & are a man appointed by God for such a time as this If we as believers are bound together by a threefold cord we will not be easily broken.
I plead the blood of Jesus over our nation, our REAL President, and his family. Father I humbly ask that you honor President Trump as he fights for our country, and our faith in You!
We cancel and forbid the demonic occultic mandates in Jesus name.
May this be an Esther moment, a red sea moment, a Gideon moment.
​Remember that satans army is in the white house
You are still our President and as pastor I lead our church in prayer every Sunday asking God to expose the fraud and reinstate you as our president before it is too late for America
I can't find a list of the 70 leaders on the faith advisory council, but several of them have tweeted or posted:
Here is Shane Idleman:
Jim Garlow was there:
As far as I can tell, former court evangelicals such as Franklin Graham, Ralph Reed, Tony Perkins, Robert Jeffress, Greg Laurie, and others are not involved this time around. And why would they? Trump no longer has the power he once had.