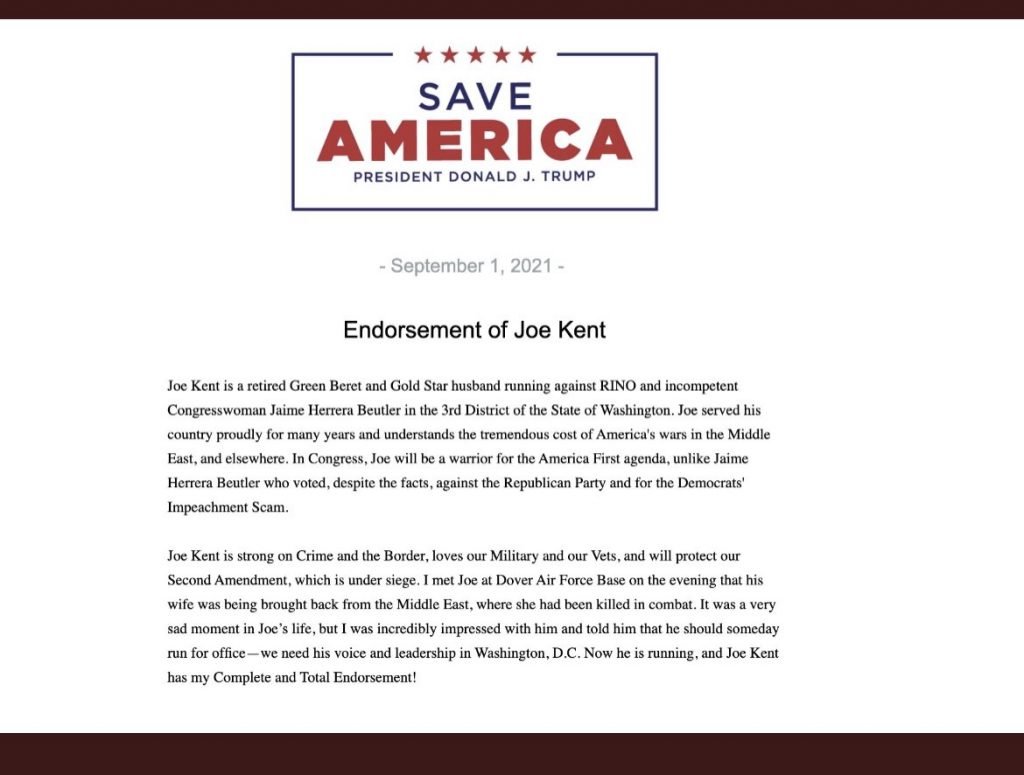 The former president's endorsement of Herschel Walker in the Georgia Senate race is getting the most attention, but I am more interested in his endorsement of Joe Kent in the race for the House seat from Washington state's 3rd congressional district.
Kent is running against Rep. Jamie Herrera Beutler, one of the ten House Republicans who voted to impeach Trump after the January 6, 2021 insurrection at the United States Capitol. While I have no doubt that Trump likes Kent, the former president is getting involved in this particular race as a way to get revenge against Beutler.
Beutler has served Washington's 3rd district for six terms. Most of the citizens in her district live in the Washington side of the Portland metropolitan area. Back in February, she testified (in writing) that House Republican leader Kevin McCarthy told her that Trump supported the insurrection of the U.S. Capitol on January 6, 2021. Not everyone in her district was happy about her vote on impeachment or her testimony.
Beutler is an evangelical Christian.
Joe Kent was recently on the radio show of alt-Right Steve Bannon:
Kent's website lists his pro-Trump positions:
He wants to "fully adjudicate the Presidential election of 2020" and adds, "In November of 2020, the American people's trust was broken by widespread irregularities, fraud, and the media's commanding narrative that Joe Biden had won the Presidency and anyone who questioned this narrative would be labeled an insurrectionist, terrorist or be de-platformed."
He supports Trump's border wall.
He supports an "American First" foreign policy
He will "work to prevent Planned Parenthood, The 1619 Project, and Critical Race Theory from entering the curriculum of our schools."
Guns, guns, guns!
Kent identifies himself as a "Christian," but I cant' find much on his specific affiliation. Some of his rallies have taken place at evangelical churches.
There is another evangelical Christian in this race. Her name is Heidi St. John. Learn more about her here.