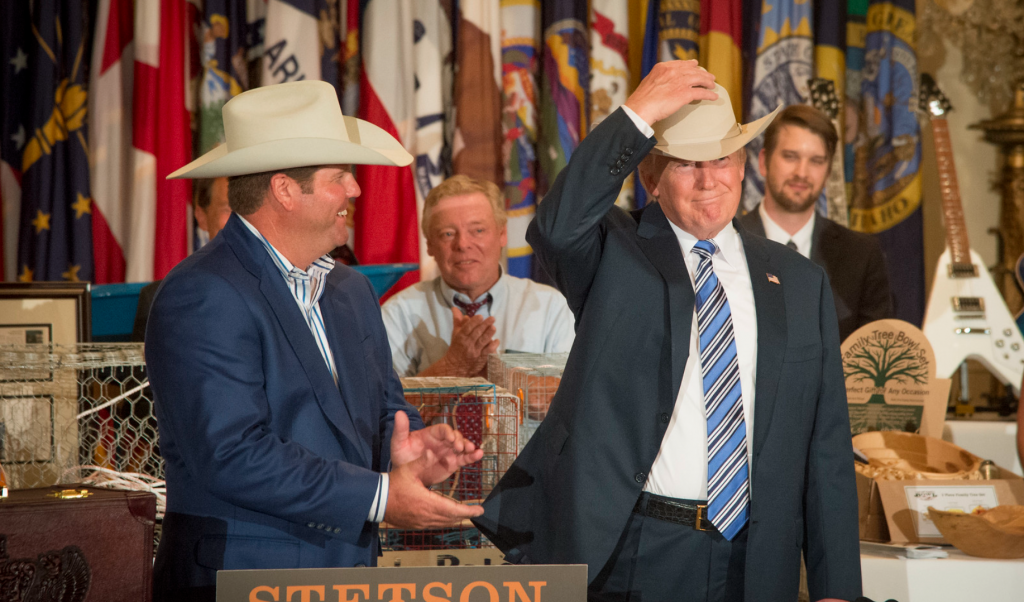 What exactly is Trump's brand of masculinity?
Does Donald Trump project a John Wayne-like masculinity that appeals to evangelicals? This question drives historian Kristin Du Mez's Jesus and John Wayne, a book that has inspired both criticism and praise.
Despite the title, the book devotes little ink to Jesus, John Wayne, or even to Trump. Instead, Du Mez uses these figures to launch a sharp dissection of evangelicals' commitments to partisan politics and to traditionalist gender roles. The result is a cold-eyed reckoning, from Billy Sunday to the present day.
Du Mez invokes John Wayne to shorthand a distinctive version of cowboy manhood: aggressive, traditionalist, and white nationalist. It's a brand of masculinity that, she argues, evangelicals enthusiastically embrace and actively seek to preserve. Indeed, Du Mez shows that a startling array of male evangelical leaders have much in common with Trump, including serious sexual misconduct.
But does Trump in fact have much in common with John Wayne? Wayne's name continues to carry a masculine mystique that may work for Du Mez's argument, even if his films and actual persona are fading out of cultural literacy. But here is where there is actually quite a bit of daylight between the two men. In many ways, Trump's persona is antithetical to John Wayne.
I'm here to defend neither Trump nor John Wayne. Indeed, I'm somewhat reluctant to wade into Trump discourse. I'm a rhetoric scholar who studies nineteenth-century Native American resistance writing. But I think it's important to sort out the implications not only of the resonance of Trump's mythmaking in relation to the American presidency but also of how Du Mez's comparison relates to the frontiersman myth. As we seek to understand the cross-currents of religion, politics, and popular culture in the US, Du Mez has raised a worthwhile avenue of exploration.
John Wayne—an actor whose given name was Marion Morrison—caps a long line of men who embody "the frontiersman." Often depicted as noble and admirable, this figure is a formidable American cultural myth that has long prompted people to accept and even glorify the genocide of Native Americans. Daniel Boone, Davy Crockett (once played by John Wayne), and James Fenimore Cooper's Leatherstocking are other prominent embodiments. According to cultural historian Richard Slotkin, the template likely originated with Benjamin Church, a Puritan soldier who borrowed Indian military tactics to help break Native power in New England in the late seventeenth century.
Choosing wilderness over civilization is key to the frontiersman persona. An iconic image of John Wayne is the closing scene of The Searchers. His character—a virulently racist ex-confederate cavalry officer named Ethan Edwards—returns a teenage girl from Indian captivity to the doorstep of an adoptive white family after an epic, years-long search. Wayne does not himself cross the threshold into the house with the girl, his character's niece. Instead, he turns away and wanders out toward the open country before the screen goes black. The sequence seems to symbolize his preferred and proper place away from the domestic world. This is true to the frontiersman trope. Leatherstocking repeatedly refuses to live in white society. Daniel Boone famously preferred "elbow room" to civilization. Frontiersmen make possible a world they would rather not join.
Donald Trump has cultivated an image of anything but ruggedness. Instead, he is a scion of wealth who actively links his name to luxury and conspicuous consumption. Theodore Roosevelt and others who subscribe to the frontiersman ethos might call this need for comfort less than masculine.
Part of being at home in nature is a close connection to animals. The frontiersman persona is a skilled hunter who generally owns a loyal horse or dog. Trump by contrast seems never to have owned a pet, and he motors around manicured golf courses on an electric cart.
As another crucial attribute, mythical American frontiersmen adopted some practices and lifeways of Native people, though they remained emphatically white. Historical and natural cultural exchange became cast in the figure of the frontiersman as signs of cultural dominance and white supremacy. Wayne's Ethan Edwards wears moccasins at night, speaks the Comanche's language, and knows enough of their stories, religion, and ceremonies to deliberately blaspheme them. Cooper's Leatherstocking spent his childhood among Indians and voiced respect for Native people, but he expected them to be ultimately and rightfully eclipsed by whites.
For his part, Trump's signature policy was a large physical barrier at the US border with Mexico, an all but naked attempt to affect racial and cultural separation. Indeed, Trump's wall policy signaled its own kind of white supremacy. It implied, strongly and wrongly, that the U.S. owed nothing to its neighbors to the south, nor had anything to gain—culturally or otherwise—from them.
A key final difference between Trump and the John Wayne persona is the use of speech. Outrageous comments and tweets are a driving force in the Trump phenomenon, as are extended speeches at Trump rallies. By contrast, John Wayne portrayed The Quiet Man and other strong silent types. In the 19th century, Cooper helped sanitize Manifest Destiny by imbuing Leatherstocking with moral forthrightness, honorable ethics, and careful discretion. For similar purposes, these attributes carried through to John Wayne, more or less, whose characters tended toward displaying the value of being a man of action rather than words. John Wayne was The Man Who Shot Liberty Valence, but he did it from the shadows, allowing another man to take credit and win political office. Trump, by contrast, narcissistically draws attention to himself, lashing out at anyone who might compete with him for political capital.
So, Trump does not share the core, ostensibly positive characteristics of the John Wayne persona, even as the two men share many fans and supporters. It's yet another of Trump's many incongruities and iconoclasms. A chilling reminder from Du Mez's book is how easily we can uphold what we regard as positive ideals and yet behave according to their opposites, somehow convincing ourselves that vice is virtue.
Daniel Cole is an Associate Professor of Writing Studies and Rhetoric at Hofstra University.