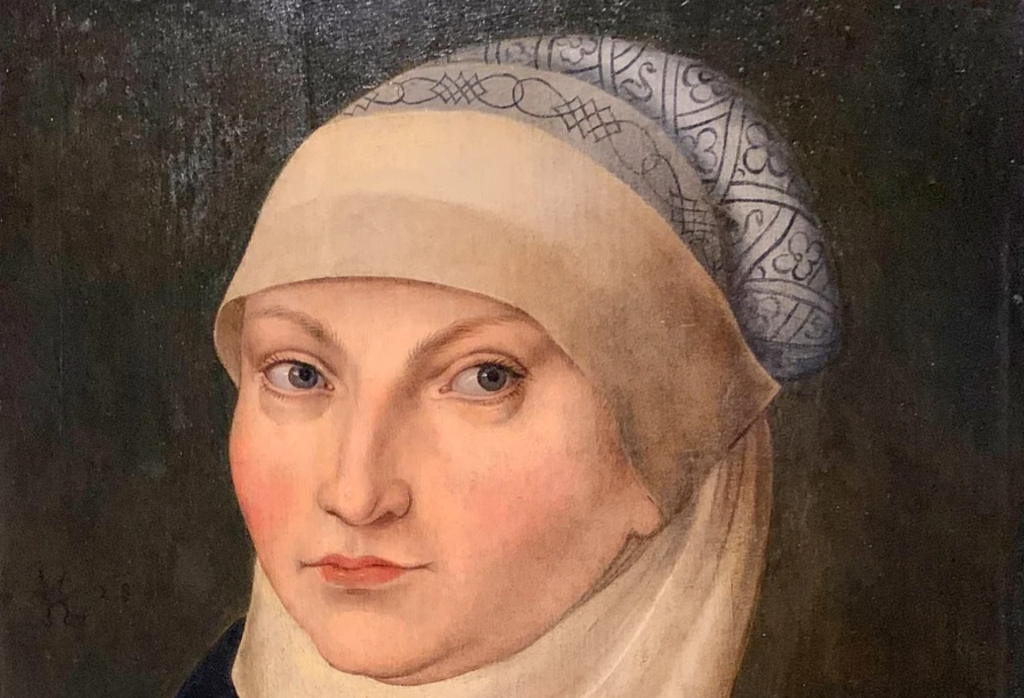 Katie Luther went from being depicted as a vile prostitute to a happy homemaker. Why does that matter?
While reading Beth Alison Barr's new book The Making of Biblical Womanhood, I was particularly struck by her account of how the Protestant Reformation reshaped the lives of women in western Europe. Whereas medieval women could obtain an education and a degree of spiritual authority by renouncing their sexuality and becoming nuns, Protestant theology emphasized marriage and motherhood as a woman's highest calling. Barr went on to describe how, by the nineteenth century, theologians and philosophers had elaborated on this new standard of womanhood, asserting that women's bodies, brains, and souls were designed specifically for nurturing domesticity. Men, on the other hand, were made for public life and rational, abstract thought.
In my class "Women, Art, and Culture," we chart this shift in the visual arts. But after reading Barr, I was curious. How were Reformation women depicted in their own time, and did it change alongside evolving notions of biblical femininity? What I found did not surprise me, but it did offer a sobering reminder of the importance of faithfully narrating and representing historical figures.
Katharina von Bora Luther, the former nun who married German reformer Martin Luther, is perhaps the best-known of Reformation-era women. We have numerous portraits of Katie Luther made by the German painter Lucas Cranach the Elder (and his assistants) between 1525-1565. Many of them are variations or copies of each other, with Katie depicted against a blank-colored background wearing a simple high-collared dress, her hair parted down the middle and covered by a net or cap. The images are straightforward, almost to the point of austerity. They give very little away about Katie's personality or inner life.
Most of these paintings are also half of a pair, with a similar image of a serious-looking Martin attached to the left. These portrait diptychs played a key role in Martin Luther's public campaign to assert the value and validity of clergy marriage. It was necessary to depict Katie as a modest, plain woman in part because of how she was being represented elsewhere.
For an example, consider a scathing book published in 1528 by Johann Hasenberg, a professor at the university in Leipzig. The work concludes with a two-page illustrated spread that reflects the common view of women's sexuality at the time. On the left page, Christ and the Virgin Mary lead nuns into a cloister while the Holy Spirit, represented as a dove hovers above. On the right, however, Martin and Katie Luther, surrounded by buzzing flies, lead monks and nuns directly into the Gates of Hell. The original text reads, "There rides Martin with his Katie into the harem." In some copies, a handwritten annotation substitutes "brothel" for the last word. Hasenberg's words and the commissioned image reiterate the belief that women were hypersexual temptresses, and that Katie had seduced Martin into apostasy.
The same theme is picked up in an anonymous woodcut in Johannes Nas's broadside Lutherus Disputans (1568), where Martin is depicted fondling Katie's breasts in bed as a devil kneels nearby. In these and other examples, Katie is lambasted for abandoning the high road of celibacy and succumbing to women's supposedly natural weakness for sexual sin. In doing so, the implicit comparison is made to Eve, whom many medieval and early modern theologians blamed for enticing Adam to sin in the Garden of Eden.
We might never imagine this level of vitriol, however, if we only study nineteenth-century images of the Luthers. Among many popular paintings from that period is Luther Making Music in the Circle of His Family by Gustav Spangenberg. The original dates from 1866, and numerous copies and prints were also made. In the painting, Martin strums a lute surrounded by his family; his four oldest children sing from sheet music to the right, and Katie holds a sleepy child on the left. Luther's friend and fellow theologian Philipp Melancthon sits at a table slightly behind Katie. The warm scene is a model of domestic bliss, and a plethora of other images from the period follow this format of Katie cuddling a child while Martin leads the rest of the family in worship.  Sometimes they even do so below the soft glow of a Christmas tree! 
Of course, these images did not operate in isolation. Jeannette Smith has charted a similar evolution from libidinous temptress to dutiful wife in literature about Katherina Luther. Smith observed that nineteenth-century sentimentalist writing emphasized Katie's role as Martin's helper and downplayed her intellect and entrepreneurial endeavors. Katie embodied the new ideal of womanhood: utterly devoted to caring for her family and home, and joyfully supporting Martin in his important work. Representing sixteenth-century Katie as the perfect nineteenth-century wife encouraged readers and viewers to assume that these standards of femininity were natural and enduring rather than culturally constructed. 
There are many possible applications—and even more questions—raised by this radical inversion of attitudes towards Katie Luther. But my primary concern today is simply this: Women in church history have consistently been either lionized or vilified. The case of Katie Luther shows us how one woman can even experience both! It would benefit all of us, but especially those connected to white American evangelicalism, to take a closer look at the women we've been taught to absolutely celebrate or hate. We need to recognize that the ways these women's stories have been told often have more to do with the narrator's cultural demands—and the need to reinforce gender hierarchies—than with the lived experience of these complicated human beings who negotiated worlds much different from our own.
Elissa Yukiko Weichbrodt is Associate Professor of Art and Art History at Covenant College in Lookout Mountain, GA.