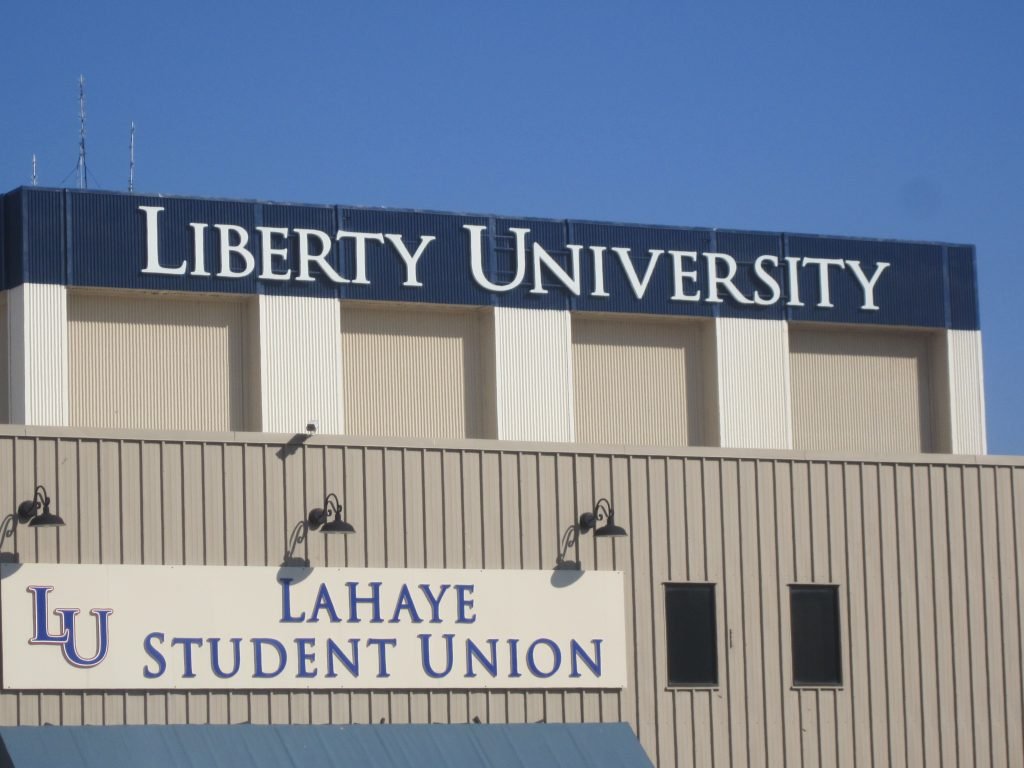 Liberty University president Jerry Prevo begins the journal with a quote from John Adams:
Before my God, I believe the hour has come. My judgement approves this measure, and my whole heart is in it. All that I have, and all that I am, and all that I hope in this life, I am now ready here to stake upon it. I am now ready here to stake upon it. And I leave off as I began, that live or die, survive or perish, I am for the Declaration. It is my living sentiment, and by the blessing of God it shall be my dying sentiment. Independence now, and Independence for every.
What an odd thing for a Christian college president, in his capacity as a Christian college president, to say. Should a Christian college president really be singing the praises of John Adams's comparison of the American Revolution to Jesus words in John 12:23? In that passage, Jesus said, "The hour has come for the Son of Man to be glorified." I would think such a manipulation of a scriptural text might draw some criticism from someone with such a high view of the Bible. Second, should a Christian college president be endorsing John Adams's view of the meaning of "hope" as expressed in this speech? Adams's (and by extension Prevo's) understanding of hope in this passage is just as theological vacuous as Barack Obama's use of the term.
p.3: Ryan Helfenbein, the Executive Director of the Standing for Freedom Center, offers an article titled "An Appeal to Principled Populism: Extraordinary Freedom by Ordinary People." The article is loaded with historical problems. For example, describes the French Revolution as a secular form of populism "rooted in humanism." I would encourage Helfenbein to read Christian historian Dale Van Kley's The Religious Origins of the French Revolution and then reconsider this claim. Helfenbein is echoing a flawed view of the relationship between the American Revolution and the French Revolution peddled recently by evangelical writer Os Guinness. I wrote about some of this here.
p. 3: Helfenbein makes the common error of connecting the First Great Awakening to the American Revolution. He argues that the French Revolution was secular, but the American Revolution "was a populist movement rooted in religious principles borrowed from the Great Awakening…." I also wonder if Helfenbein realizes that by suggesting that the Revolution was a "populist" movement he is aligning himself with neo-progressive historians who argued that the American Revolution was an uprising of the people, not a revolution of elite founding fathers. Helfenbein notes that John Adams called for a republic governed by a "moral and religious people" (I discussed this claim by the founders yesterday), but Adams would have been appalled by the idea that the Revolution was a populist revolution. The ironic part of all of this is that there is a close correlation between eighteenth-century champions of democracy (or "populism" if Helfenbein insists on using this term anachronistically ) and unorthodox religious views. Think Tom Paine. Think Ethan Allen. Think Thomas Jefferson. In other words, the more "populist" the founder, the more likely he rejected the claims of Christianity.
p.4: Helfenbein writes, "Scottish Presbyterians, English Baptists, Wesleyan circuit riders, and Congregationalists were all responsible for shaping the public conscience not only toward spiritual freedom but against political tyranny…." I wonder if Helfenbein realizes that John Wesley opposed the American Revolution and that his followers in revolutionary-America were loyalists. Francis Asbury, for example, had to hide-out in Delaware for three years because of his pro-British political convictions.
p.4: I am assuming Helfenbein would suggest I am engaging in the "secular academic modern groupthink" that runs rampant today "in Christian circles." Nope. Some of us evangelical historians are just trying to be honest about the past and not manipulate it in service of Christian Right ends.
p.6: More irony. In a piece full of historical errors, Helfenbein quotes Jefferson on the need for an educated citizenry: "Whenever the people are well informed, they can be trusted with their own government; that whenever things get so far wrong as to attract their notice, they may be relieved on to set them to rights."
p. 7-9: Mike Pompeo writes about religious freedom. I would like Pompeo to address how he balances his commitment to religious liberty with his belief that America is a Christian nation and Donald Trump was a new Queen Esther.
p.10-11: Diehard Trump supporter Mike Huckabee laments our culture's loss of "facts." His piece repeats common Christian Right arguments about critical race theory, gay marriage, and social justice.
p.12-14: Michael Farris, the CEO of Alliance Defending Freedom and chancellor of Patrick Henry College, writes about the Declaration of Independence: "Three fundamental principles were to be at the center of the new nation: All men are created equal; All are endowed by God with certain inalienable rights; and Government is to be by the consent of the governed–not just the privileged few but all of the governed. He then adds:
Let's pause and ask an important question: Were any of these concepts a reality in 1776? No, not one of them. These principles were not where we were, but a description of where we were going. These were the hopes, dreams, and aspirations of this new nation. Full equality was not the only thing missing at that moment. Self-government and the protection of inalienable rights were also very much in jeopardy. The reality of each of these concepts lay somewhere in the future–but these dreams were the direction that the Founders of our nation wanted to go even if it cost them their lives, their fortunes, and their sacred honor.
Farris seems to suggest that the founders used the Declaration of Independence to imagine a future of equality, rights, and self-government. This misses the entire purpose of the Declaration and places far too much emphasis on the document's first two paragraphs. I've written about this here and here as well as in this book.
Farris claims that "the woke critics want to destroy every element of the founding–equality for all, God-given rights for all, and self-government." That's a pretty sweeping statement. I don't know who these "woke critics" are, but it really doesn't matter since all Farris has to do is use the word "woke" and he will get the attention of his readers. I imagine he means academic historians, those who see value in critical race theory, and the writers of New York Times 1619 Project. While all three of these groups make some flawed arguments, they do seem to want equality for all, rights for all, and self-government for all. When Farris calls defends equality, rights, and self-government he is a good American, but when people of color call for these things they are promoting a "woke utopia." (Ironically, based on Farris's argument about the founders' intention to advance equality, rights, and self-government well into the future, one might argue that they also wanted a "woke utopia.")
p.15-17: Virgil Walker's piece, "Victims or Victors," celebrates the Black heroes of the American Revolution and says virtually nothing about slavery. "Every Fourth of July, without fail," he writes, "some social justice warrior, in need of adoration from the woke masses, decides to tweet something about how America is still a racist nation." Based on this statement, Walker might have written this: "Every Fourth of July without fail, such as in 1852, some social justice warrior like Frederick Douglass, in need of adoration from the woke masses, decides to write something about how America is still a racist nation."
And what would this collection of short writings on 1776 be without a word or two from Eric Metaxas (p.19-21)? His piece echoes the argument of his book If You Can Keep It. Once again, I point you to my review of the book. Metaxas's punditry is rooted in a deeply flawed view of American history.
p.22-24: As the grandson of immigrants, I appreciate Christian Lasval's story about his Cuban grandparents. I have always resonated with the immigrant story. But then the piece takes a strange turn. He writes: "At every level of government, the Marxist-based Critical Race Theory threatens to replace our individuality with intersectional collectivism." I am not sure I understand what any of that means, but it sure sounds scary. I am also sure that few people on the Standing for Freedom Center's mailing list know what that sentence means. And that's the whole point. This is what fearmongers do. Former Moral Majority leader Cal Thomas described the standard Liberty University/Moral Majority/Christian Right fundraising letter this way: "First, they identify an enemy–homosexuals, abortionists, Democrats, or 'liberals' in general. Second, the enemies are accused of being out to 'get us' or to impose their morality on the rest of the country. Third, the letter assures the readers that something will be done….Fourth, to get this job done, please send money."
p.25-27: Finally, we have John Wesley Reid, the editor-in-chief of the Standing for Freedom Center. His piece is titled, "Reclaiming Liberty with the Reverberating Courage of our Founders." It calls on readers to embrace the founders courage in their fight against the Left. It is a fitting end to a 30-page effort to interpret the American Revolution through a culture war lens.
Maybe next time the Standing for Freedom Center decides to tackle 1776 they should get a historian or two on board.