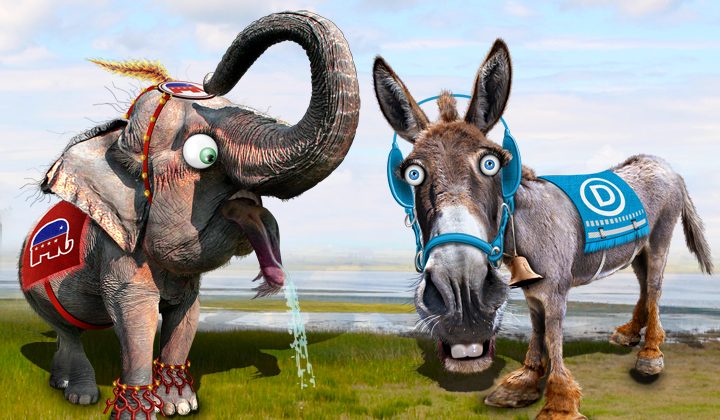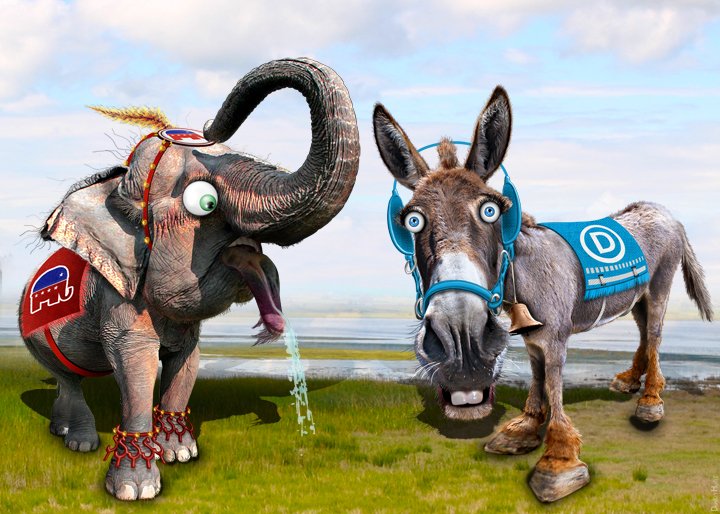 The source of American political dysfunction is the two-party system. Until we face this, nothing will change.
The collapse of American politics into dysfunction is too obvious to compel much interest anymore. The failure overwhelms the senses: We breathe it, we feel it, we are sated on its stupidity. The fact of systemic political failure is clear, but the reason is not. Like a fish unaware it exists in water, we cannot articulate what—exactly—is the matter. The nation rages and the people plot in vain.
What is to be done?
Those who should know better obfuscate the matter with platitudes, basic variations on a wish that someday, somehow, common sense and decency will be restored to our politics. Precious energy is wasted trying to build a new political party or reform the parties or cheer bi-partisanship or demand good governance. But these attempts distract from our failed system; they are irrelevant to the nation's drift towards the abyss.
The underlying problem is hiding in plain sight.
For over 150 years, power in America has been monopolized—or duopolized—by the Republican and Democratic parties. The stability of this epoch has ended. A binary political choice is not enough to represent the interests, issues, and ideas of a diverse, dynamic America. Both the Republican and Democratic parties are incapable of fixing our nation's problems because they are part of the problem: the lack of real political choice and competition.
The specter haunting American politics is the two-party system.
A representative political system should represent constituents accurately. But the two-party system is not designed for accurate representation. It is designed for permanent control of American politics: The Republican and Democratic parties are either in power or waiting to be in power. The next election cycle may invert the roles of the parties, but the status quo continues. Americans are only welcome to the political feast if they attend as guests of the Republican or Democratic parties. If you do not attend as a Republican or a Democrat, then you get nothing—your view is not represented, your voice is not heard, and your vote is not counted.
Millions of Americans are homeless in the two-party system. This is not surprising: The binary choice forced on Americans—are you Republican or Democrat? —is like the U.S. Census Bureau asking all Americans to identify as either white or non-white. The two-party system denies Americans any more nuance than this in their political representation. This forces Americans to vote for politicians and parties they neither like nor trust, or else not to vote at all.
Citizens—like consumers—suffer when there is a lack of competition. Our country is paralyzed by a bipartisan incapacity to protect the common good and promote a shared national interest because the two-party system hinges upon the perpetuation of conflicts, not the resolution of challenges. In this sense, the Republican and Democratic parties are simply different sides of the same devalued coin.
It is absurd to have a choice that is only one party better than China's single-party system. Yet there is nowhere else to turn if you are not happy with the status quo. Other political parties are not viable because the game is designed for two players. Before more players can participate, the rules must change.
Americans are conditioned to accept the two-party system as an original, indispensable cornerstone of our democracy. This makes it difficult, even heretical, to imagine politics without it. But if we consider alternatives, we realize, as if from a mighty rushing wind, there is nothing natural or necessary about the two-party system. What was constructed can be deconstructed; what was done can be undone.
The only blow savage enough to disrupt the two-party system is the widespread loss of public acquiescence. The two-party system endures because it is the accepted, assumed foundation of our politics. If the foundation remains, contrarian efforts will continue to fail: History is filled with the wreckage of third-party movements broken against the fortifications of the two-party system. But if Americans reject the foundation, the spell of the two-party system will be broken.
There is an opportunity for a new, insurgent force to be unleashed in American politics: a platform—not a party—to unite Americans in opposition to the two-party system. Every American joining such a movement is a vote of no confidence in the two-party system. The movement must initially build strength outside of politics, in domains like popular culture and social media. Only then can opposition be channeled to achieve real political objectives. How many Americans need to revolt against the two-party system before the opposition is taken seriously—3,000 or 300,000 or 30,000,000? There is a tipping point when the battle can be brought to the ballot.
What replaces the ancien régime of the two-party system? A reimagined political system resembles a free and open marketplace, with new ideas and voices competing for political market share alongside legacy ideas and voices. Other electoral systems—like multiple-member districts and proportional representation—are better suited for this, making parties and politicians more accountable and responsive to voters. Such systems enable groups with a clear set of principles and propositions—like Black Lives Matter activists or environmentalists or libertarians or socialists or traditionalists—to organize politically, compete in elections, and be rewarded (or penalized) by voters for their ideas and impacts.
The Republican and Democratic parties will fight like hell to protect the master's house they built, but nothing is as powerful as an idea whose time has come. If a transformation is at hand, how will we know when its hour comes round at last? This idea requires hope, resources, and—for now—patience. We await the moment when a maverick billionaire or exiled politician or prophetic outsider armed with the power of truth strikes the match that will jerk America out of the deep, deep sleep of the two-party system.
The defeat of the two-party system is critical to our life together. It resurrects the idea that a more perfect union—with more competition, participation, and representation—is within our grasp. In the end, the dissolution of the two-party system will be brought about by a simple idea that opposes the two-party system and refuses to yield. A movement carrying this idea is the future of American politics.
Paul Davis is an amateur critic of the two-party system and its discontents. He lives in Washington DC.