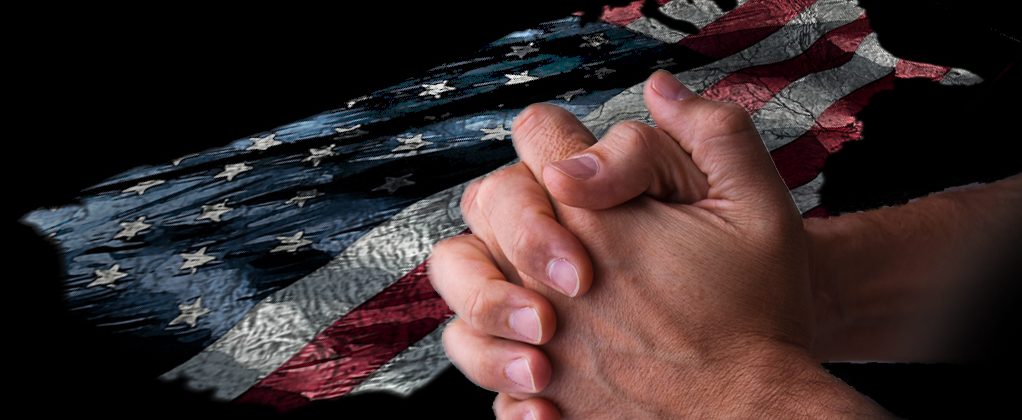 Who needs them? Both progressives and conservatives, it turns out.
We have reached the point in America's ever-deepening ideological divide in which we can't even agree on what we are talking about. "Critical Race Theory" is just one example. Another three-word phrase that lands differently for different people is "thoughts and prayers."
First, let me say that I deeply hope this article is in no way timely. Still, mass shootings happen with such frequency in the United States that whenever we as a society try to discuss our responses to them there is always the horrific possibility that the conversation might be overtaken by a new tragedy.
When a mass shooting occurs, the instinct of politicians—especially conservative ones—is to say that their "thoughts and prayers" are with those who have been impacted. It has become a phrase that infuriates some progressives. They hear it being offered as a full and sufficient response to the ongoing problem of mass shootings. In contrast, they themselves believe that gun-control legislation is both urgently needed and the only fitting response. This view was memorably articulated by Susan Orfanos, the mother of a victim in the Thousand Oaks shooting: "I don't want prayers. I don't want thoughts. I want gun control."
So as not to be unduly cagey, let me say that I, like most Americans, believe that we need to enact some common-sense gun control laws, and that I am often exasperated by the recalcitrance of gun-rights purists. Nevertheless, my task at hand is not to join this ideological dispute but rather to clarify some ways in which people are speaking past each other.
The progressives are unquestionably right that "thoughts and prayers" are an offensive substitute for dealing with the causes of a recurring problem. If my neighbor's dog keeps attacking my children, the only fitting response would be: "I don't want to hear again that you are sorry. I want to know that you have taken the necessary actions to prevent it from happening again."
It is not clear, however, that conservative politicians who evoke "thoughts and prayers" are doing so as a substitute for taking actions that might prevent such tragedies in the future. As the Governor of South Carolina, the Republican Nikki Haley was such a strong supporter of gun rights that she had a perfect rating from the NRA. Nevertheless, in the wake of the Charleston church shooting she called for the perpetrator to be given the death penalty, and no doubt believed that such a result would help deter others who might consider committing a similar atrocity. In general, conservatives tend to be committed to locking up violent offenders as part of a strategy for preventing future offenses—by both that given offender and would-be criminals who might be deterred by seeing the consequences meted out to others.
"Thoughts and prayers" developed in American society as a term that was intended to be inclusive. It was meant to welcome atheists, secularists, and nones who do not pray—they are no less a part of our community and can participate fully by offering their thoughts of support and solidarity. It is a time, the thinking goes, for all people of goodwill to come together in common concern for the suffering.
Despite the suspicion of some progressives, I don't think "thoughts and prayers" are usually intended as a substitute for dealing with root causes. They are a way to address a different issue: How do we accompany those who are grieving? Presumably, Orfanos was really saying: "I don't value the thoughts and prayers of those who are blocking gun control." It is highly unlikely that she literally meant: "I don't want my son to have a funeral or memorial service where any thoughts or prayers are offered as a way to comfort those who mourn. I don't want my friends and relations to acknowledge my loss or ever to think about how I am coping with my grief."
And so we get to how words land differently. In dismissing "thoughts and prayers," progressives are focused on rejecting empty words. The Bible itself makes the same point: "Suppose a brother or sister is without clothes and daily food. If one of you says to them, 'Go in peace; keep warm and well fed,' but does nothing about their physical needs, what good is it?" Words of blessing are an annoying distraction from someone who is unwilling to offer practical help.
I think conservatives, however, hear attacks on "thoughts and prayers" as progressives being snide about prayer in general. They hear, "There is no god; prayer doesn't work; whenever you pray, you are just doing something stupid and pointless." If some progressives do so think, such a perspective would be misguided. In her new book How God Becomes Real, Tanya Luhrmann, one of America's leading anthropologists, has a perceptive chapter titled "Why Prayer Works." Even without assuming that God exists, Luhrmann concludes that the power of prayer is demonstrable from a purely anthropological perspective: It counteracts despair and loneliness in people's lives and fosters personal reassurance and hope that helps them find the strength to carry on. Gun control might bring some closure. But it is not a substitute for something else that is also needed—in this case, support when it comes to dealing with the daily burden of grief.
"Thoughts and prayers" are no substitute for taking the action needed to prevent further tragedies. Progressives have that right. Nevertheless, we still need ways to accompany those who are grieving. We can and should do that with our thoughts and prayers. In thinking about how to respond to the challenges that confront society, I think the theologian Dietrich Bonhoeffer got the balance right. His preferred phrase: "prayer and righteous action."
Timothy Larsen teaches at Wheaton College and is the author of John Stuart Mill: A Secular Life (Oxford University Press, 2018).