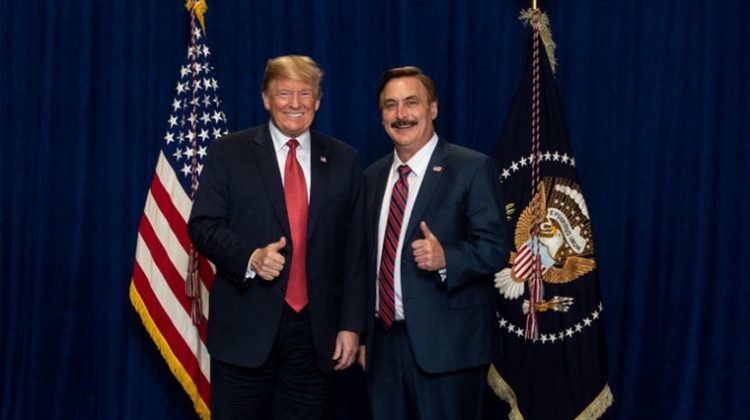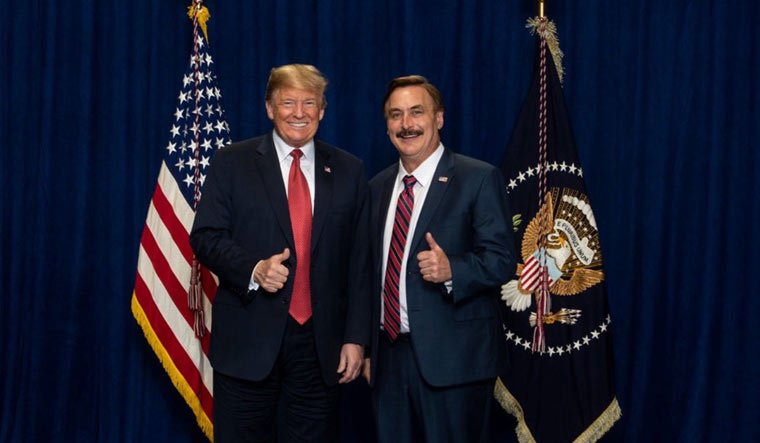 Mike Lindell's 72-hour cyber symposium is underway. Get up to speed here.
Right-wing media figure Steve Bannon has slammed MyPillow CEO Mike Lindell's cyber symposium for failing to present evidence that actually proves Lindell's long-touted claims of voter fraud in the 2020 presidential elections.
Bannon, who served as White House Chief Strategist under former President Donald Trump, has been at the symposium broadcasting War Room, his show on the right-leaning media network Real America's Voice.
"I think this is a mistake," Bannon in his Wednesday broadcast, speaking about the symposium's re-playing of a 15-minute film that had already been shown earlier in the event. "I want to be brutally frank. I think there's so much work to get through the day…It's now time to really get to the details."
"You've laid a theory of the case that is very powerful," Bannon continued, "but in laying that case out, you've got to bring the receipts." The phrase "bring the receipts" is slang for "show the proof."
Lindell has claimed that his symposium in Sioux Falls, South Dakota will reveal that voting machine fraud, orchestrated by China, stole the 2020 election from Trump. This supposed evidence, Lindell said, will convince the Supreme Court to vote unanimously to reinstate Trump into office by autumn.
Read the rest here.
Bannon was broadcasting live at the cyber symposium. He is clearly fed-up with Lindell:
It is also worth noting that Mike Lindell is the primary sponsor of the radio program hosted by evangelical author, Trump supporter, and anti-vaxxer Eric Metaxas. How long can Metaxas continue to defend Lindell?
On a related matter, yesterday a court refused to throw out the Dominion $1.3 billion dollar lawsuit against Lindell, Sidney Powell, and Rudy Giuliani.
This happened moments after Lindell learned that the lawsuit would go forward:
Of course maybe Lindell just had to use the restroom.
Earlier, Lindell refused to leave the stage. I guess getting sued for $1.3 billion changed his mind:
I hope Lindell had a bigger internet audience: