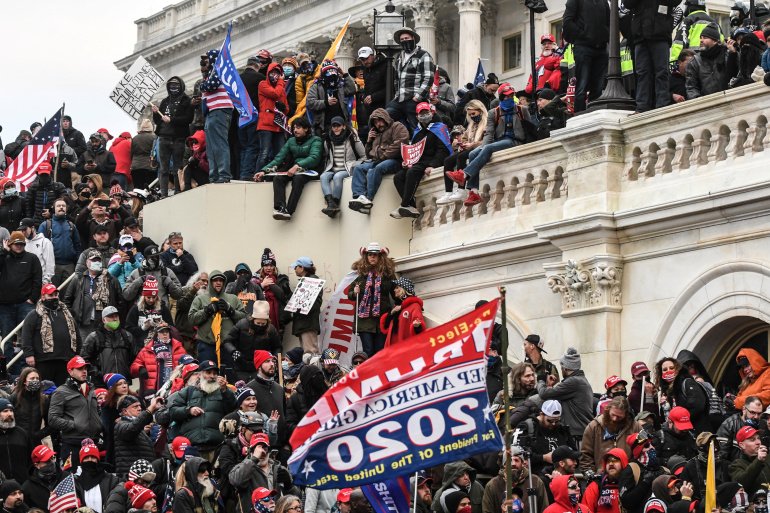 Here is Ruth Marcus at The Washington Post:
I try not to be alarmist, but it is difficult to read the latest accounts and not be alarmed. The drip-drip-drip evolution of this story has served to mask how serious the threat was and how close it came to fruition.
We have known for months that Trump — heedless of constraints on hijacking Justice Department operations to his own political ends — had pressed Justice officials to intervene on his behalf. For example, he urged Rosen to appoint special counsels to investigate unfounded claims of voter fraud.
We knew that when Rosen balked, Trump entertained a plan to oust Rosen and replace him with Jeffrey Clark, the acting head of the civil division, who was more willing to push Trump's fanciful assertions of fraud. We knew that Trump was deterred only after threats of mass resignations from other officials.
We knew that Clark had drafted a letter to Georgia state legislators asserting that the department was investigating claims of fraud in the state.
The cockamamie letter itself recently emerged. Dated Dec. 28, 2020, it stated that the department had "identified significant concerns that may have impacted the outcome of the election in multiple States, including the State of Georgia." This despite the conclusion by Attorney General William P. Barr, before he resigned that month, that the department's investigation had not uncovered "fraud on a scale that could have effected a different outcome in the election."
The Clark letter not only urged Georgia Gov. Brian Kemp (R) to call the legislature into special session to consider "this important and urgent matter" but also advised the legislature of its "implied authority under the Constitution of the United States to call itself into special session for the limited purpose of considering issues pertaining to the appointment of Presidential Electors." It was to be signed by Rosen, acting deputy attorney general Richard Donoghue and Clark himself.
Clark had insisted that his dealings with the White House were "consistent with law" and that he had merely participated in "a candid discussion of options and pros and cons with the president."
This is not how things are supposed to work. At a normal Justice Department, the head of the civil division, rungs down the organization chart, does not end-run the attorney general to have "candid discussions" with the president. At a normal Justice Department, there are guardrails in place to prevent this sort of improper interference by the president.
Read the entire piece here.