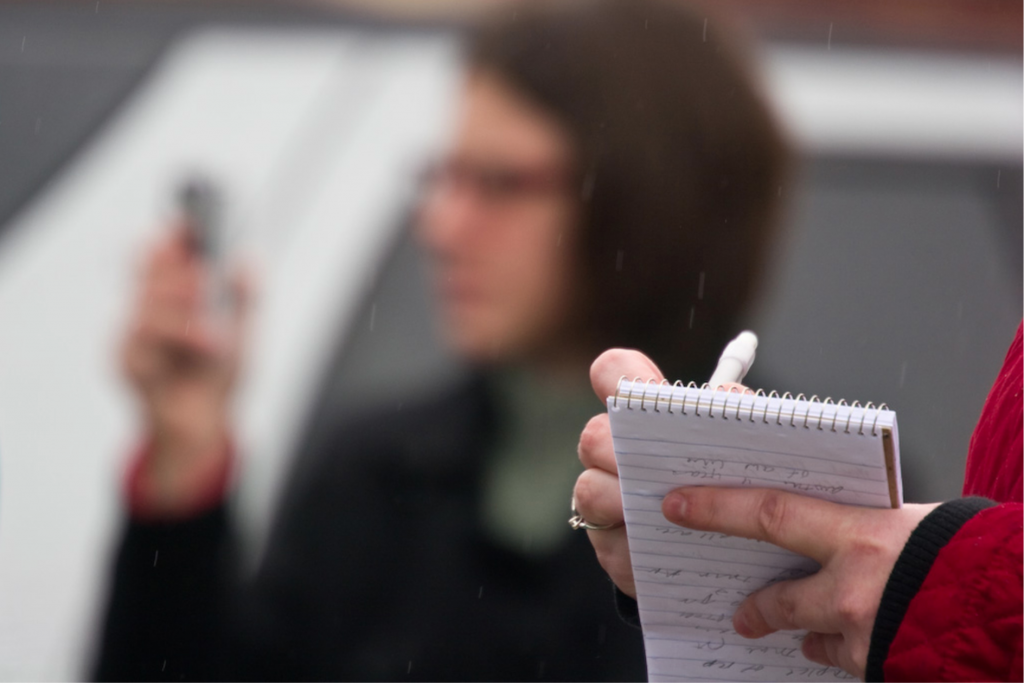 The problem of polarization has an unexpected solution
The collapse of local news is a major crisis for all sorts of reasons. The sixty percent drop in the number of reporters since 2000 means there are 1800 communities with no news and thousands more that have not much more than that. Studies have shown that less local news leads to lower voter turnout, more alienation, more corruption, more waste, more pollution, and even lower bond ratings.
The least obvious consequence of this turn is an increase in polarization. I say least obvious because I bet most people think of journalists as stirring the pot, as fomenting division. We're not exactly seen as peacemakers.
It turns out that local news actually acts as a counterforce against polarization. For instance, two studies found that communities with more local news had more voters who split their tickets, a sign of less partisan thinking. The working theory is that the vacuums created by the collapse of local news have been filled by other information—cable TV talking heads, social media posts, and, yes, conspiracy theories.
Having less access to information about one's community also makes one feel alienated and powerless. Some fifty-two percent of those who consume little local news report, "People like me don't have any say about what the government does," compared to just thirty-eight percent of those who regularly read a local paper or watch local TV news, according to a major 2020 study by the Knight Foundation and Gallup. And the powerless feel angry.
This is why we at Report for America think the single most important step to help save democracy—and mend communities—is to flood America with thousands more local reporters. This will provide families and communities with the information they need to solve their problems.
And we suspect it will improve relations within communities. That's not because local news is noncontroversial. Anyone who's been to a school board meeting knows that the passion there can compete with that at any national rally. But the fault lines are different. The person who agrees with you about where to put the sewage plant may disagree with you about the presidential election. To use the lingo of political science, people are more likely to be cross-pressured in local controversies than national ones.
Just as important, your opponent is less likely to become your enemy. It's awfully easy to demonize someone you only hear about, who lives half-way across the country. Those biases are tested when your opponent is someone you see in the supermarket.
Report for America, which I lead, is trying to achieve the goal of restoring local news through a unique approach. We call ourselves a national service program because our "corps members" go out into local communities to serve the public. We pay half their salary and the other half is picked up by a combination of the newsroom and local donors. (By energizing local philanthropy we hope to make it more sustainable in the long run.)
Right now, we have 300 reporters in the field in more than 200 newsrooms. Our goal: 1,000 reporters in the next few years. In fact, we have just opened the application window for a new batch of newsrooms.
Seen through a historical lens, we're entering a third epoch of American journalism. The first one was the Partisan Press, in which political parties sustained the newspapers. The second was the Commercial Press, in which advertising performed this function. Those models have collapsed, and it's unclear what will come in their stead.
It could be a Tribal Press, with local news ecosystems resembling national cable markets. (We're already seeing this.) Perhaps instead we can create an era of Civic Press. This could only happen through a combination of reforms in the commercial market, some government support, and nonprofit programs (the philanthropic sector would have to dramatically increase its support).
Surprisingly, there are some intriguing developments in the public policy realm. Many local newsrooms—and key legislators—have recently gotten behind a creative bill called the Local Journalism Sustainability Act. It provides a tax credit to consumers to buy news subscriptions or donate to local news nonprofits; a tax credit to newsrooms to hire and retain journalists; and a tax credit to small businesses to buy ads with local news media. The bottom-up approach could provide serious help for local news without endangering editorial independence. Congress is right now considering whether to add it to the reconciliation bill.
I know this proposal sounds less sexy than some of the other efforts being discussed to combat polarization. It involves no fancy new uses of technology or political revolutions. It's more mundane than that. We need a lot more people covering school boards and city halls, and people writing obituaries and features on local innovators. We need more people who highlight the elements of community that enable folks to have a sense of place. Perhaps if residents know more about their community, they will care more about not only their politicians but their neighbors as well.
Steven Waldman is the president and cofounder of Report for America, an initiative of the GroundTruth Project. He is chair of the Rebuild Local News Coalition, the cofounder of Beliefnet, and the author of Founding Faith: How Our Founding Fathers Forged a Radical New Approach to Religious Liberty.