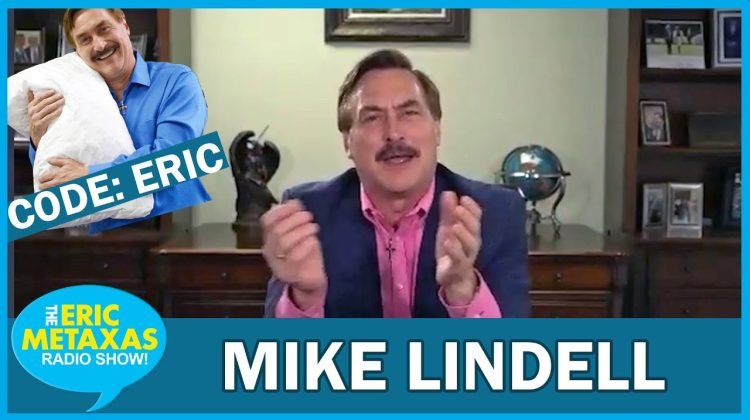 I am guessing until the money dries up. But that's just a guess.
Did you see Lindell's recent interview with CNN? This would be hilarious if so many Americans, especially evangelical Christians, didn't believe it. Watch:
"It's proof of nothing." This should be the death blow to Lindell's conspiracy theories, but as long as Lindell continues to use "air quotes" to describe the integrity of hard-working local election officials. people will continue to believe him.
Lindell is unhinged. He lives in an alternative reality.
Let's remember that Mike Lindell is also the sponsor of the Eric Metaxas Show. Earlier this week, Metaxas once again defended Lindell:
In case you don't have time to listen to this entire video, we have transcribed the section in which Metaxas talks about Lindell. It begins at the 12:58 mark:
Mike Lindell is doing a cyber-symposium in a few days to encourage hackers to show that what he is alleging, that this election interference by foreign countries (which would basically be like declaring war on America). He's saying that if didn't happen show me., if you can show me that I'm wrong I'll pay you five million dollars. Now he's doing this because he wants clarity. OK. You don't have to agree with him. But every American has to agree that we should know what happened in the election and we should clear up any questions. Right? Fox News refused to air his ad on that. So I want to say on this program any time that any time anybody plays that cancel game, we need to hit back. So I'm asking you for the sake of the nation and not for MIke Lindell, support him by going to MyPillow.Com, use the code "Eric," go to MyStore.Com, you can buy most of my books at MyStore.Com, use the code Eric. It's important that we do whatever we can whenever somebody is being treated this way. We should stand up for each other. You don't have to agree with people you stand up for. This is an American principle.
Thoughts:
First, Fox News can reject any ad it wants to reject.
Second, Metaxas is so blinded by his dogged commitment to American "rights" that he seems incapable of seeing the lunacy behind Lindell's claims. Yet he does not seem embarrassed by either Lindell or the fact that Lindell has managed to deceive so many evangelicals. (I'd love to hear Metaxas's take on the CNN interview).
Third, notice how Metaxas's defense of Lindell is directly connected to the sale of Metaxas's books. It is hard to miss the close link between Metaxas's Lindell-love and the advancement of his own brand as an author, radio host, and speaker. I wonder how many more sponsors are waiting in the wings should Metaxas decide to cut ties with Lindell. How much is Metaxas's show and brand powered by pillow sales? Are pillows the new oil?
Metaxas is shrewd salesman. He even had The New Republic fooled for a while. Yet evangelical megachurches on the Trump/anti-vax/conspiracy theory/Charlie Kirk/Liberty University/God and Country circuit continue to invite him to speak. Next week he will be at Westgate Chapel in Edmunds, Washington.