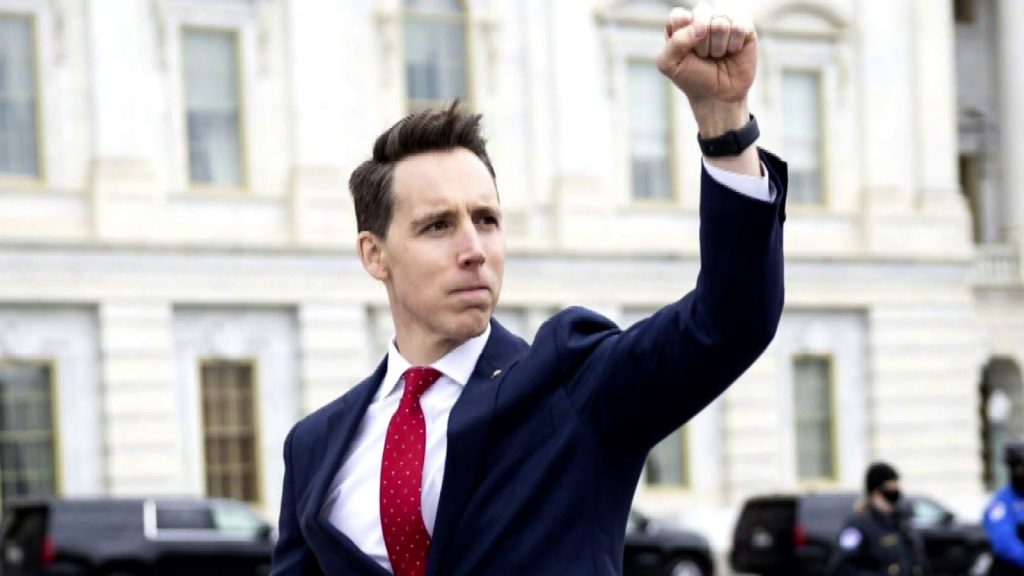 Missouri Senator Josh Hawley wrote an op-ed in The New York Post last weekend condemning critical race theory and promoting his personal view of what young Americans should learn in history class. Let's take a look:
Hawley writes:
Parents know something is wrong. It's why they are showing up in droves at school-board meetings across the nation. They are sending a message. They don't want their children taught that the true founding of America came in 1619, or that America is a systemically racist place, or that most Americans are ­oppressors. They don't want their children taught lies. And they are right.
I would like to take a survey of American history teachers to find out how many of them actually tell their students that the "true founding of American came in 1619." I also doubt that many teachers use the words "America is a systemically racist place," although it is hard to teach American history without acknowledging this fact. I think it's time for Hawley to spend some time with America's history teachers.
Hawley goes on:
Let's be clear. This isn't a ­nation of oppressors. This is a nation of liberators. This is the country founded on the worth and dignity of every individual. This is the country that gave working people the right to vote. This is the country that freed the slaves. This is the ­nation that has brought more good to the planet than any other people in history.
Actually, this is a nation of oppressors and liberators. History students need to know this. While the founders celebrated the idea that "all men are created equal," they did not put this idea into practice immediately.
Hawley is right when he says that the United States gave "working people" the right to vote. But students must also learn why this was necessary. Many non-landholding men were not given the right to vote in the half century following the American Revolution. (Not to mention working women, who did not get the vote until the 20th century).
Hawley is right when he says that the United States freed the slaves. But why was it necessary to free the slaves? Why did slavery exist in such a liberating nation? Students must learn this.
Students must come to the grips with a fundamental paradox at the heart of American history: the United States has brought much good to the world and has also oppressed its own people at home and used its global power to oppress others abroad.
More Hawley:
And it is time we defend that being taught in school. Critical race theory in any guise is a toxin. It poisons the bloodstream of our national life and drives Americans further apart. Sometimes, it seems that this is just what its advocates want: ­division, anger, hatred. But that isn't what America needs. America needs the truth, ­because it's the truth about our history and our purpose that unites us as a nation.
History forces us to look squarely into the past in a search for the truth. Sometimes the truth we find in the past will embarrass and humble us. The truth is no respecter of political agendas,
Last time I checked, Hawley attended a congregation in the Evangelical Presbyterian Church. Presbyterians have a robust view of human sin. Yet Hawley preaches American innocence. Forget about American history for the moment–how does Hawley square the American experience with his own theology?
Hawley again:
That's why I'm proposing a bill to require every school district in America that receives taxpayer money to teach our kids the founding documents and principles of this country.
It's simple, really: Kids in first grade should learn the Pledge of Allegiance. Kids in fourth grade should read the Constitution and learn its Preamble. Kids in eighth grade should read the Declaration of Independence and learn that grand document's opening words. And kids in high school should read and be able to identify the Bill of Rights.
I think most state standards already require these things. Hawley claims to be a conservative, but he doesn't seem to believe in the conservative principle of "letting the states decide" (federalism) when it comes to the teaching of American history. He doesn't trust the states. He doesn't trust history teachers. Perhaps he should listen to our interview with Nathan McAlister in Episode 88 of The Way of Improvement Leads Home Podcast. His neighbors in Kansas are doing it right.
Finally, Hawley writes,
This is my conviction: Our children can perform wonders we haven't yet imagined. They can write a future for this country beyond anything we have dared to dream. But first they must know who they are, and who we are together, as a ­nation. This is an investment in the future that will yield a ­remarkable return. It's an ­investment of love. Let's make it together —and now. Let's teach our children to know and love America.
Now let's be clear. Josh Hawley helped to trigger the insurrection at the U.S. Capitol on January 6, 2021. And now he wants to make an "investment in love?