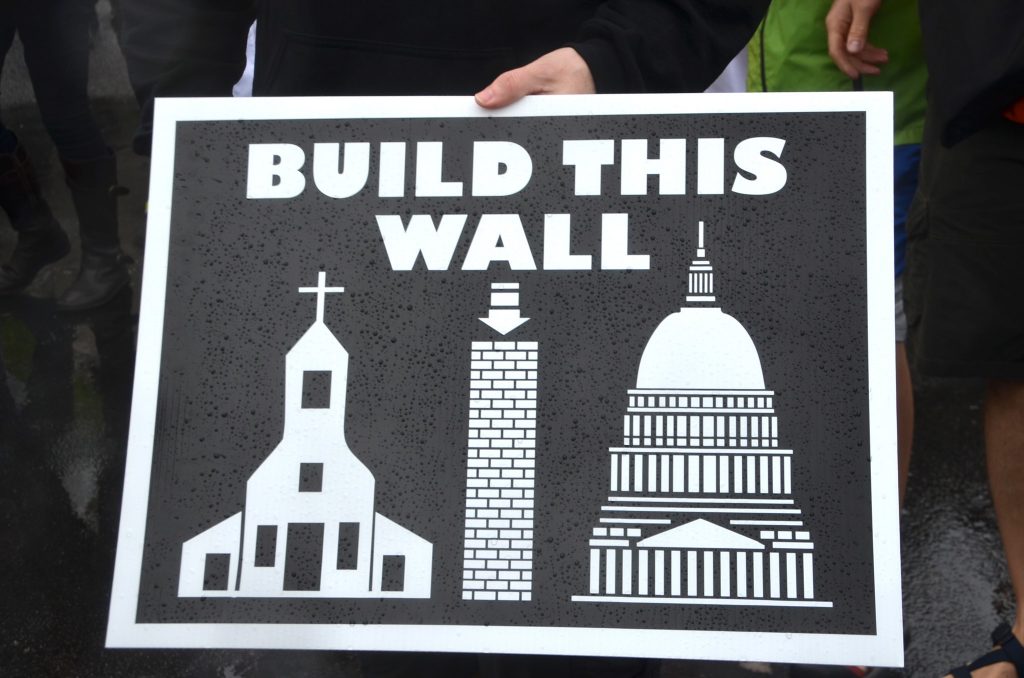 Implicit coercion? Or impartial enforcement?
Thomas Jefferson spoke often and emphatically about many of the hot button issues now plaguing American church-state relations, including whether a person can demand an exemption from a law that requires them to violate religious beliefs—the type of issue now litigated under the Religious Freedom Restoration Act. He was deeply interested in what the government could and could not do on the private side of the wall of separation.
Of course, the government cannot put a gun to your head and tell you how and when to pray, nor can government pay a person to worship (or not worship) or otherwise incentivize support for religion. As Jefferson's Virginia Statute for Religious Freedom explained, "all attempts to influence [religious belief] by temporal punishments, or burthens, or by civil incapacitations, tend only to beget habits of hypocrisy and meanness."
But can the government implicitly encourage religion or a particular religion so long as it does not engage in physical or financial coercion?
Historically, the Supreme Court has been clear: Government cannot "aid one religion, [or] aid all religions." The government was understood to be prohibited from "taking sides" in a religious controversy. Yet, in several cases, based on twisted logic, Justices Scalia, Thomas, and Gorsuch have said that the First Amendment only prohibits active coercion of a person's beliefs, government penalties or benefits (whether physical or financial), such as a specific tax paid for religion or mandatory church attendance. But if a person must show a physical or financial penalty or benefit in order to bring a First Amendment case before the court, the government could put a large neon Star of David on every government building and in every classroom, or place a cross on every government document, or emblazon a Muslim star and crescent on every government vehicle, insisting that no one is being "coerced" to support religion. Jefferson had a very different view.
In refusing to declare a day of prayer during a national crisis, Jefferson explained how such indirect coercion breaches the wall of separation, violating the First Amendment. Even if an official only recommends a day of prayer, Jefferson wrote, "it must be meant . . . that this recommendation is to carry some authority, and to be sanctioned by some penalty on those who disregard it: not indeed of fine & imprisonment but of some degree of proscription perhaps in public opinion." For Jefferson, that impact on "public opinion" was enough; the government had wrongly taken a side on religion: If the government endorses a religious position—implying that those who do not participate are less patriotic, or less American, or less acceptable to the government—it acts unconstitutionally. Jefferson swore "eternal hostility" against just this type of "tyranny over the mind of man."
Today, government organizations often seek to avoid responsibility for endorsing a religious view by insisting that a prayer at a government function is merely a private matter. Thus, county boards or state committees often open meetings with prayers offered by private individuals. Public school officials prohibited from offering prayers at baccalaureate or graduation ceremonies (they are, after all, arms of the state) stand by smiling when student valedictorians ask the audience to join in prayer.
While a government does not "speak" when it sponsors a public forum in which others pray or otherwise make personal statements of belief, a government may not choose speakers on the basis of religious beliefs. Yet, in one case a county board indignantly blocked a Wiccan priestess from offering an invocation. In another, a board insisted that a minister offering an invocation could not denounce as blasphemous the use of prayer by politicians to promote their own power (exactly what Jefferson warned against). Such efforts to leap over the wall of separation invite violations of the First Amendment.
In June, a public school turned off the microphone when a valedictorian tried to share his struggle coming out as queer. But for years, school administrators have stood by smugly as student speakers pray to Jesus, insisting that the school has no control over the students' speech. If that is so, schools must equally accept Mormon, Jewish, Islamic, Rastafarian, and other prayers, even Satanist—and a student speaking about their sexuality. Any restrictions on a student speaker must not engage the government in choosing "acceptable" prayers, an implicit coercion of belief.
Yet, if a Jeffersonian wall of separation prevents implicit government coercion, can an individual insist that government regulation indirectly violates religious freedom by demanding that they act in a manner they believe their religion forbids, such as baking cakes for gay weddings or permitting gay couples to adopt or foster children in need?
Jefferson and Madison emphatically rejected religious exceptions to "impartial" laws (what the Court today calls "neutral" laws) that do not directly regulate religion. What if a priest preaches child sacrifice? Jefferson asked. Or if, during a war, the slaughter of lambs was prohibited in order to encourage meat and wool production, could someone claim a religious exception (Jefferson obviously was thinking of Jewish Passover)? Jefferson was clear: No such exception exists. However, if government prohibited Jews from slaughtering lamb, or prohibited slaughtering lamb for religious purposes, that would violate the law of impartial regulation (like pandemic restrictions on the size of meetings that only apply to religious services). But impartial laws should be enforced.
Some might argue that impartial laws can, implicitly, coerce religion. Jefferson rejected such claims, concluding that neutral laws are not the same as the government taking sides in a religious dispute. Similarly, while the government cannot encourage religion, it can encourage virtue; Jefferson saw honesty, integrity, and other virtues as compatible with religion but not religion itself. Likewise, to discourage discrimination is not to discourage religion (even though discrimination, sadly, is compatible with some people's religion). Undoubtedly, there are difficult cases, but the Jeffersonian support of "impartial regulations" is a good place to start.
Still, courts should be vigilant to ensure that a supposedly "neutral" law does not, in fact, target religion. For example, the Court struck down an ostensibly neutral "moment of silence" to begin the school day given clear evidence that prayer was intended. In several pandemic cases, courts struck laws and regulations that did not treat religion in a neutral manner. Courts should apply similar scrutiny, for example, when school voucher programs are designed primarily to benefit religious schools. Such divisive restrictions are wolves in the sheep's clothing of neutrality.
By comparison to Jefferson's "impartial regulation" test, the poorly-named Religious Freedom Restoration Act (RFRA) allows anyone to claim a religious exemption to any law unless the government shows that its interests in the law are compelling and the law is narrowly-drawn to restrict religion as little as possible. This opens the door to pervasive judge-created exceptions. How will the Court respond when polygamists claim that anti-polygamy laws impair religious beliefs? Or when a union organizer claims restrictions on unions interfere with their Marxist religion? In one case, prosecutions for aiding illegal immigration were blocked by the claim that helping the poor and needy was an expression of religious freedom. Years ago, prisoners professing the newly-formed "Church of the New Song" demanded sacramental Porterhouse Steaks and Harveys Bristol Cream.
Antidiscrimination laws redress grievous injury to people and society. Courts should not, under RFRA, be deciding who gets exempted from such laws (for example, those seeking to discriminate based on sexuality and gender). People made equally adamant claims that interracial marriage, or marriage between a Christian and a Jew, or even the social mixing of races violated their religion. RFRA should be repealed, impartial regulations enforced, and religious accommodations left to the legislatures, which should be sensitive to religious concerns (for example, sacramental wine was exempted from Prohibition).
While Jefferson was clear that implicit coercion can violate the First Amendment, impartial laws passed for the public good should not be stricken based on a tangential impact on someone's claimed religion.
John Ragosta is a fellow at Virginia Humanities and author of, among other works, Religious Freedom: Jefferson's Legacy, America's Creed.